Chinatown Report: This Week in Chinatown
Las Vegas Chinatown news and analysis by Chinatownvegas.com. Food. Restaurants. Tips. Things to do. Events. What's in? What's out? RUMORS + much more
Hello, cherished companions! Welcome to the freshest installment of "This Week in Chinatown," proudly presented by Chinatownvegas.com. Prepare yourselves for a journey through the most recent events, delectable culinary adventures, and captivating cultural gems that beckon your discovery in the vibrant and continually evolving universe of Las Vegas's Chinatown.
We are starting from the east and heading west on Spring Mountain Rd
Transformation Underway: PowerSoul Cafe's New Sign and Remodeling Bring Fresh Vibes to Chinatown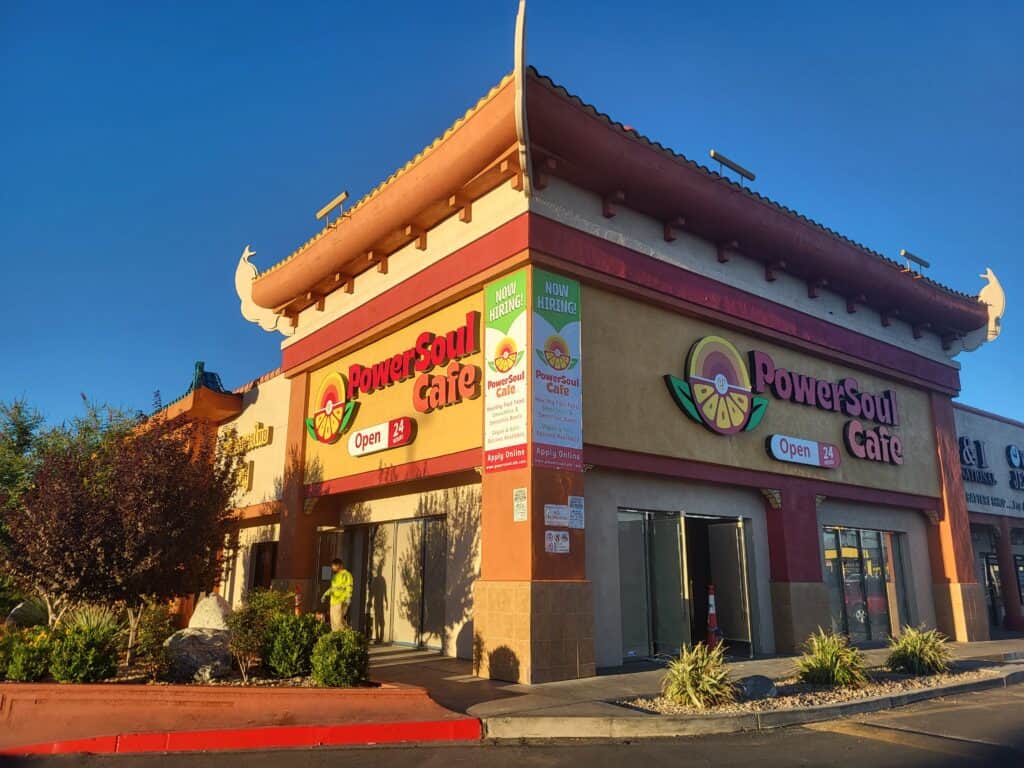 In the heart of Chinatown, exciting developments are underway as PowerSoul Cafe, the upcoming 24-hour gluten-free restaurant chain, begins its transformation. The most visible sign of progress is the installation of the restaurant's eye-catching sign, which serves as a beacon of anticipation for locals and visitors alike.
This captivating sign hints at the culinary wonders that will soon grace the neighborhood. PowerSoul Cafe is not merely a place to eat; it's set to become a vibrant hub of healthy, convenient dining options that cater to a variety of dietary preferences.
Beyond the sign, the restaurant's remodeling work has kicked off, transforming the space into a modern and inviting environment. The goal is to create a welcoming atmosphere where patrons can enjoy their meals comfortably, whether they choose to use the 24-hour drive-thru, make use of the convenient walk-up window, or utilize the practical pick-up lockers.
Sausage sticks enveloped in fluffy pancakes, an array of bagels in flavors like plain, cinnamon, raisin, or everything, paired with vegan or regular cream cheese, and delightful blueberry waffle balls—these gluten-free treats are poised for popularity at PowerSoul Cafe.
Alongside these savory delights, PowerSoul is set to dazzle taste buds with a menu of healthy fruit smoothies. From the antioxidant-rich acai berry to the rare and sought-after Butterfly Pea smoothies, featuring butterfly pea flower tea, these refreshing concoctions promise to be both delicious and a delightful way to reap the health benefits of these exotic ingredients.
Stay tuned for further updates as Powersoul Cafe's opening date draws nearer. Chinatown is on the brink of a culinary revolution, and the new sign and ongoing remodeling work are just the beginning of what promises to be a remarkable addition to the local dining scene.
Powersoul Cafe
The Center at Spring Mountain
3501 South Valley View Blvd,
Las Vegas, Nevada, 89103
Experience the Inspiring Story of Helen Keller at the Las Vegas Little Theater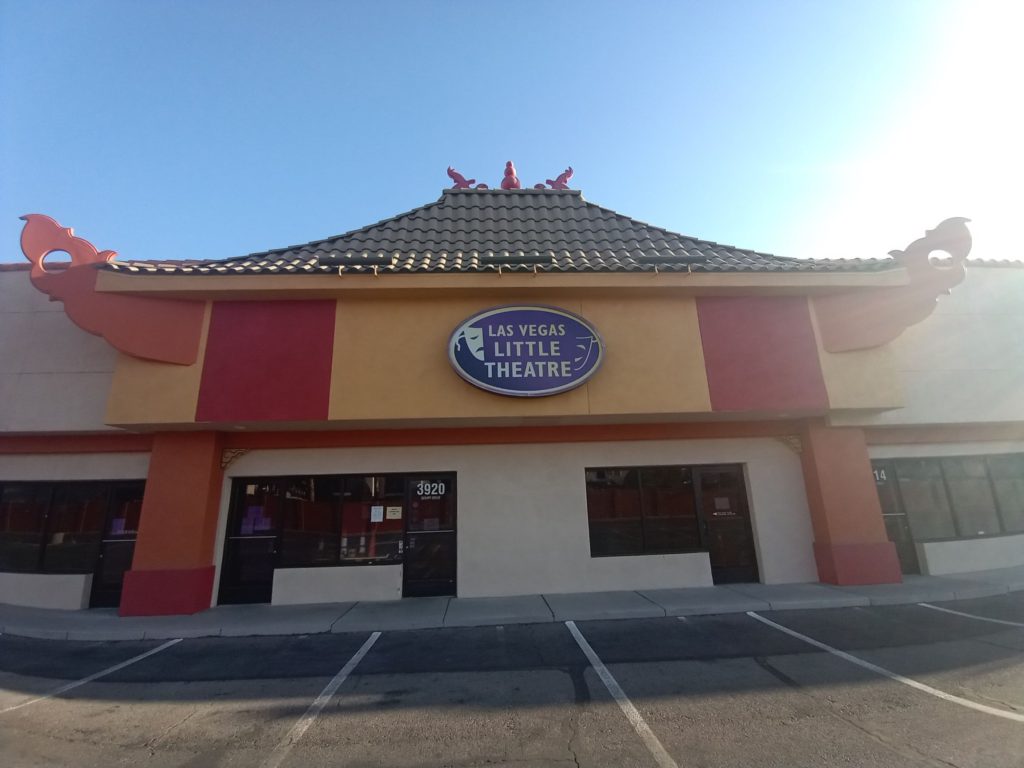 If you're looking for a captivating theatrical experience that will leave you inspired and moved, mark your calendars for the upcoming production of "The Miracle Worker" at the Las Vegas Little Theater. This incredible play tells the extraordinary true story of Helen Keller and her remarkable journey to overcome her disabilities. We previously announced the open auditions for this production back in July, and now we're thrilled to provide you with the showtimes and ticket information you need to witness this moving performance.
Show Dates and Times:
Friday, Sep 8th, 2023, at 8:00 pm
Saturday, Sep 9th, 2023, at 8:00 pm
Sunday, Sep 10th, 2023, at 2:00 pm
Friday, Sep 15th, 2023, at 8:00 pm
Saturday, Sep 16th, 2023, at 2:00 pm
Saturday, Sep 16th, 2023, at 8:00 pm
Sunday, Sep 17th, 2023, at 2:00 pm
Friday, Sep 22nd, 2023, at 8:00 pm
Saturday, Sep 23rd, 2023, at 8:00 pm
Sunday, Sep 24th, 2023, at 2:00 pm
All performances will take place at the Las Vegas Little Theater, providing an intimate and immersive setting to experience this powerful story.
"The Miracle Worker" explores the life of Helen Keller, a young girl born deaf and blind, and her incredible journey of transformation through the dedicated efforts of her teacher, Annie Sullivan. This emotionally charged narrative brings to life the struggles and triumphs of both Helen and Annie, demonstrating the extraordinary power of determination, communication, and education.
Tickets for "The Miracle Worker" are priced at $30 each, offering an affordable opportunity for individuals and families to enjoy this exceptional performance. To secure your seats for this inspiring play, you can purchase tickets online through the official website ticket link here.
KYOU Thai Massage and Beauty Spa: Exclusive Offers for Nevada Locals
KYOU Thai Massage and Beauty Spa is extending a warm invitation to all local residents, and they have an exclusive offer that will make self-care more accessible than ever. From now until the end of the year, KYOU Thai Massage and Beauty Spa is rolling out a special promotion designed to bring relaxation and rejuvenation to the community.
Special Offer for Nevada Locals
For Nevada residents, KYOU Thai Massage and Beauty Spa has something special in store. To take advantage of this limited-time offer, all you need to do is show your Nevada ID, and you'll instantly qualify for a generous 15% discount on your initial visit. It's their way of expressing gratitude to the local community.
But the savings continue long after your first visit. Following your initial appointment, you'll continue to enjoy a 10% discount on all future visits. KYOU Thai Massage and Beauty Spa values building lasting relationships with their clients and making self-care a consistent and affordable part of your routine.
A Comprehensive Range of Services
At KYOU Thai Massage and Beauty Spa, they offer a diverse selection of services to cater to your wellness and beauty needs. Their team of skilled professionals is dedicated to delivering an unforgettable experience. Their services encompass:
Full-Body Massage
Nail Care
Facials & Skincare Treatments
Body & Face Waxing
Lash Extensions
Body Sculpting
Walk-Ins Welcome
Life can be hectic, and spontaneity often leads to the best experiences. KYOU Thai Massage and Beauty Spa understands this and enthusiastically welcomes walk-ins. Whenever you're in the mood for a little self-indulgence, simply drop in, and their attentive staff will ensure your needs are met.
Book an Appointment Today
Are you ready to experience the rejuvenating benefits of KYOU Thai Massage and Beauty Spa? Scheduling an appointment is a breeze. Just give them a call at (702) 998-8088, and their courteous team will assist you in selecting a suitable time that aligns with your schedule.
Don't let this fantastic opportunity pass you by. Treat yourself or surprise a loved one with a well-deserved spa day. KYOU Thai Massage and Beauty Spa is eager to serve and assist you in unwinding, revitalizing, and feeling your absolute best. Visit KYOU Thai Massage and Beauty Spa today and elevate your self-care routine to a whole new level!
Last October, we shared the exciting news about the arrival of a new Korean street food restaurant in Chinatown. This delightful spot specialized in delectable Korean corn dogs, aboong, mini churro treats, binggrae flavored milk, Korean soda, cold brewed Lavazza coffee, and a whole lot more. However, with a heavy heart, we must inform you that Chu On This has bid farewell to its Chinatown location.
But, before you get too disheartened, here's the silver lining: Chu On This is not disappearing entirely. Instead, they are relocating to the East side of the city and preparing to open a brand-new store on Maryland Parkway. So, while their presence in Chinatown may be missed, we can look forward to their return in a different part of the city.
As for the empty space they leave behind in the bustling Center at Spring Mountain, we can't help but wonder what exciting venture might take over. Change is inevitable, and we eagerly await the new and delightful experiences that this prime location may soon offer. Stay tuned for updates on what's next for this vibrant space!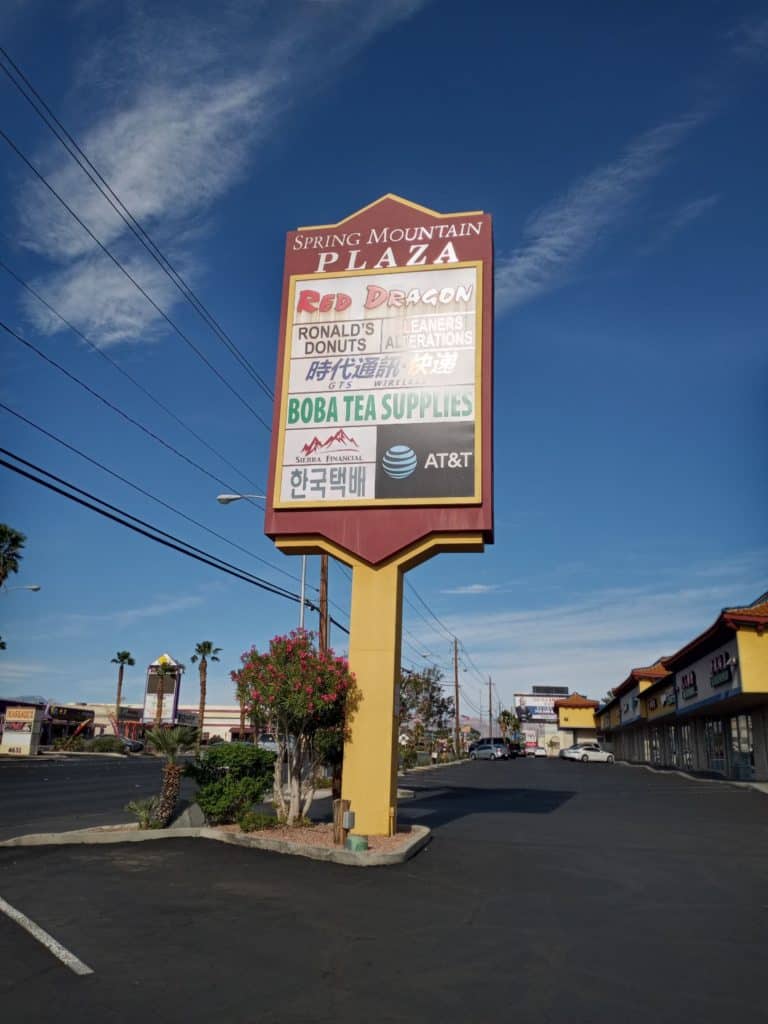 Afterlife Tea and Boba Room: Your New Plant-Based Boba Haven
In a delightful twist of transformation, the space once occupied by Tea Drops Boba Supply has undergone a remarkable metamorphosis, emerging as the vibrant and alluring Afterlife Tea and Boba Room. Nestled within its inviting interiors lies a boba shop unlike any other, boasting a 100% plant-based menu brimming with captivating and innovative flavors.
This woman-owned establishment has carved its niche with a commitment to quality, utilizing only the finest organic ingredients to craft their delectable concoctions. With every sip, patrons can indulge in the harmonious fusion of flavor and sustainability.
But it doesn't stop at the beverages. Afterlife Tea and Boba Room embraces the creative spirit of its community by hosting monthly art events that serve as a platform for local artists to shine. These exhibitions not only elevate the space but also showcase the diverse talents that call this place home.
For those seeking a touch of mysticism, Saturdays are a special treat. Afterlife Tea and Boba Room offers Spiritual Saturdays, inviting customers to explore the realms of the metaphysical with complimentary psychic readings. It's a unique blend of spirituality and refreshment that sets this boba shop apart.
And let's not forget about Tea Time Tuesdays, a weekly celebration of flavor and affordability. Every Tuesday, patrons can enjoy a 10% discount on all their favorite drinks throughout the entire day. It's a perfect excuse to explore new flavors or revisit beloved classics.
For those eager to plan their visit, Afterlife Tea and Boba Room extends a warm welcome from Monday to Friday, with operating hours from 10:00 AM to 6:00 PM. Saturdays are the time to linger a little longer, with doors open from 12:00 PM to 9:00 PM. However, exciting news is on the horizon, as starting on the 18th, they'll be extending their weekday hours to 12:00 PM to 8:00 PM. This shift promises more time to savor the flavors and ambiance of this unique boba haven.
While the Tea Drops sign still graces the exterior, anticipation is building as the Afterlife Tea and Boba Room team works diligently on a brand-new sign to proudly announce their presence. The transformation of this space reflects the dynamic spirit of change and growth that defines this remarkable establishment.
So, if you're seeking an enchanting boba experience that combines delicious flavors, artistic flair, spiritual exploration, and affordability, make your way to Afterlife Tea and Boba Room. It's a place where tradition and innovation, sustainability and creativity, come together in a delightful fusion, all waiting to be discovered by the tea-loving community.
Traffic Cones Celebrate Nearly Year-Long Stay at Decatur & Spring Mountain with Construction Kick-off
Well, folks, hold onto your hats because we've cracked the case of the never-ending traffic cones at Decatur and Spring Mountain! Drum-roll, please… they're repaving! Yes, you read that right, since November 8th of last year, they've been orchestrating the world's longest pre-construction meeting. But hey, who's counting, right?
Now, cue the confetti and the celebratory kazoo because construction has finally, officially, commenced. Can you hear the collective "Yay" echoing through the city? No? Well, don't worry; neither can we.
But, let's not stop there. Spring Mountain Rd., you're on notice! You might be in the running for the title of "Bumpiest, Pothole-Riddled Street in the City." Maybe someday they'll get around to giving you the makeover you so desperately deserve.
In the meantime, let's keep our eyes on Decatur and Spring Mountain, where the traffic cones have graduated from being mere decorations to symbols of progress. Can we get a slow clap for construction, folks?
Coming Soon: La Michoacana Ice Cream and Popcorn Shop to Pioneer Square in Decatur
We've got some delicious news for all you ice cream enthusiasts out there! La Michoacana, renowned for its delectable ice cream products such as paletas, bolis, and cups, is spreading its frozen joy to a new location. Get ready for the grand opening of La Michoacana Ice Cream and Popcorn shop right in the heart of Pioneer Square, Decatur.
Nestled between Spring Mountain Rd and Desert Inn Rd in Chinatown, this upcoming ice cream haven promises to bring the same mouthwatering flavors and quality that La Michoacana is known for. Whether you're a fan of their creamy paletas, refreshing bolis, or indulgent ice cream cups, you'll soon have a new spot to satisfy your sweet cravings.
While an official opening date is yet to be announced, the exciting news is that the remodeling of the space has already begun. This means that it won't be too long before you can stroll into the La Michoacana Ice Cream and Popcorn shop and treat yourself to a delightful ice cream experience.
Stay tuned for updates on the opening date and prepare your taste buds for a scoop of pure joy in the heart of Pioneer Square! La Michoacana is all set to bring smiles and sweetness to the Decatur community.
10 Second Yunnan Rice Noodles Grand Opening in Las Vegas Set for Mid-October
In an update on previously reported news, 10 Second Yunnan Rice Noodles has decided to pushed back its grand opening to mid-October. This exciting addition to the culinary scene, known as "10 Seconds Yunnan Rice Noodle," is an extension of the well-regarded Chinese noodle chain, Shi Miao Dao.
Shi Miao Dao has made a significant mark in the culinary world, boasting an impressive network of over 750 establishments across China. Their success story has transcended borders, and they've been steadily expanding their presence in North America. With locations already established in New York, Atlanta, Texas, Charlotte, NC, Michigan, Salt Lake City, California, and Toronto, Las Vegas is now the latest city to join the list.
While the grand opening may have been pushed back a bit, the anticipation continues to build for the arrival of 10 Second Yunnan Rice Noodles in Las Vegas. Stay tuned for more updates as this culinary gem prepares to enrich the local dining landscape with its delicious offerings.
Farewell to Osaka Sunset: A New Chapter Awaits
It's with a tinge of nostalgia that we bid adieu to Osaka Sunset, the Japanese fusion tapas & wine bar that brought a unique culinary experience to our neighborhood. You may have noticed that they initially reduced their hours to weekends only, leaving us with a sense of anticipation.
However, the situation has evolved, and Google now marks them as "temporarily closed." It's with mixed emotions that we confirm Osaka Sunset has permanently closed its doors. But the story doesn't end here.
As we peek through the windows, it's evident that some remodeling has already commenced within the space. Rumors have begun to circulate, hinting at the possibility of a rebirth—a Korean Style bar. While we await further details, we can't help but feel excited about the potential for fresh flavors and experiences in the heart of our neighborhood.
Stay tuned for updates as the transformation unfolds. Change is on the horizon, and we can't wait to see what the future holds for this vibrant spot. Goodbye, Osaka Sunset, and hello to new beginnings
Chung Chau City's Grand Return to Las Vegas Chinatown is Just Around the Corner
Chung Chau City, the Traditional Chinese Medicine store in Las Vegas' Chinatown, has a remarkable story to share. For years, it was a beloved fixture in the Center at Spring Mountain. However, it closed its doors for an extended period.
The exciting news is that Chung Chau City is now making a triumphant return, setting up shop further west on Spring Mountain Rd. The anticipation for its grand opening and return to Chinatown is building, and it's just a matter of days before this cherished establishment once again becomes part of the vibrant Chinatown community.
Stay tuned for updates as Chung Chau City prepares to reopen its doors, offering a range of Traditional Chinese Medicine services and products to the community. The return is imminent, and it's a moment to look forward to.
Chung Chao City
Las Vegas Cordyceps City Center Branch
5780 Spring Mountain Road,
Las Vegas, NV 89146
As we say goodbye to yet another incredible week, let the vibrant moments of Las Vegas's bustling Chinatown continue to brighten your thoughts, and may the unforgettable experiences remain etched in your heart. Look forward to joining us again next Friday for another thrilling chapter of shared memories. And always keep in mind, "What Happens in Chinatown Las Vegas, Happens Here.
See ya next Friday
Subscribe to Chinatown's New YouTube Channel
In our ongoing efforts to promote and highlight what we feel is the best Chinatown anywhere, we have launched a YouTube Channel to capture it.
The channel plans on featuring businesses, food, chefs, breaking news, street reports, and much more. Chinatown Vegas' YouTube Channel hopes to capture a real sense feel of what it's like to visit the super-fast growing Chinatown.
9 Amazing Ramen Dishes to Try in Chinatown
Discovering Traditional Chinese Medicine in Las Vegas Chinatown
Chinatown Vegas Features Perfect Places to Master Martial Arts for Kids and Adults