Chinatown Report: This Week in Chinatown
Las Vegas Chinatown news and analysis by Chinatownvegas.com. Food. Restaurants. Tips. Things to do. Events. What's in? What's out? RUMORS + much more
Hello, cherished companions! Welcome to the freshest installment of "This Week in Chinatown," proudly presented by Chinatownvegas.com. Prepare yourselves for a journey through the most recent events, delectable culinary adventures, and captivating cultural gems that beckon your discovery in the vibrant and continually evolving universe of Las Vegas's Chinatown.
We are starting from the east and heading west on Spring Mountain Rd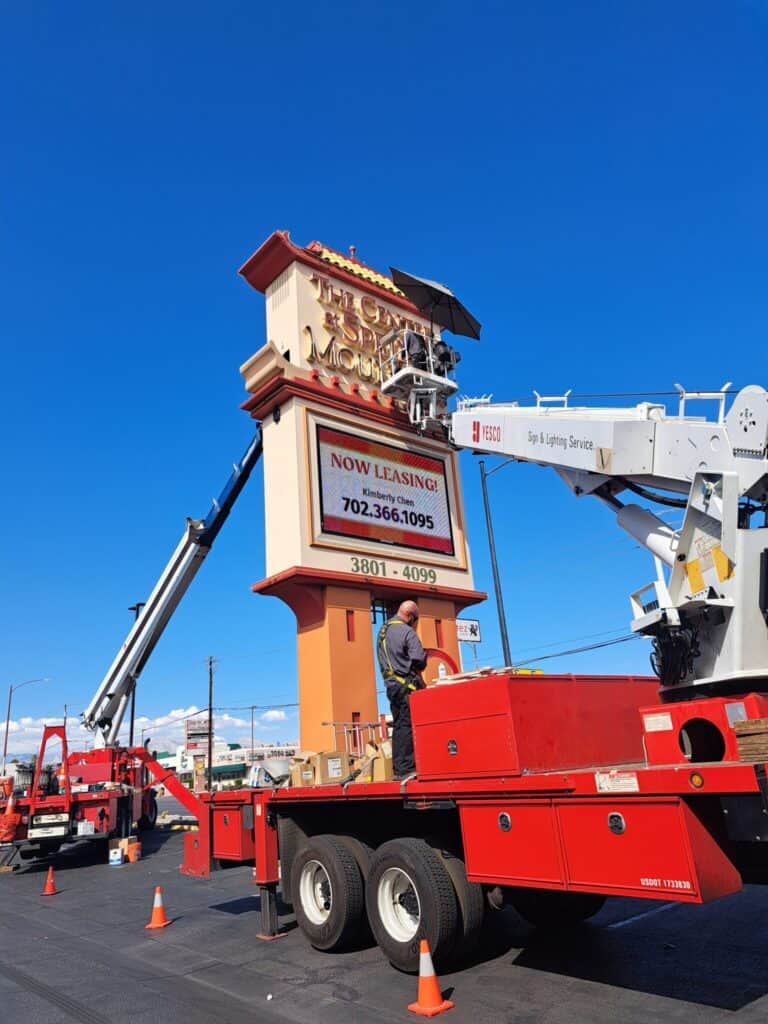 Las Vegas Little Theater Announces Auditions for Heartwarming Holiday Hit: Elf The Musical
Las Vegas Little Theater is thrilled to announce open auditions for "Elf The Musical," a heartwarming holiday production. Auditions will be held in person on Monday, September 18, and Tuesday, September 19, from 7 to 9 pm.
This festive production is scheduled to run from December 1 to December 17, 2023, with performances on Fridays and Saturdays at 8 pm, Sundays at 2 pm, and a special Saturday matinee on December 9th at 2 pm.
"Elf The Musical" tells the delightful story of Buddy, a young orphan who accidentally finds himself at the North Pole. Unaware of his human identity, Buddy grows up among Santa's elves until his size and toy-making skills reveal the truth. Determined to reconnect with his birth father in New York City, Buddy embarks on a heartwarming journey to spread the true meaning of Christmas.
All roles are open, and auditionees are encouraged to prepare a song from the show or a Broadway-style song that showcases their vocal talents. Sheet music in the appropriate key is required, and participants should be ready for movement exercises and cold readings from the script.
Don't miss the chance to be part of this magical holiday production and help Las Vegas embrace the spirit of Christmas.
If you have any questions or concerns please call the theatre at 702-362-7996 or email them at info@lvlt.org or you can fill out an audition form here
The Las Vegas Little Theater (LVLT) is a community theater in Las Vegas, Nevada. Founded in 1978, it is the oldest operating small theater in the valley. The theater offers a variety of productions throughout the year, including musicals, dramas, comedies, and children's theater. It is located at 3920 Schiff Drive near the corner of Spring Mountain and Valley View.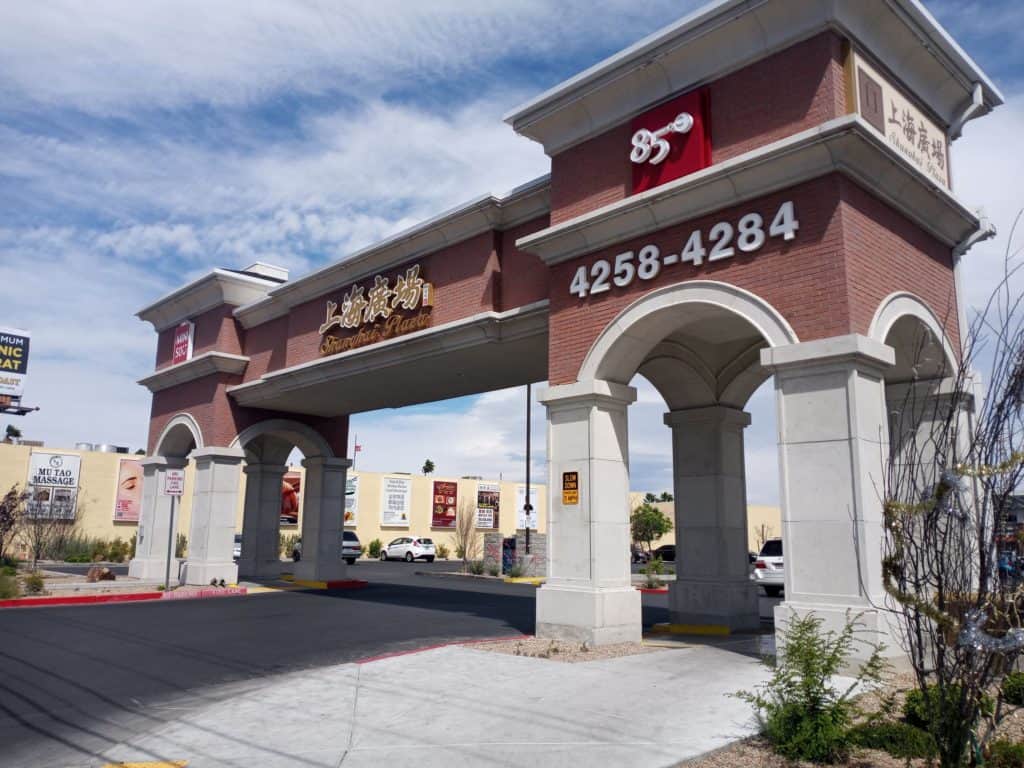 In recent weeks, a noteworthy transformation has unfolded at Shibuyala. The Japanese skin care and cosmetic store has successfully transitioned into a new identity as "Reiwatakiya," reflecting a change in focus.
While the exterior signage still bears the previous name, "Shibulaya," the establishment has officially embraced the name "Reiwatakiya." Plans are in progress for the installation of fresh signage that will align with this rebranding.
Reiwatakiya, a global cosmeceutical brand originating in Japan, specializes in cosmetics and personal care items, delighting thousands of customers monthly with Japanese culture-infused products. With branches in Boston, New York, Markham, London, Las Vegas and a vision for further expansion, they uphold values of "challenge," "evolution," and "diversity." Renowned for offering top-tier Japanese skincare and beauty products, Reiwatakiya has established a robust image in the beauty industry as partners with various well-known brands.
Their product range includes cosmetics (foundation, concealer, blush, etc.), skincare (cleansers, serums, etc.), hair care (shampoo, styling products, etc.), body care (soap, lotion, etc.), and various other items like fragrances and accessories.
At the northwest side of the plaza, nestled amidst Dagu Rice, Sul & Beans, Somi Somi, and Tea Maison, the former location of "The Black" store is undergoing a remarkable transformation. It's evolving into a dynamic DIY kids' workplace, highlighting the adaptability of spaces in the ever-changing retail landscape.
While transitioning from retail to a DIY kids workspace isn't the most unconventional change, it certainly represents a significant shift in purpose, emphasizing their dedication to providing a unique experience. We encourage you to track the captivating journey of this transformation, from the brand's evolution to the remarkable reshaping of the physical space.
NALSSO KOREAN BBQ Unveils New Happy Hour: A Flavorful Feast at Unbeatable Price
NALSSO KOREAN BBQ on Spring Mt has introduced a new happy hour that runs from 9 PM until closing, available seven days a week. Guests can enjoy a variety of combo options, each of which includes an array of enticing offerings such as side dishes, steamed egg, water, sashimi, salad, DIY Fried Rice, and a bottle of soju.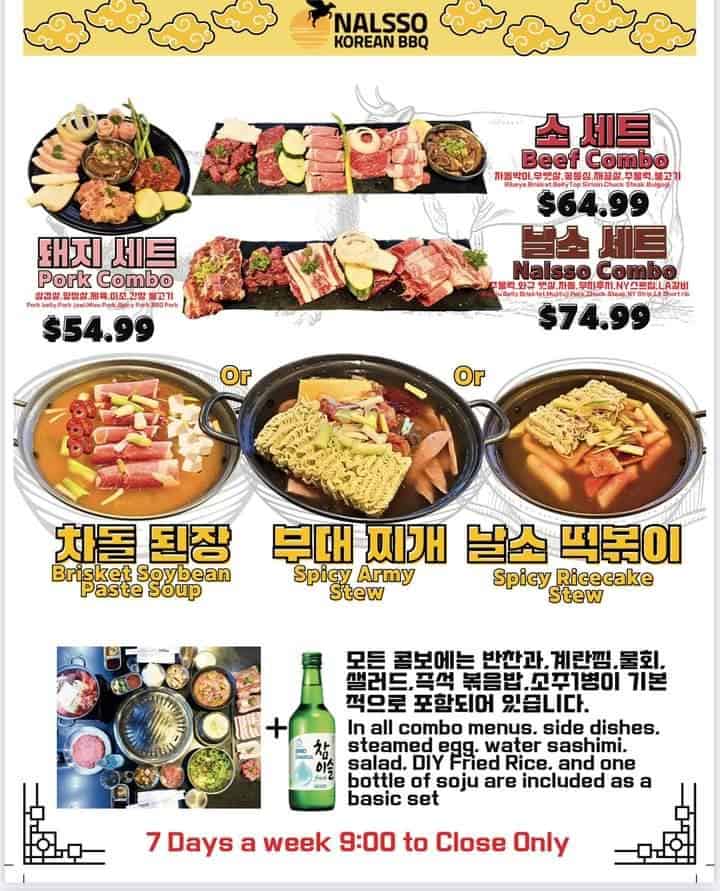 The Pork combo is priced at $54.99, the Beef combo at $64.99, and the Nalso combo at $74.99. This deal provides exceptional value for a delicious dining experience that is sure to satisfy the taste buds. It's an opportunity to savor Korean BBQ in a fantastic setting with friends and family. Don't miss out on this delectable offer at NALSSO KOREAN BBQ.
Griff's Friday Night Scotch Doubles Chip Tournament: The Town's Premier Event with Top Payouts!
Griff's Friday Night Scotch Doubles Chip Tournament proudly stands as the town's longest-running chip tournament, and it's not just about the tradition—it boasts the HIGHEST PAYOUTS among all the weekly tournaments around. Join in the excitement every Friday evening!
Tables are available for practice starting at 7 PM, and the tournament kicks off promptly at 8 PM.
If, for any reason, you can't make it in person, you can still follow all the action LIVE at Scoreboard.chipspool.com. Just click on the team name to access a comprehensive list of all their matches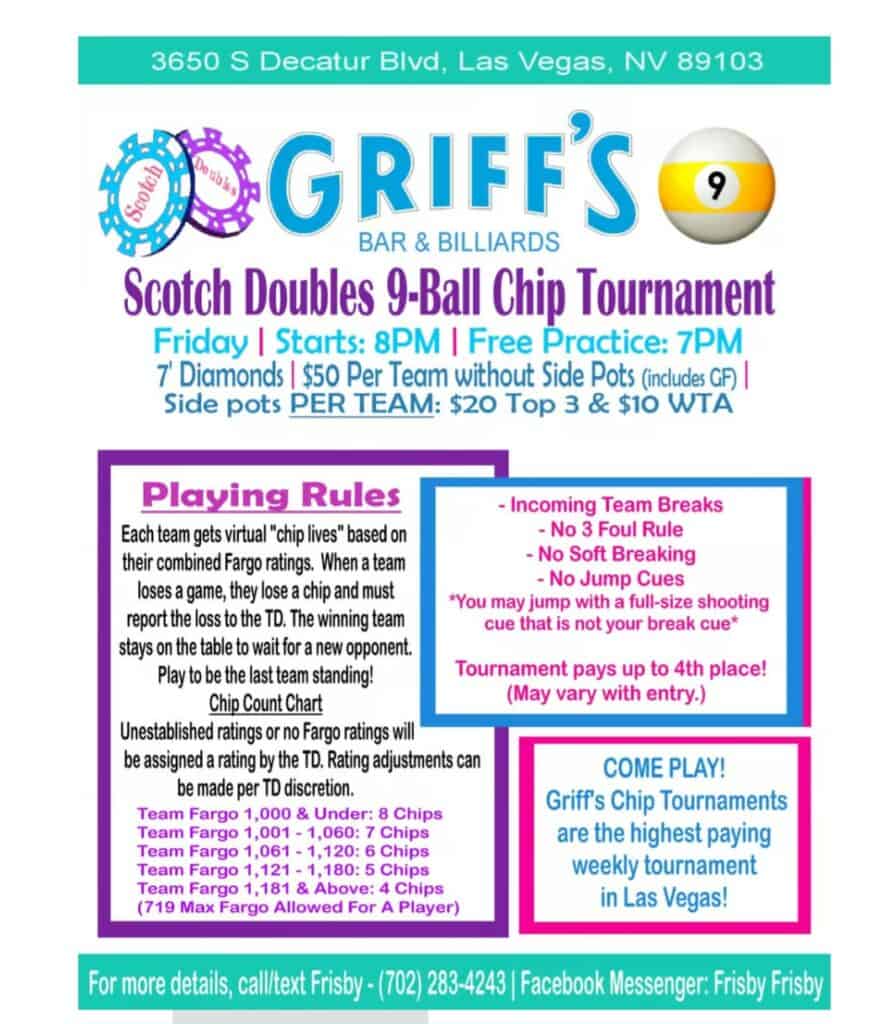 El Carbonero Restaurant and Pupuseria: Revamped and Ready to Reopen on Monday, the 18th
El Carbonero Restaurant and Pupuseria, situated at 3375 S Decatur Blvd Suit 9, Las Vegas, NV 89102, is currently in the midst of a renovation process and is set to reopen its doors on Monday, the 18th. Patrons can look forward to savoring delectable pupusas and a diverse range of authentic Salvadorian dishes, all meticulously prepared with the finest ingredients and an unwavering commitment to quality. This friendly, family-owned establishment can be reached at (702) 586-1456, and they eagerly anticipate welcoming guests back for an exceptional dining experience
Seoul Plaza: Amid Anticipation of New Restaurants, Current Favorites Thrive and Bustle
Seoul Plaza remains bustling with activity, even as it prepares for significant changes. Despite the imminent arrival of five new restaurants, the plaza continues to thrive.
Regarding the wine bar slated to replace Sweets Raku, there have been no reported remodeling efforts or updates thus far. Similarly, 10 Second Yunnan Rice Noodle, as mentioned last week, has postponed its opening by one month.
In the midst of these developments, Raku is working on an after-hours/members-only concept, while the remodeling of the original Hwaro is in its final stages. Unfortunately, there are no updates available regarding Chamon's anticipated return.
Noodlehead Shows Appreciation: 10% Discount for Teachers and Students at Spring Mountain Center Location
Noodlehead, nestled in the Spring Mountain Center, extends its warm appreciation to teachers and students with an exclusive 10% discount on the entire bill. A valid school ID is required to avail of this generous offer. Conveniently situated in the same mall as the 168 Market and Fukuburger, Noodlehead welcomes guests every day except Wednesdays, from 11 am to 9 pm. For inquiries and reservations, please contact them at (702) 855-0708.
As we bid adieu to yet another remarkable week, may the lively moments of Las Vegas's vibrant Chinatown keep illuminating your thoughts, and may the unforgettable experiences be etched in your heart. Anticipate reuniting with us next Friday for another exciting installment of shared memories. And always remember, "What Happens in Chinatown, Happens Here." Until next Friday
Last weeks This Week in Chinatown: September 8 – 2023