Chinatown Report: This Week in Chinatown
Las Vegas Chinatown news and analysis by Chinatownvegas.com. Food. Restaurants. Tips. Things to do. Events. What's in? What's out? RUMORS + much more
Greetings, dear friends! Step into the newest edition of "This Week in Chinatown," brought to you by Chinatownvegas.com. Get ready to explore the latest happenings, delightful gastronomic experiences, and enchanting cultural treasures that await your exploration in the dynamic and ever-evolving realm of Las Vegas's Chinatown.
We are starting from the east and heading west on Spring Mountain Rd
Music-Packed Weekend at Sand Dollar Lounge: Blues Jam, RHCP & Foo Fighters Tribute, Classic Rock, and Rock Covers – All 21+ and No Cover
Get set for a music-packed weekend at the Sand Dollar Lounge! Starting on Friday, September 1 at 10:00 pm, groove to the LV Blues Society Open Jam, celebrating over 30 years of blues in Southern Nevada. Saturday heats up with "ChiliFighters: The Best of RHCP & Foo Fighters" from 6:00 pm to 9:00 pm, followed by Classic Chaos Classic Rock n' Roll from 10:00 pm to 2:00 am. Sunday wraps up with a rock cover set by LARA ASH & INFERNOS at 10:00 pm. Join the musical fun—all shows are 21+ and always free!
Buzzworthy Speculation: Baby Stacks Breakfast Chain Eyeing Expansion into the Space Next Door
Rumors are swirling that Baby Stacks, the beloved Las Vegas breakfast and lunch chain, may be expanding into the space next door! Formerly occupied by the Italian Restaurant, Da Gemi, this prime location on Wynn Rd in the Center at Spring Mountain. While we couldn't confirm the news just yet, sources suggest that it's a done deal.
Da Gemi, which received rave reviews upon its opening, unfortunately closed a few months after its original chef and owner, "Gemi," pulled out. Although we're sad to see them go, we can't help but look forward to the possibility of more seating at the ever-popular Filipino-inspired Baby Stacks. Stay tuned for updates as we eagerly await official confirmation.
Baby Stacks is a cherished local gem, with its roots firmly planted in Las Vegas. As a homegrown breakfast cafe, it has become a go-to destination for those seeking a delightful morning experience. Infusing traditional American breakfast favorites with a unique island twist, Baby Stacks has carved out its own niche in the culinary scene, offering a tantalizing array of flavors that capture the essence of both comfort and adventure.
The Black – Japanese Lingerie Store Closes, Making Way for a DIY Kids Workplace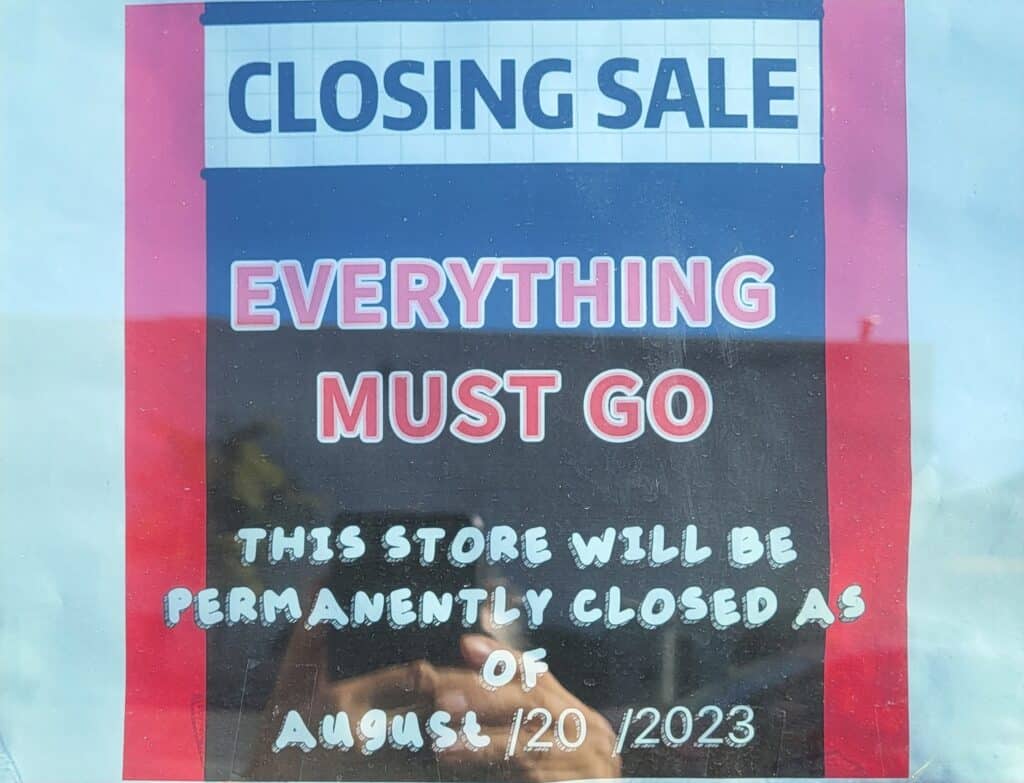 The Black, a Japanese lingerie store owned by Shibuyala, has officially closed its doors. In an interesting turn of events, a DIY kids workplace will be opening in its place. Additionally, we previously reported that Shibuyala would be rebranding as 'Reiwatakiya' starting on September first. However, as of the time of this post, there is no sign of the transformation. Stay tuned for further updates
Tous Les Jours: Elevating Delights with a New Flagship Location in the former Big Lots Space
Tous Les Jours, the acclaimed French-Asian bakery, prepares to open its second store in the former Big Lot space. Renowned for its handcrafted beverages, robust coffee, artisan bread, and delectable pastries, Tous Les Jours sources only the finest ingredients to craft its offerings.
Following the success of its initial Las Vegas outlet on S Rainbow Blvd, this new location is slated to be the flagship, boasting an expansive dining area and lounge, creating an inviting space for patrons to relish. Intriguing rumors of a hidden speakeasy, possibly operated by a different owner, nestled behind the bakery, alongside a neighboring steakhouse, continue to pique interest.
While an official launch date remains undisclosed, insiders hint at a potential November-December grand opening. As the year winds down, locals and visitors could find themselves immersed in Tous Les Jours' exceptional flavors and captivating ambiance, setting the tone for a season of indulgence.
In essence, Tous Les Jours' upcoming flagship store not only expands culinary horizons but also offers a promise of an enriched experience. With its fusion of diverse influences, unwavering commitment to quality, and hints of hidden surprises, the bakery is on the brink of becoming a sought-after destination, where every visit guarantees both satisfaction and intrigue. Stay tuned for forthcoming updates as the countdown to the grand opening begins.
JinJin Now Open: Experience the Fusion of Korean and Chinese Cuisine in Former Veggie House Space
In the July 14th edition of This Week in Chinatown, it was initially reported that JinJin was set to open within the former Veggie House location. The establishment brings forth a dedication to delivering top-tier Korean Chinese cuisine, with the head chef amassing over two decades of culinary prowess in South Korea.
The essence of authentic Korean Chinese comfort food finds a new home within the walls of the former Veggie House space. Operating from 11 am to 9 pm every day of the week, the ambiance offers a modern and inviting setting. The delectable menu features delights like Tang su yook, hot stone spicy black bean noodles (Jjajangmyun), assorted seafood, beef and vegetable stir-fry selections, along with scorched rice soup,  spicy noodle (Jjampong ) with assorted seafood and a tantalizing jellyfish salad.
Jin Jin Chinese Korean Restaurant
5115 Spring Mountain Rd (2nd floor)
Las Vegas, NV 89146
(702) 331-6013
Exciting news for the banking landscape! Open Bank has officially opened its doors, marking a significant milestone that we've been eagerly following since our first announcement back in January. The journey has been nothing short of captivating, and we're thrilled to provide you with the latest update on this remarkable development.
Based in Los Angeles, Open Bank, a prominent Korean American commercial bank, has expanded its horizons by venturing into Nevada. The unveiling of its new branch on August 28th marks not only the bank's entry into the vibrant Nevada market but also a historic moment as the first Korean American bank in the state.
Our commitment to keeping you informed about Open Bank's progress has been unwavering. From breaking the initial news to providing regular updates on its advancements, we've been your source for all things Open Bank. This achievement underscores the bank's dedication to serving diverse communities and bridging financial gaps.
As Open Bank opens its doors in Nevada, we can't help but feel a sense of anticipation for the positive impact it will bring to the region's banking landscape. Stay tuned for more insights and updates as Open Bank continues to make its mark on the financial world.
As we bid farewell to another remarkable week, may the cherished moments from Las Vegas's lively Chinatown linger in your thoughts, and may the unforgettable experiences stay close to your heart. Anticipate reuniting with us next Friday for another exciting installment of shared memories.  And remember, "What Happens in Chinatown, Happens Right Here."
Enjoy your Labor Day Holiday. Until we meet again next week, cheers to you!
Subscribe to Chinatown's New YouTube Channel
In our ongoing efforts to promote and highlight what we feel is the best Chinatown anywhere, we have launched a YouTube Channel to capture it.
The channel plans on featuring businesses, food, chefs, breaking news, street reports, and much more. Chinatown Vegas' YouTube Channel hopes to capture a real sense feel of what it's like to visit the super-fast growing Chinatown.
9 Amazing Ramen Dishes to Try in Chinatown
Discovering Traditional Chinese Medicine in Las Vegas Chinatown
Chinatown Vegas Features Perfect Places to Master Martial Arts for Kids and Adults
8 Cool Things To Do In Chinatown Vegas