Martial Arts
Perfect Places to Master Martial Arts in Chinatown
The Las Vegas Chinatown is the ultimate hub of martial art training centers under the supervision of big names and premium-level certified instructors and practitioners. Martial arts, a key component in self-defense and military training, originates in East Asia and is now acknowledged globally. Chinatown Vegas offers multiple modern and traditional martial art practice schools for all ages to build stamina and a heightened sense of balance among trainees.
Style: Kung Fu
Although Shuai Jiao (Chinese Wrestling in English), is the oldest Chinese martial art, Kung Fu is the most famous. Kung Fu or Kungfu can be traced back to before the Zhou dynasty in 1111–255 BC.  In Chinese, Kung Fu means "skill" but can also mean discipline from hard work. There are hundreds of styles of Kung Fu that have been evolving over the years for both armed and unarmed encounters. 
The most popular form of Kung Fu are:
Wing Chun, Shaolin, Wushu, Sanda, and Animal forms.
Kung Fu was popular in China during the Xia Dynasty, Yuan Dynasty, and the Ming and Qing Dynasties,  because it was effective. It worked. However, Kung Fu wasn't internationally known until films and movies popularized it. Especially Bruce Lee movies and the TV Series "Kung Fu", in which David Carradine played the role of a Shaolin Monk named "Kwai Chang Caine".
Style: Wing Chun
Wing Chun is the only Martial Art founded by a woman. In the 1700s, Ng Mui was an abbess (Buddhist nun)  of the famous and well-respected Shaolin Temple also known as the Shaolin Monastery 少林寺.  Ng Mui is one of the 5 survivors remaining when the Qing Dynasty burned the temple to the ground.  Wing Chun was named after the legendary founder's student – Yim Wing-Chun.
Enter Yip Man: The Legendary Martial Art Grandmaster and Bruce Lee's Teacher
After Wing Chun was sidelined for centuries by the Chinese Cultural Revolution,  it was practiced secretively and taught to only a few students. When the Chinese Communist Party came into power, the Grandmaster moved to Hong Kong and taught Win Chung to a few select students. One of these students was Bruce Lee.
1) Lohan School Of Shaolin Kung Fu
The perfect place in the heart of Chinatown to master the graceful and masterful art of traditional Shaolin Kung Fu is the Lohan School of Shaolin, founded by the late Sifu Steven Baugh in 1994. Students can take multiple styles of scheduled Kung Fu classes to train body and mind, such as Shaolin Kung Fu, Tai Chi, Chi Kung, and Pray Mantis. The Lohan School of Shaolin's strength is its top-level community of staff and instructors. All faculty members have a dedication, knowledge, and level of proficiency that results in students achieving their goals in life. Online payment and monthly subscriptions are accessible. The Lohan spiritual and cultural center also offers classes to start the spiritual journey through the staff of priests.
The Chinatown Plaza
4255 Spring Mountain Rd, Las Vegas, NV 89102
(702) 364-5875
2) Nevada Wing Chun
Samuel Kwok Wing Chun Martial Arts Association/Nevada Wing Chun is the top-rated traditional martial art training center in Chinatown Vegas. Wing Chun is the art of close-range combat designed to be effective in self-defense. Nevada Wing Chun welcomes everyone interested in Wing Chun Kung Fu regardless of age and fitness level. The traditional Wing Chun training school delivers the first class free of cost to better accommodate students. Wing Chun grandmaster Samuel Kwok is recognized for his art and skills as a head coach in school, empowering students to gain self-confidence and a practical form of self-defense. The school has three days of practice sessions, Monday, Wednesday, and Saturday night. Samuel is a protege of the two sons of the famous Grandmaster Yip Man.

3) Las Vegas Modern Kung Fu
Las Vegas Modern Kung Fu is the ideal center for splendid performance training in Las Vegas for kids and adults. A high-class performer and world champion of Wushu Kung Fu, Zengjio Jian has established the school to pass on his talent, dedication, and art to the world. Students can learn Jackie Chan and Jet Li style Wushu to build mental and physical strength and exhibit choreographed fighting action and stunts. The school offers various programs of Wushu, Kids (3-6yo) Wushu, Contortion, Flip classes, Trapezes, and hoops. Beginners can also take advantage of first class free of cost. A team of professional instructors, Zula Ulambayar and Kasper T. Falkesgaard, teach students the arts of extreme flexibility and body transitions.
The Center at Spring Mountain
4050 Vanessa Dr, Las Vegas, NV 89103
4)  Shaolin Kungfu Chan
Martial art Master Shi Xing Wei runs his Kungfu and Taiji schools. He founded Shaolin Kungfu Chan for children and adults in Las Vegas Chinatown and is a co-founder of the Shaolin Tai Chi Cultural Center in Henderson. The school invites children to attend a free trial class. Punches, strikes, kicks, rolls, leg sweeps, and flips are among the techniques taught. The exercises and fundamental Kung Fu movements train the kids to be prompt, flexible, strong, and versatile. Youth Kung Fu (Ages 4 to 8), Youth Kung Fu (Ages 9+), and Intermediate Youth Kung Fu are among the classes available at the school. Private classes for one-on-one instruction are also available for children.
Style: Brazilian Jiu Jitsu
The martial art Brazilian Jiu-Jitsu was founded in Brazil in 1926 by the Gracie brother and is a self-defense art as well as a combat sport. BJJ is a cross between Japanese Judo and traditional Jiu-Jitsu which arrived in Brazil in the early 1900s. BJJ uses holds, throws, and punishing strikes to beat an attacker or an opponent.
5) Sergio Penha
Sergio Penha is a top-notch Brazilian Jiu-Jitsu training academy for kids and adults in Las Vegas Chinatown. BJJ is a great martial art for self-defense operating grappling techniques that concentrate on leverage, positioning, and distance control instead of kicks and strikes. It is a specialized BJJ learning center that offers separate programs for kids and adults that helps them learn discipline, life skills, and self-confidence to tackle bullies. A free trial is available for adult BJJ practice classes. The institute is led by Sergio Penha, state champion and BJJ 8th degree red and white belt rank who has dedicated his life to the martial art. They operate from Monday to Saturday.
The Center at Spring Mountain
3904 Schiff Dr. Las Vegas, NV 89103
702-354-8611
Style: Boxing
6) Mayweather Boxing Club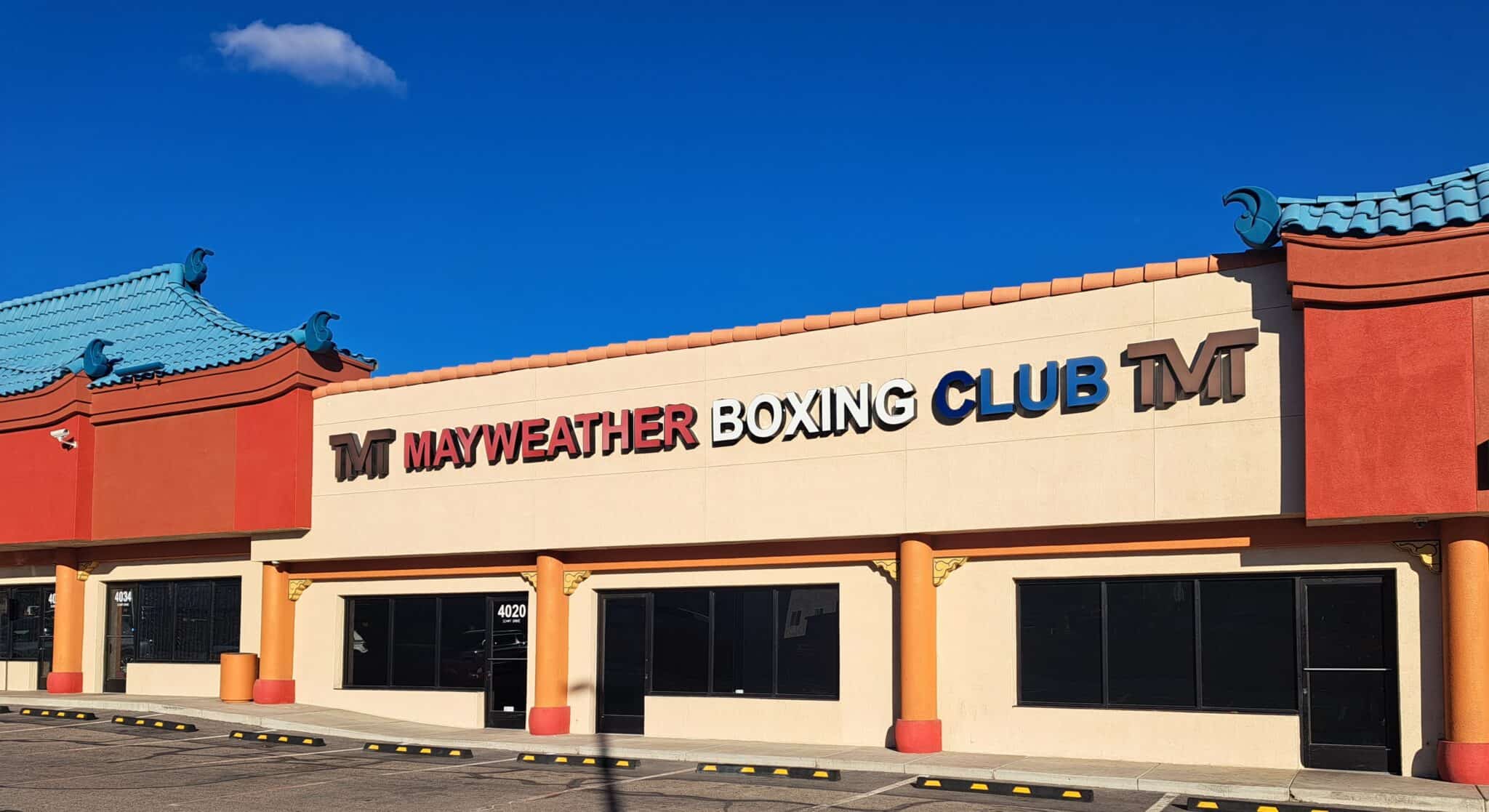 Legendary hall of fame boxer Floyd Mayweather's Boxing Club in ChinatownSome will argue that boxing isn't a martial art. The reality is that it's one of the oldest ones, however, by definition, martial arts originate in the East and boxing didn't. In addition, this is not an average or normal boxing club, this is the greatest boxer in the history of the sport's boxing club. World Boxing Champion Floyd Joy Mayweather Jr created the Mayweather Boxing Club as the official training center for The Money Team
The Center at Spring Mountain
4020 Schiff Dr, Las Vegas, NV 8910
616-337-5481
7) 9 Dragons Fight Shop
9 Dragons Fight Shop is a retailer where you can buy MMA gear, kickboxing gear, boxing shoes, and gloves, jiu-jitsu gis, and wrestling shoes from top manufacturers.  Dragons Fight Shop started as a small shop inside of a local MMA gym in 2012 in Utah.  They are the #1 supplier of combat sports gear in Utah. In 2017 they relocated the fight shop from South Salt Lake, Utah to Chinatown in Las Vegas, Nevada.
Located in:
 Pioneer Square
3375 S Decatur Blvd #7, Las Vegas, NV 8910