Discover the Top 9 Must-Try Ramen Dishes in Las Vegas Chinatown
If you're a fan of ramen, the Las Vegas Chinatown should definitely be on your radar. The area boasts an impressive array of delicious shops that serve up every style you could find in Japan, and even some unique, Las Vegas-inspired variations.
The popular Japanese noodle soup dish has gained worldwide popularity. It consists of Chinese-style wheat noodles served in a savory broth, which can be made with various ingredients such as soy sauce, miso, or pork bones.
The dish is typically topped with sliced pork, seaweed, green onions, and sometimes other ingredients like eggs or bamboo shoots.
There is a rich history and cultural significance in Japan, with each region having its own unique style and flavor. Today, it has become a staple in many countries and has evolved to include a range of creative variations to suit different tastes and dietary preferences.
In no particular order as we are starting from the east and heading west on Spring Mountain Rd.
Our first pick is guaranteed to add some heat to your taste buds. The Shinigami, also known as the Japanese Grim Reaper or Death Bringer, is a truly formidable dish. It boasts scorching 4 million Scoville units of heat, making it the spiciest ramen in Las Vegas.
This fiery dish consists of yellow noodles and tonkatsu broth, accompanied by black garlic oil, pork chashu, kara-age, soy-cured egg, wood ear mushroom, corn, and scallions. To add even more heat, it's served with a side of Shinigami sauce made from ghost peppers and smoked Thai chili peppers!
Shokku Ramen
3883 Spring Mountain Rd, Las Vegas, NV 89102
725-204-1252
Even if you're not a vegan, this vegan version is worth trying, with its flavorful vegetable broth and delicious, chewy noodles. Located in the Chinatown Plaza, Ramen Show presents a delectable vegan noodle dish that is sure to tantalize your taste buds.
This bowl of goodness is made with a soy milk base with potato, green onion, fried lotus root, leeks, grape tomato, spinach, oyster mushroom, baby corn, seaweed, lemon, orchid flower, and shredded red pepper all swimming in a delectable soy potato onion soup.
It's a perfect balance of flavors and textures that will leave you craving more!
Ramen Show
4215 Spring Mountain Rd #106, Las Vegas, NV 89102
702-445-6343
Shinjuku's Creamy Tom Yum Lobster ramen is a luxurious and delicious non-traditional option that is a must-try for seafood lovers. This dish features a generous 8 oz lobster tail, which is cooked to perfection and served in a creamy tom yum soup.
Tom yum soup is a classic Thai dish that is known for its spicy, sour, and tangy flavors. In this dish, the soup is enriched with cream, giving it a smooth and velvety texture that perfectly complements the succulent lobster meat.
The noodles in Shinjuku's Creamy Tom Yum Lobster ramen are thick and chewy, providing the perfect base for the rich and flavorful soup. The dish is finished with a sprinkling of herbs and spices, adding an extra layer of complexity to the already delicious flavors.
Although this dish is on the pricier side at $29.99, it is well worth the splurge for a special occasion or a treat for yourself. Shinjuku's Creamy Tom Yum Lobster ramen is a unique and indulgent option that is sure to delight your taste buds and leave you feeling satisfied.
Shinjuku Ramen
4300 Spring Mountain Rd #108, Las Vegas, NV 89102
725-206-5555
Sora's Corn Butter ramen has made it to our top ramen dishes list for the best in Chinatown. This Sapporo-style signature miso soup is renowned for its exceptional blend of flavors. The combination of sweet corn and creamy butter results in a distinctively rich taste, making the dish even more flavorful.
Chefs Yoshi and Tomio, originally from Kyoto and Sapporo, respectively, partnered up to open Sora, a quality restaurant. Their shared passion for food and desire to create an enjoyable dining experience led to the creation of their Sapporo-style signature miso soup, including the popular dish.
Ramen Sora
4490 Spring Mountain Rd, Las Vegas, NV 89102
Phone: 702-685-1011
Kyara's signature ramen, "Finding Nemo" is a standout seafood ramen dish among the best offerings in Chinatown. The flavorful bowl features a rich Tonkotsu soup base infused with sweet shrimp oil and savory clam paste, creating a perfect seafood flavor profile. The seafood topping consists of agitated scallops, shrimps, black mussels, and Asari clam, adding a delicious variety of textures to the dish.
Additionally, the dish comes with a house-made spicy powder on the side, perfect for those who love a little extra kick in their meal. All in all, "Finding Nemo" is a must-try for any seafood or ramen lover visiting Chinatown.
Kyara
4810 Spring Mountain Rd, Las Vegas, NV 89102
725-214-6002
The Truffle Shoyu at Ramen Boys in the Chinatown Decatur Plaza is a savory and aromatic dish that features a delicious mushroom dashi broth, tender chasu pork, and flavorful shredded green onion.
The dish is further elevated with the addition of bamboo shoots, shiso leaves, and a generous amount of truffles, which adds a distinct earthy flavor to the dish.
The ramen is served with medium wavy noodles that perfectly complement the rich and savory broth. Overall, the Truffle Shoyu is a must-try dish for ramen lovers who are looking for a unique and flavorful twist on this classic Japanese dish.
Ramen Boys
3650 S Decatur Blvd suite #3, Las Vegas, NV 89103
702-586-0901
Monta's tonkatsu ramen is a mouth-watering dish that is a must-try for all ramen lovers. The creamy, pork bone broth-based version of this dish is a specialty of Monta, and they do it justice with their rich and flavorful version.
To create this signature dish, Monta uses an entire pig's head to achieve a rich and gelatinous broth. The pork bones and other ingredients are simmered for hours, resulting in a rich and flavorful broth that is both savory and satisfying.
The noodles in Monta's tonkatsu are thick and chewy, perfectly complementing the rich broth. The dish is then topped with tender slices of chashu pork, bamboo shoots, green onions, and a soft-boiled egg. Each element of this dish is carefully crafted to create a perfect balance of flavors and textures.
If you're a fan of ramen, Monta's tonkatsu ramen is a must-try. The creamy and indulgent broth, coupled with the perfectly cooked noodles and delicious toppings, is sure to leave you satisfied and craving more.
Monta
5030 Spring Mountain Rd Suite 6, Las Vegas, NV 89146
702-367 – 4600
Hashi's Shio (Original Ramen) is a classic Japanese noodle soup that is a must-try for ramen enthusiasts. The broth of this ramen is clear and light in color, made by simmering chicken bones, seafood, and vegetables for hours. The resulting broth is delicate and savory, seasoned with sea salt to enhance its natural flavors.
The noodles in Hashi's Shio Ramen are thin and straight, providing the perfect complement to the light broth. The dish is then topped with tender slices of chashu pork, boiled egg, bamboo shoots, nori seaweed, and green onions, creating a well-balanced and satisfying meal.
This dish is perfect for those who prefer a lighter and less fatty broth compared to other types of ramen. Hashi's Shio (Original Ramen) is an ideal comfort food that warms your soul, and it is definitely a must-try for any ramen enthusiast who visits a Hashi restaurant.
Hashi
5808 Spring Mountain Rd #109, Las Vegas, NV 89146
Mountain Point Business Park West
702-202-1238
Tatsu's Spicy Miso is a flavor explosion in a bowl. The rich, hearty broth is made by blending beef, pork, and chicken bones with soybean paste, creating a perfect balance of umami flavors. Topped with ground pork, spicy bean sprouts, and green onions, every bite is an adventure in taste and texture.
For those who love a spicy kick, Tatsu offers a range of heat options, from mild (which is still spicy!) to Jigoku (hell) where homemade habanero sauce and ghost chili pepper are added to the broth.
Each spoonful of Tatsu's Spicy Miso Ramen is a culinary journey that will satisfy even the most discerning vegan taste buds. Pro tip: Add kimchi for $1.50 more!
Tatsu
3400 S Jones Blvd #6, Las Vegas, NV 89146
702-629-7777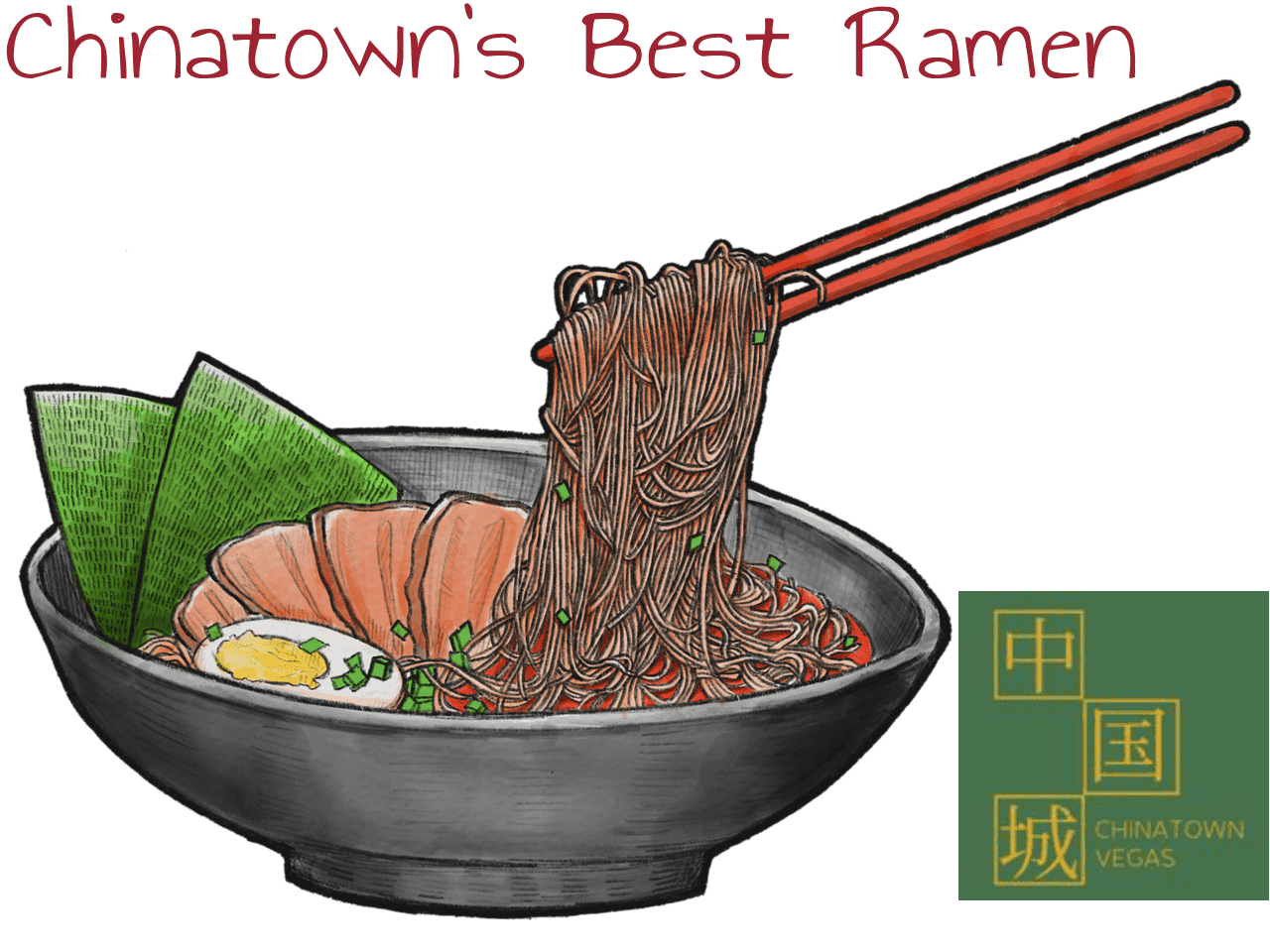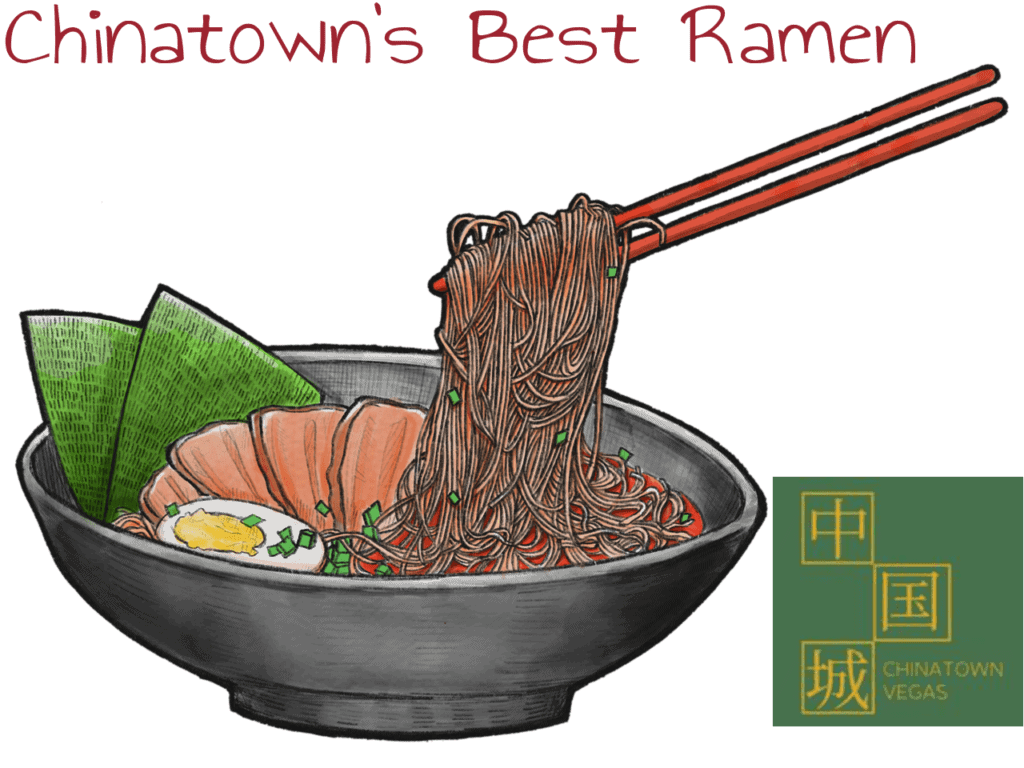 To sum up, if you're a fan of Japanese cuisine and in particular, ramen dishes, then Chinatown Las Vegas is the place to be. With a plethora of restaurants to choose from, you can indulge in a wide variety of delicious and authentic ramen dishes.
Whether you're a seasoned ramen lover or a first-time taster, Chinatown Vegas is a must-visit destination for an unforgettable ramen experience.
History Of
The Japanese noodle soup dish has become popular worldwide. Its origins can be traced back to China, where wheat noodles were brought over by Chinese immigrants to Japan in the late 19th century.
Initially, it was sold by street vendors as fast and inexpensive food. It was not until after World War II that ramen became more widely popular and began to be served in restaurants.
The first specialized shop, called Rairaiken, was opened in Tokyo in 1910, but it wasn't until the 1950s and 1960s that ramen shops began to proliferate across Japan.
The Japanese dish has since evolved into various regional styles with different broths, toppings, and noodle types. Today, ramen is enjoyed all over the world, with many cities boasting their own unique shops and styles.
Common Terms:
Chashu: Braised or roasted slices of pork belly or shoulder commonly used as a topping.
Tare: A concentrated sauce or seasoning to flavor the soup or broth.
Menma: Bamboo shoots that have been marinated and pickled and are often served as a topping.
Ajitsuke Tamago: Soft-boiled or marinated eggs that are often served as a topping.
Nori: Dried seaweed sheets that are often used as a topping.
Shoyu: Soy sauce, which is often used as a seasoning for the broth.
Tonkotsu: A rich and creamy pork bone broth that is commonly used.
Wakame: A type of seaweed that is often used as a topping.
Kaedama: An additional serving of noodles that can be ordered with some types.