Chinatown Vegas Malls
A GUIDE TO THE STRIP MALLS OF CHINATOWN
---
The Chinatown in Las Vegas consists of many strip malls. Spring Mountain Rd is filled with more than 20 of them, many with confusing and similar-sounding names.
There are now hundreds of businesses that are spread out along and around a 3+ mile strip of Spring Mountain Rd. that makes up Chinatown.
With names like "Pacific Asian Plaza" and "Asian Pacific Plaza", knowing which mall is which, can be confusing. Of course, there are many free-standing businesses throughout Chinatown, but it's the dozens of strip malls that define Chinatown Vegas as a "New Chinatown".
We've listed the malls here, in alphabetical order.
A & M Plaza
A small shopping center anchored by pho specialists, Viet Noodle Bar also features several office buildings. The AM Plaza is on the north side of Spring Mountain on the western side of Chinatown.
Arville Square
Arville Square is a strip mall on Spring Mountain Road in Chinatown Vegas and is an eclectic mix of restaurants and shops. From the casual Taiwan Deli to the one-of-a-kind Yui, Shinjuku Ramen, Hell's Chicken, Cool Bar, an American grill founded by US Marines for Marines, Leatherneck Club, shoot a few rounds at the American Shooters Gun store and Shooting Range, 3 massage parlors, a sign store, and a gas station. This is a small strip mall, but it's one of the most eclectic mixes in Chinatown.
Read More About Arville Square Here
Asian Pacific Plaza
The Asian Pacific Mall is a Chinatown Vegas mall located on the north side of Spring Mountain Rd., just east of Jones. It is home to Pho Saigon 8, Dakao Sandwich, and BBQ King as well as a hair salon, Thai Massage, and more.
Read More About Asian Pacific Plaza Here
Cathay Hills Plaza
Chinatown shopping plaza featuring casual restaurants & independent service providers including Sushi Takashi, Hong Kong Garden Seafood & Dim Sum Cafe, Rinon Des Buenos Aires, Tea Way Plus, Garden Spa, Shoe Repair, CPA, and a Hair Salon.
Read More About Cathay Hills Plaza Here
The Center at Spring Mountain
The Center at Spring Mountain is a large, three-building Asian-themed property that includes some of the most famous and well-known restaurants in the Las Vegas valley. You can go see a play at the Little Theater, which was founded by Jack Nicholson, check out Mayweather Boxing Club, or smash things at the Wreck Room. Also, Leo the Barber, several massage spas, and massage school, a Feng Shui store, a Kung Fu School, a Judo Club, and much more. Don't forget to get a Foot Massage and after that, have some Dole Whip at the Golden Tiki.
Read More About The Center At Spring Mountain Here
Chinatown Plaza
Chinatown Plaza is where Chinatown in Las Vegas was born. Since its birth in 1996, the Chinatown Plaza has remained one of the most exciting and fascinating shopping centers in all of Las Vegas. Its spectacular Tang Dynasty is home to Ranch 99 Market, Paris Baguette, Capital Seafood, Yummy Box Cafe, 888 Korean BBQ, Noodle Pot, 1 Boba Tea, Diamond Bakery, and much more.
Read More About The Chinatown Plaza Here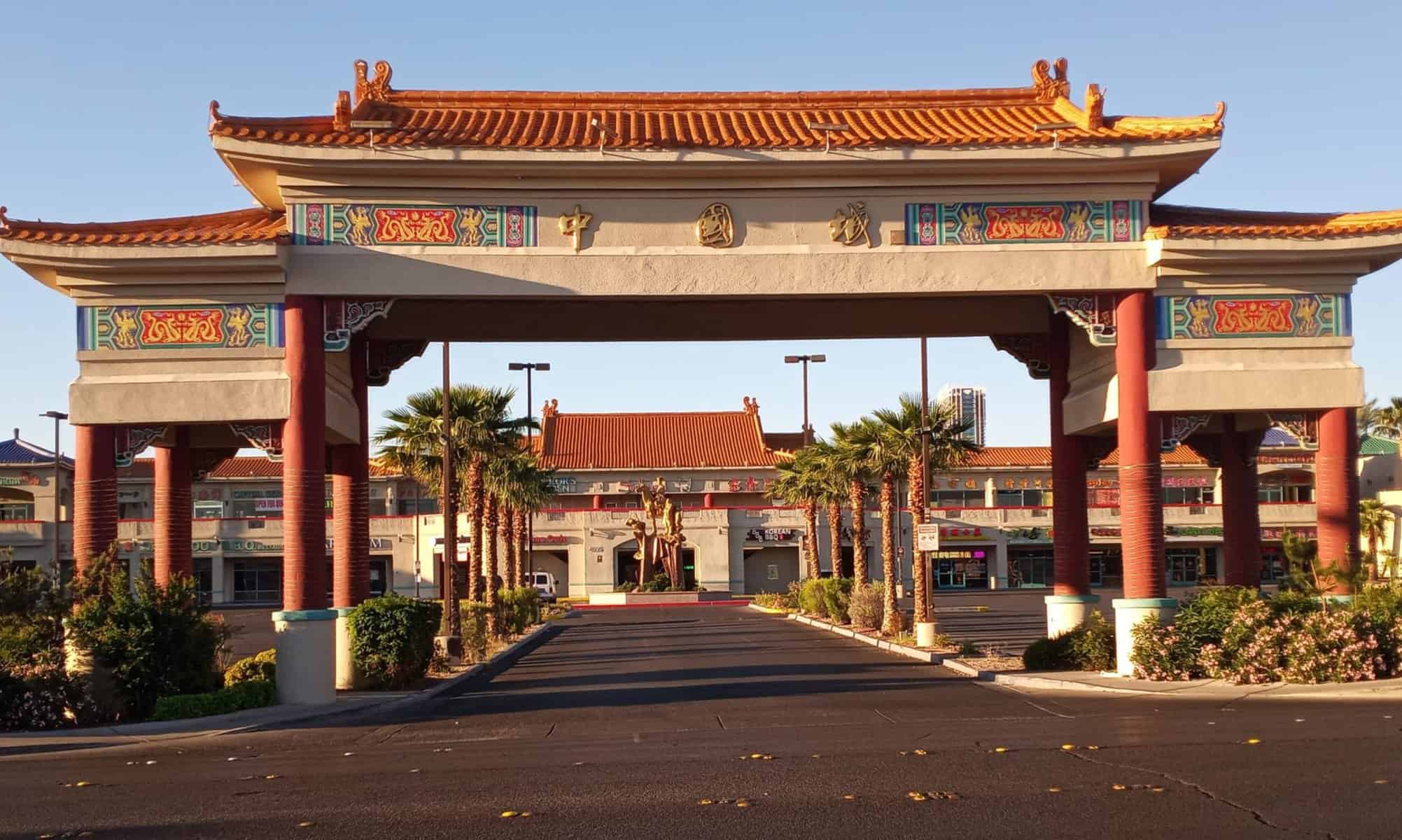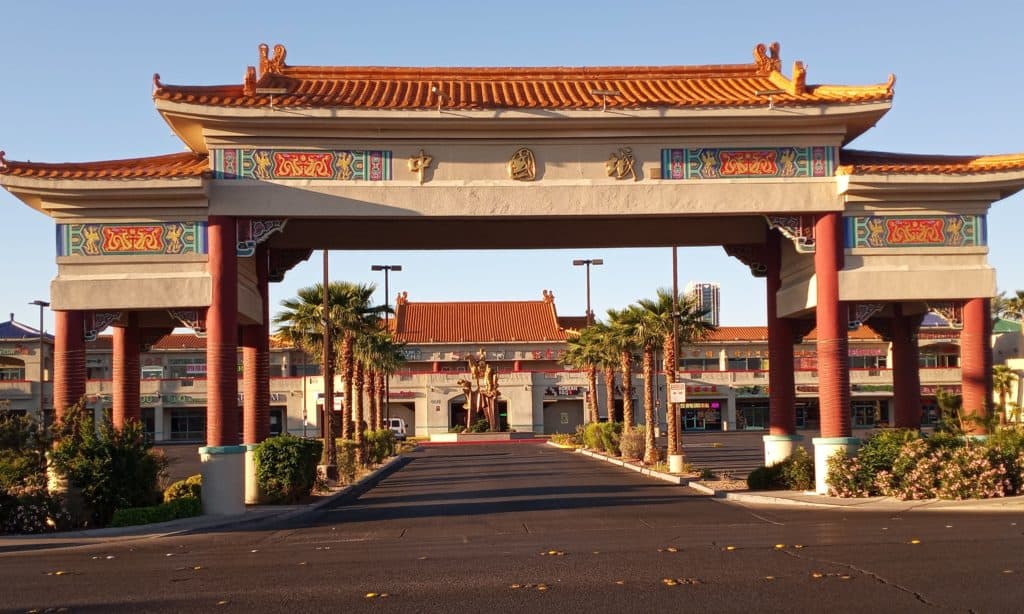 Commerce Corner
Commerce Corner is a Chinatown Vegas strip mall located on the north side of Spring Mountain Rd, a few feet away from Jones. Happy Lemon, Seoul Tofu, Nanay Gloria, Lucky House Asian Cafe, Tang Tang Tang, the Jones Market, foot reflexology, and a massage parlor
Decatur Chinatown
The Decatur Chinatown Mall is located just south of Spring Mountain at Decatur.  The mall featured Griffs Billiard, a Korean BBQ, Sanga, Massage, Nail Salon, and a dry cleaner. The mall was formerly called the "Decatur- Twain Shopping Center"
Read More About Decatur Chinatown Here
Golden Springs Plaza
The Golden Spring Plaza is Chinatown's newest strip mall. Located on Spring Mountain Rd, in Chinatown. The new plaza adds many new restaurants and retail experiences in a 33000 sqft space. The directory Imperial Seafood Buffet, Pier 88 Crawfish, Saigon Baguette, Shigotonin, T-Swirl Crepe, and Feng Cha.
Spring Mountain/ Duneville just east of Jones blvd
Read More About Golden Springs Plaza Here
Korea Town Plaza
The Korea Town Plaza is on the western end of Chinatown Vegas located at Spring Mountain and Rainbow. It is anchored by the Greenland Market. Korea Town Mall also has a bakery, jewelry, clothing, a full food court, and food vendors,  Fresh produce & meats, kitchen stuff & high-quality cookers, Korean skin, and beauty supplies
Read More About Korea Town Here
Mountain Point West Business Park
Mountain Point West Business Park started out as a non-food strip mall but changed with the opening of Hobak in 2016. It is located on the north side of Spring Mountain before Jones. In addition to Hobak Korean BBQ, the mall features Gäbi Coffee & Bakery, Ramen Hashi, Chatime, a Foot spa, and the River of Life Christian Church in Las Vegas Chinese Church 拉斯維加斯生命河靈糧堂 华人教会
The Mountain View Plaza is a very popular strip mall with some of the best restaurants in the city. It's a few steps north of Spring Mountain Rd. at Jones on the western side of Chinatown Vegas. Foodie favorites are Chubby Cattle, China Mama, Sea Fresh, District One, EDO, and many more.
Read More About The Mountain View Plaza Here
Pacific Asian Plaza
Pacific Asian Plaza is an international shopping center. It features a variety of restaurants, a large Asian Supermarket, KTV (karaoke) massage, and a massage school.
The mall also has event space for rent. The parking lot in front looks small, however, there is covered parking as well as second-floor parking.
Read More About The Pacific Asian Plaza Here
Seoul Plaza
Often dubbed "Little Tokyo", and for good reason, this Chinatown Vegas strip mall features internationally acclaimed Raku and Kabuto, as well as stellar Trattoria Nakamura Ya, Monta, Curry Zen, and Sweets Raku.
Read More About The Seoul Plaza Here
Shanghai Plaza
The Shanghai Plaza is new and exciting. The popular plaza features internationally recognized Asian brands such as 85 Degree Bakery, B.BQ Chicken, Kura Revolving Sushi, Pepper Lunch, Dagu Rice and Noodle, and Miniso.
Shanghai Plaza is also home to local hometown favorites – Weera Thai, Yummy Rice, and the super popular ShangHai Taste. Don't forget to check out the xiao long bao (soup dumpling makers) from the display kitchen at ShangHai Taste and take some photos with a Chinese-pulled rickshaw replica from the late 1800s.
Read More About The Shanghai Plaza Here
Shan Tau Square
The Shan Tau Square is a strip mall that is located at the northwest corner of Arville and Spring Mountain. The mall is anchored by a Macy's Home & Furniture store, Sparrow and Wolf, Sura BBQ, Robata En, and Lamaii.
Read More About Shan Tau Square Here
Spring Mountain Center (168 Market)
Spring Mountain Center is a Chinatown Las Vegas strip mall anchored by the 168 Market and is located on the western side of Jones Blvd and runs between Spring Mountain and Desert Inn Roads.
The mall is home to the very popular Fuku Burger, Noodlehead, and Kushi, as well as several service-based stores.
More About The Spring Mountain Center Here
Spring Mountain Plaza
The Spring Mountain Plaza is a strip mall on the north side of Spring Mountain Rd., just east of Decatur, and features the famous Ronald's Donuts
More About Spring Mountain Plaza Here
V City Plaza
V City Plaza is on the red-hot western side of Chinatown. It is located on the north side of Spring Mountain east of Jones and is the home of many quality businesses such as the popular and loved Captain 6 Korean BBQ, La Postte Café, Sign Bank, EVO Internet Café, and more
Westwind Plaza
The Westwind Plaza is a tiny Chinatown Vegas mall on the north side of Spring Mountain just east of Jones and features a few restaurants and office space
More About Westwind Plaza Here
4355 Spring Mountain (Chinatown Plaza)
This is part of the Chinatown Plaza but it is its own entity. It's a two-floor mall that features the Crown Bakery, a massage parlor, Mr. Tofu, Korean Garden BBQ House, Sushi Kaya, Mian and Ichiza, and Mochinut.
So there you have it. A guide to the Chinatown Vegas malls. We hope it will make your Chinatown exploration more enjoyable.
Be sure to check back often as Chinatown seems to be growing overnight and we will keep you updated!
#chinatownvegas #bestchinatown