Chinatown Report: This Week in Chinatown
ChinatownVegas.com: Your Source for Chinatown Las Vegas News, Food, Restaurants, Tips, Events, and More!
Greetings, Chinatown Enthusiasts!
Friday the 13th is upon us, and Halloween is quickly approaching. What better way to celebrate than by immersing yourself in the pulse of Las Vegas' vibrant Chinatown?
In this edition of "This Week in Chinatown," we'll guide you through the latest happenings, tantalizing culinary experiences, and captivating cultural insights that await you in Chinatown. Prepare for an extraordinary journey as we unveil the hidden gems and vibrant tapestry of Chinatown's offerings.
We are starting from the east and heading west on Spring Mountain Rd
Dagu's First US Location Under New Ownership, to Reopen as "Noodle Nest"
Rumors have been swirling about the potential sale of Dagu Rice Noodle's inaugural US location. Dagu, China's renowned "most popular noodle brand," celebrated for its iconic Crossing the Bridge noodle soup, might be under new ownership. According to whispers, the prospective buyers could be the team from Tea Maison, a neighboring establishment, and they're reportedly planning to rebrand it as "Noodle Nest." We can now confirm that Noodle Nest from the team at Tea Maison will indeed open, no longer a rumor. As this intriguing story continues to unfold, we'll diligently pursue any developments and bring you the latest updates on this confirmed sale. Stay tuned for more information as this story progresses.
Afterlife Tea and Boba: A Hidden Gem Now Shines Brightly with Finished Sign
Afterlife Tea and Boba, the charming hidden gem we introduced in early September, has successfully finalized its grand opening with the installation of a new sign. For those who haven't had the chance to experience this exceptional establishment, now is the perfect time to pay a visit. If you missed our initial feature, you can catch up on everything you need to know about Afterlife Tea right here
High Stakes in Vegas: Griff's Billiards Hosts Thrilling 9-Ball Tournament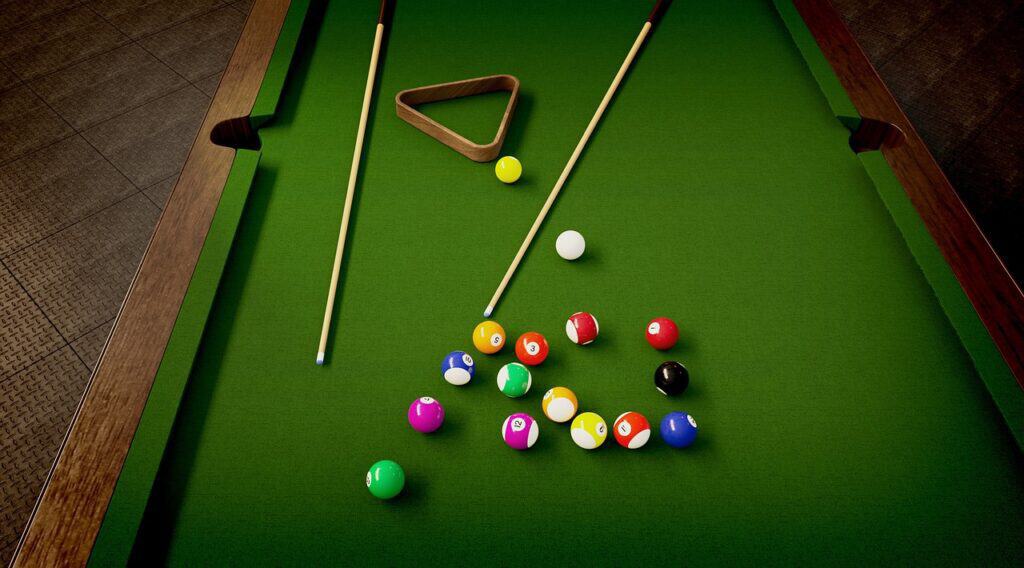 The billiards world is abuzz with anticipation as one of the most awaited tournaments of the year is set to take place in the heart of Las Vegas. Griff's Billiards, renowned for its top-notch facilities and electrifying tournaments, is the backdrop for this high-octane face-off. With only 64 spots up for grabs, competitors are in for an intense showdown with everything to play for.
This 9-ball tournament is not for the faint of heart. Winners will need to race to 9, while those in the losers' bracket will fight tooth and nail for supremacy in races to 7. Expect every rack to be fiercely contested as players showcase their skills.
All matches will adhere to BCAPL Rules of Play, adding an extra layer of strategy and competition to the games. One rule to note is the 3-foul rule – players must exercise caution and precision. A reminder for all participants: leave your headphones at home; it's time to focus.
The battleground for this epic tournament will be none other than Griff's Billiards in Las Vegas. This revered venue is synonymous with thrilling billiards action and is the ideal stage for players to prove their mettle. The 7′ Diamond tables will host some of the most epic matches ever seen.
To secure a spot in this prestigious tournament, players need to pay an entry fee of $1,000. This fee encompasses the $50 greens fee and TD fee. However, players with a penchant for higher stakes can join optional side pots with entry fees of $100 and $300. For the most daring competitors, there's a $200 Winner-Takes-All side pot up for grabs.
With just 64 spots available, it's essential to act swiftly. Entry is on a -come, first-served basis. To secure your spot, send a non-refundable $200 deposit to Jason Osborn via PayPal or Zelle. If you prefer cash transactions, Jack Murray is available to assist you.
The excitement isn't confined to the arena. The online players' auction commences on Tuesday at 1:00 PM. Be aware that once the auction begins, player entries are non-refundable.
This tournament is your chance to make a mark in the world of billiards, connect with fellow enthusiasts, and experience the adrenaline rush of high-stakes competition in the heart of Las Vegas. Don't miss your shot at becoming a part of this memorable event at Griff's Billiards. Stay tuned as we follow the action and bring you updates from this thrilling tournament.
Exciting News: PPANG Co. to Soft Open Next Week with a Fresh Concept in Korean-Style Bakery Cafes!
In the August 25th edition, we shared the news about Ssoju bidding farewell as it closed its doors in Kangnam Square on Jones, just steps south of Spring Mountain Rd. Now, exciting changes are on the horizon as the space transforms into the all-new Korean-style bakery cafe named Ppang Co. This upcoming spot promises to delight with a delectable array of grab-and-go sandwiches, freshly baked bread, tempting cakes, pastries, and an extensive selection of coffee beverages and boba tea drinks.
We are thrilled to announce that Ppang Co. will be having its soft opening next week. The new sign is up, and the interior is nothing short of beautiful. With its large, open space and warm, inviting atmosphere, Ppang Co.'s opening is highly anticipated, and we can't wait to experience it firsthand. Stay tuned for some photos and more updates
Matcha Cafe MAIKO Completes Exciting Transformation into 'Urban Matcha': Embracing Las Vegas' Urban Vibe
Following our August 11 news report, Matcha Cafe MAIKO has successfully completed its grand transformation into "Urban Matcha." The transition culminated with the installation of new and vibrant signage. Urban Matcha, now independently operated, stands as a testament to the enduring spirit of its dedicated management and staff.
With a fresh identity, Urban Matcha caters to the flourishing Las Vegas community. The city's evolution towards a bustling urban hub inspired this change. It continues to offer the same cherished team, product quality, and exceptional service. While the offerings remain consistent, a few names have been updated to align with the shop's dynamic new brand.
The exciting shift exemplifies the commitment to growth and innovation, resulting in an inviting space perfectly suited to the vibrant energy of Las Vegas. Don't miss the opportunity to experience this local favorite and indulge in the delightful world of Urban Matcha.
Chinatown's Iconic Herb Shop Set to Reopen with a Warm Welcome
A long standing fixture of Las Vegas's Chinatown, Ginseng Plus the trusted herb shop, temporarily shuttered since the last week of August, is set to welcome back patrons on October 28. Ms. Mindy, the heart and soul of this establishment, has dedicated over 15 years to the business. Prior to her current location in Mountain View Plaza, she spent many years serving the community from a different Chinatown location. While her English may be limited, her knowledge and friendliness know no bounds, and for language nuances, Google Translate is a handy ally.
The store boasts a wide array of offerings, from premium ginseng and teas to medicinal herbs. Additionally, you'll find a curated selection of tea-related items, including cups, pots, and exquisite tea sets. For those familiar with this cherished establishment, the reopening is a moment of anticipation and delight. We can't wait to step into one of our favorite herb stores, right in the heart of Chinatown.
Boutique World Alters Schedule: Now Closed on Sundays
Boutique World, situated in the Spring Mountain Center, has recently implemented a change to its schedule by closing its doors on Sundays. The duration of this adjustment, whether it is a temporary or permanent measure, remains uncertain at this time. The store promises to keep its loyal customers informed about any updates as they unfold. Your ongoing patronage and understanding are greatly appreciated
As we wave goodbye to another incredible week,we hold dear the vibrant moments and indelible experiences that render Chinatown truly exceptional. From the alluring scents of authentic cuisine to the enriching cultural revelations, Chinatown offers a sensory banquet.
We eagerly anticipate your return next Friday for another exhilarating edition, brimming with cherished memories. And always bear in mind,
And always remember, "What Happens in Chinatown, Happens Here"