Chinatown Report:
This Week in Chinatown
Welcome to the latest edition of 'This Week in Chinatown,' brought to you by Chinatownvegas.com. We trust that everyone had a fantastic Halloween! Join us on an exhilarating journey as we dive into the freshest updates on events, irresistible culinary delights, and the mesmerizing cultural experiences that are shaping the ever-vibrant and dynamic neighborhood of Las Vegas's Chinatown. But before we do, let's take a look at what else you might wanna check out while you are here in town
Get Ready to Rock and Rev at SemaFest with Top Artists and High-Octane Auto Action
As the Sema Convention comes to an end, prepare for a weekend of electrifying entertainment at SemaFest. Join the crowd and jam out to chart-toppers like Imagine Dragons, Incubus, Wiz Khalifa, Third Eye Blind, Bush, Ludacris, and Walk The Moon. But that's not all; the event offers a revved-up experience with the hottest automotive brands, immersive automotive lifestyle events, a bustling consumer marketplace, world-class drifting, motorsports competitions, and thrilling freestyle motocross.
Located at the Las Vegas Festival Grounds, 2594 South Las Vegas Blvd, this week is set to be a high-octane celebration of music and motorsports
Formula 1 Turmoil: City on the Brink as Future of F1 Racingp Hangs in the Balance
The Formula 1 circus is at it again, causing chaos and mayhem and virtually paralyzing an entire city. Lane closures, bus reroutes, and the never-ending, often outrageous demands from the Formula 1 bigwigs. It's enough to make anyone wonder – is this the last straw?
Rumor has it that they're ready to call it quits, and honestly, it can't come soon enough. We're hoping they stick to their word and break that contract. Maybe it's time to do something sensible for once – like building a world-class permanent facility just outside the city limits. Let's leave the ridiculous roadblocks and traffic nightmares behind and give F1 fans something truly stunning and functional.
Now, let's bid farewell to the mundane and head where the true excitement thrives – Chinatown
We are starting from the east and heading west on Spring Mountain Rd
Rumor Has It: The Center at Spring Mountain Set to Welcome a Golf Simulator Bar – Confirmation Awaited
In April, we introduced the new bar-to-be, JD Bar and Lounge, which was said to be transforming six storefronts into a beer-centric haven complete with a full bar, menu, and gaming options. Fast forward to today, and insiders are sharing some exciting news: JD's will be an indoor golf screen simulator bar. We've reached out to the management for confirmation but were unable to and the details are still pending. Stay tuned for updates as we unveil more information about this intriguing project in the works.
Final Weekend: Neil Simon's 'Laughter on the 23rd Floor' at Las Vegas Little Theater
This weekend marks the final opportunity to catch the uproarious comedy "Laughter on the 23rd Floor" by Neil Simon at the Las Vegas Little Theater. The play unfolds on Friday and Saturday, November 3rd and 4th, at 8 PM, and on Sunday, November 5th, at 2 PM.
Offering a glimpse into the behind-the-scenes antics of a comedy show's writing team in the 1950s, the play is a humorous exploration of the creative process and camaraderie among comedy writers. Tickets for this delightful performance are available for $30 and can be conveniently purchased on the Las Vegas Little Theater website.
Don't miss your chance to share a good laugh and celebrate the wit of Neil Simon in the heart of Las Vegas.
Chinatown Plaza Welcomes 'Sushi & Shabu Time' – Your New AYCE Sushi and HotPot Hotspot
In an exciting rebranding move, Sushi Time has transformed into 'Sushi & Shabu Time.' The establishment, under the same dedicated ownership and with familiar staff, has expanded its offerings to include All-You-Can-Eat Sushi and Shabu (HotPot). Still operating from 11:30 AM to 11:00 PM, seven days a week, this dynamic transformation also comes with extended hours until 1 AM on Fridays and Saturdays. With this evolution, Chinatown Plaza warmly welcomes a new destination for the ultimate sushi and hotpot experience.
Exciting News at Kura Revolving Sushi: The Jujutsu Kaisen and Kura Sushi Bikkura Pon Collaboration
In a limited-time offer, Kura Revolving Sushi Bar is treating its guests to an exciting collaboration with Jujutsu Kaisen. For every 15 sushi plates featuring beloved characters like Itadori Yuji, Megumi Fushiguro, Nobara Kugisaki, and Satoru Gojo, diners will receive a FREE randomized Jujutsu Kaisen x Kura Sushi Bikkura Pon prize.
But that's not all! The prize collection is also available for individual purchase, both in-store and online. From bubble magnets to rubber bottle holders and figurines, these goodies are sure to delight fans. Additionally, Kura Revolving Sushi is hosting in-store giveaways, making it the perfect time to enjoy some delectable sushi while indulging in your love for Jujutsu Kaisen. Don't miss out on this fantastic collaboration
Sunright Tea Studio's Grand Opening Triumph: Las Vegas Embraces Newest Tea Haven with Enthusiastic Crowds and Generous Offers
The Grand Opening celebration of Sunright Tea Studio's inaugural Las Vegas establishment at Hotai Plaza in Chinatown, which took place over the weekend of October 28 and 29 from 11 AM to 9 PM, proved an outstanding success. Hundreds of enthusiastic patrons patiently queued for hours to explore the latest addition to their local tea scene. Sunright Tea Studio sweetened the deal with a BOGO (Buy One, Get One) promotion on all menu drinks, and to make things even more enticing, the first 50 customers on both days, October 28 and 29, were pleasantly surprised with $25 Sunright gift cards upon any purchase.
Insiders tell us that Sunright Rea Studio will also open a second location in Summerlin on West Charleston early next year.
Grand Opening: Palette Tea Lounge and Dim Sum Redefines Dining Experience with Eagerly Anticipated Arrival
The progress of Palette Tea Lounge and Dim Sum has been closely monitored since we first broke the news that they would be the successors of the beloved Joyful House location, a revelation we made in October of the previous year. After thirteen months of eager anticipation and a series of updates on Palette Tea Lounge's development, the long-awaited moment has arrived – they have officially conducted a soft opening. Impressively, the new establishment has managed to meet and even exceed the community's expectations.
The interior blends chic and modern aesthetics, effortlessly combining a traditional yet contemporary ambiance. The visual appeal is accentuated by vibrant square lanterns suspended from the ceiling, giving the space a distinct character.
Notably, this Chinese tea house introduces unique water table features, Chinese lanterns, and mosaic floor tiles, adding to its overall charm.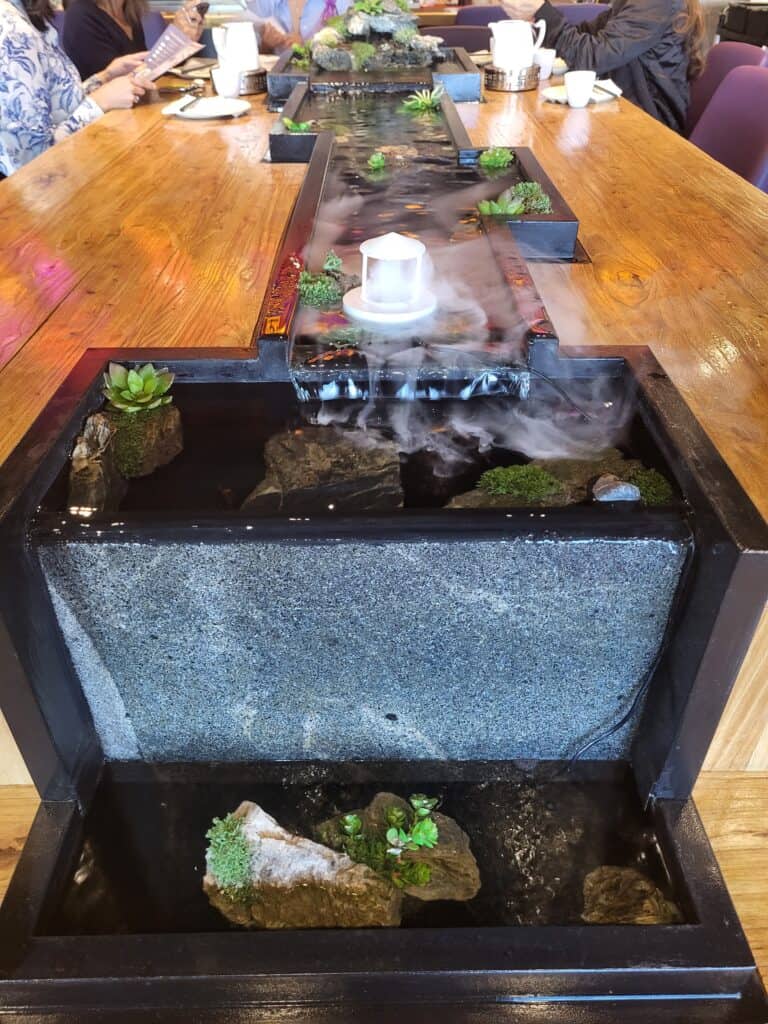 Among the culinary highlights, Palette Tea Lounge and Dim Sum offer a delightful menu featuring Lobster Hagow, Pork and Shrimp Siu Mai, XLB, Steamed BBQ Pork Bao, and for dessert, don't miss the Almond Sweet Tea with Egg White.
Not only is the food exquisite, but the presentation is also captivating. The table setup features a unique presentation of sauces and hot tea, adding an extra touch of intrigue to the dining experience.
Palette Tea Lounge & Dim Sum
4601 Spring Mountain Rd,
Las Vegas, NV 89103
(702) 888-3626
Wednesday – Sunday: 11:00 AM – 3:00 PM, 5:00 PM – 10:00 PM
Tuesday: Closed
Chinatown's Endless Cone-a-Palooza: One Year of Traffic Cone Spectacle and Counting
Ladies and gentlemen, the not-so-awaited anniversary of the construction cones in Chinatown. Can you believe it's been a whole year since we first introduced you to the wonders of orange plastic roadblocks at Spring Mountain and Decatur? Well, neither can we.
In our extensive coverage, spanning all of 2022 and beyond, we've followed the mesmerizing saga of road planning that continues to unfold. Because who needs real entertainment when you can watch traffic cones being rearranged, right?
But hold onto your hats, because there's an unexpected twist! Just when you thought things couldn't get any more thrilling, roughly a month ago, they decided to excavate the middle lane of Decatur, stretching from Desert Inn to Twain. They dug a trench in the middle lane a whopping 18 inches deep, sprinkled in a few extra cones for good measure, and then, as if by magic – poof!
They didn't vanish into thin air but rather disappeared, only to make a surprising return on October 30 for paving.
November at Ninja Karaoke: Sing, Dance, and Save with Specials and A DJ from Japan
Step into Ninja Karaoke, nestled on the second floor of the Pacific Asian Plaza, and prepare for a thrilling November! Throughout the entire month, enjoy a fantastic 20% discount on their Karaoke rooms.
But that's not all! Circle November 11th on your calendar for an electrifying night with a special guest DJ from Japan, DJ Jessy. It's the perfect opportunity to warm up your vocal cords, hit the dance floor, and savor your favorite food and drinks. Don't miss out on the upcoming excitement and deals in the world of Chinatown karaoke.
Transformation Underway: Osaka Sunset Evolves into 'A Different Beast' with New Culinary Vision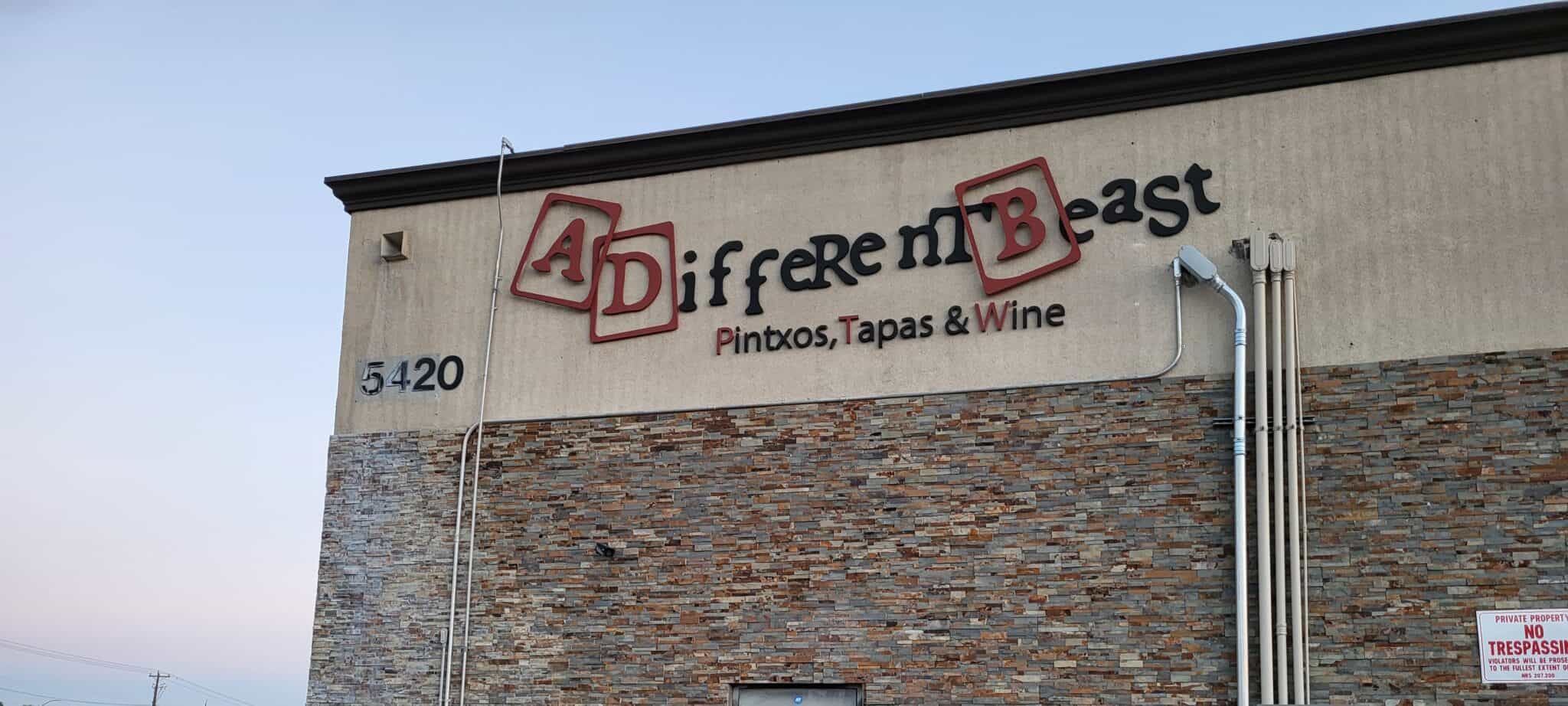 In a previous weekly edition back in September, we shared the exciting news about the transformation of the Osaka Sunset space into 'A Different Beast,' a venture led by the dynamic culinary duo Kat Hu and Justin Yi. Kat and Justin, formerly the owner-operators of Hock + Hoof in Los Angeles, have brought their talents to this new endeavor. Since then, we've been keeping a close eye on the progress, and we're thrilled to report that the installation of a sign facing Spring Mountain Road is underway. Stay tuned for updates as they work on creating the main entrance sign – there's more to come.
Chung Chou City's Grand Return to Las Vegas Chinatown: A Celebrated Comeback for Ginseng and Specialties
In a noteworthy update, it was reported back in the September 8th edition of "This Week in Chinatown" that Chung Chou City's eagerly awaited return to Las Vegas Chinatown was just on the horizon. After a soft opening on October 21, 2023, the establishment held a vibrant traditional grand opening event the following week.
Chung Chou City, renowned as one of the most prestigious names in the world of ginseng and specialty items, had formerly been situated further east along Spring Mountain Road at The Center of Spring Mountain. Now, it has triumphantly returned to Las Vegas, adding to its existing locations in San Francisco, Oakland, Milpitas, Los Angeles, and Zhuhai City, Guangdong Province, China.
Distinguished for its high-quality ginseng root, bird's nest, seafood, and a wide array of Chinese herbal remedies, Chung Chou City can be found at 5780 Spring Mountain Road, Las Vegas, NV 89146. For inquiries, you can reach them at 702-795-2288 or visit their website at chungchoucity.com
A First Look at Ppang Co, Chinatown's Newest Bakery Cafe
Discover Ppang Co, Las Vegas's newest culinary treasure, where your taste buds are in for a treat with a delightful selection of Korean-inspired sweet pastries, cream donuts, and whole cakes. Don't forget to savor the Caramel Brioche and Mont Blanc, true highlights. If you're in the mood for something savory, their offerings include Pizzettes, Sandwiches, Croissants, and Garlic Breads.
As you step inside, you'll be greeted by a spacious, well-decorated interior that boasts plenty of seating options, including a cozy couch and a living room-style area. Plus, the friendly and welcoming staff is always at your service.
Whether you're in the mood for a study session, a social gathering, or a quick grab-and-go treat, Ppang Co's indoor ambiance has got you covered.
With its fusion of traditional and modern design, coupled with inviting dim lighting, it's the ideal spot for a cozy visit.
Here are some photos of Ppang Co's delicious pastries and inviting interior:
As you can see, Ppang Co is the perfect place to enjoy a delicious treat and relax in a cozy atmosphere. Be sure to check it out next time you're in our 'hood.
Find Ppang Co nestled in Kangnam Plaza at 3620 S Jones Blvd, Las Vegas, NV 89103.
They're open from 10 a.m. to 8 p.m., seven days a week, and you can reach out to them at (702) 780-4677.
DG Lounge (Dragon Gate) Karaoke Venue: The Return of a Chinatown Classic Space
Get ready for the return of a beloved karaoke hotspot in Chinatown! DG Lounge, also known as Dragon Gate, is gearing up to open its doors. This spacious karaoke venue is currently undergoing some remodeling and renovating, promising a fresh and vibrant experience for all. Over the years, this location has been a favorite among locals and has changed hands a few times, going through various iterations like Forbes KTV & Restaurant, Vegas KTV & Fine Dining, and Jin's Club.
With the promise of a grand reopening, the operators of DG Lounge have big plans for this nearly 10,000-square-foot venue. It's an eagerly awaited comeback, and we can't wait to see what they have in store for karaoke enthusiasts. Stay tuned with us for updates as we unveil more about this exciting spot
Anticipated Delay: China Mama's Original Location Set for Summer 2024 Reopening
China Mama, the beloved Chinatown restaurant, faced a setback in its plans to reopen its original location at the Mountain View Plaza. Originally scheduled to welcome patrons before Christmas, the anticipated reopening has encountered some unexpected delays. Now, the community is eagerly awaiting the return of the restaurant, which is projected to occur in the summer of 2024.
Despite these challenges, China Mama remains resilient. The Shanghai Plaza location and its express takeout counterpart in Spring Valley continue to operate seamlessly, drawing in bustling crowds due to their delectable offerings. As the original location works diligently to make a triumphant return, patrons can still indulge in the culinary delights that have made China Mama a cherished part of the Chinatown dining scene. Stay tuned for further updates and a taste of what's to come in the summer of 2024
As the week draws to a close, we bid farewell to another incredible week in Chinatown. We cherish and hold dear the vibrant moments and unforgettable experiences that make this neighborhood so special. From the enticing aromas of authentic cuisine to the enriching cultural discoveries, Chinatown offers a feast for the senses.
We eagerly await your return next Friday for another exhilarating edition, brimming with memories to be cherished. And always remember, "What Happens in Chinatown, Happens Here.
See ya next week
Subscribe to Chinatown's New YouTube Channel
In our ongoing efforts to promote and highlight what we feel is the best Chinatown anywhere, we have launched a YouTube Channel to capture it.
The channel plans on featuring businesses, food, chefs, breaking news, street reports, and much more. Chinatown Vegas' YouTube Channel hopes to capture a real sense feel of what it's like to visit the super-fast growing Chinatown.
9 Amazing Ramen Dishes to Try in Chinatown
Discovering Traditional Chinese Medicine in Las Vegas Chinatown
Chinatown Vegas Features Perfect Places to Master Martial Arts for Kids and Adults
8 Cool Things To Do In Chinatown Vegas