Chinatown Report:
This Week in Chinatown
Step into the newest 'This Week in Chinatown' edition, presented by Chinatownvegas.com. We hope you've had an amazing week so far! Embark on an exciting journey with us as we explore the latest events, tempting culinary experiences, and captivating cultural discoveries that continue to shape Las Vegas's thriving Chinatown neighborhood.
We are starting from the east and heading west on Spring Mountain Rd
Kick Off Your Weekend with Live Music, Craft Pizza, and Beer at the Sand Dollar Lounge
For those seeking the perfect weekend kickoff, the iconic Sand Dollar Lounge beckons with an enticing blend of live music, craft pizza, and a selection of fine beers. It's important to note that this venue is strictly for individuals aged 21 and above, and as always, there's no cover charge.
Here's the impressive musical lineup for the weekend:
Friday at 9 pm – Dive into the weekend's festivities with the captivating melodies of the local favorites, The Benders.
Saturday promises a night of rocking tunes with a remarkable Rockabilly Showcase, featuring the talents of renowned artists Eddie Clendening, Mozzy Dee, and Shanda & The Howlers. Get ready to dance the night away from 9 pm to 2 am.
Sunday adds a soulful touch to your weekend with the harmonious sounds of Maejoy X The Noir Movement, a unique collaboration between Maejoy and The Noir Movement. Let their soulful and R&B rhythms serenade you from 9 p.m. to 1 a.m.
Embark on a weekend of electrifying music, delectable craft pizza, and an extensive beer selection at the iconic Sand Dollar Lounge. Don't miss out on this unforgettable weekend of entertainment and camaraderie. We'll see you at the Sand Dollar Lounge
Tiki Teaserama at The Golden Tiki: A Night of Burlesque, Swing Music, and Pin-Up Glamour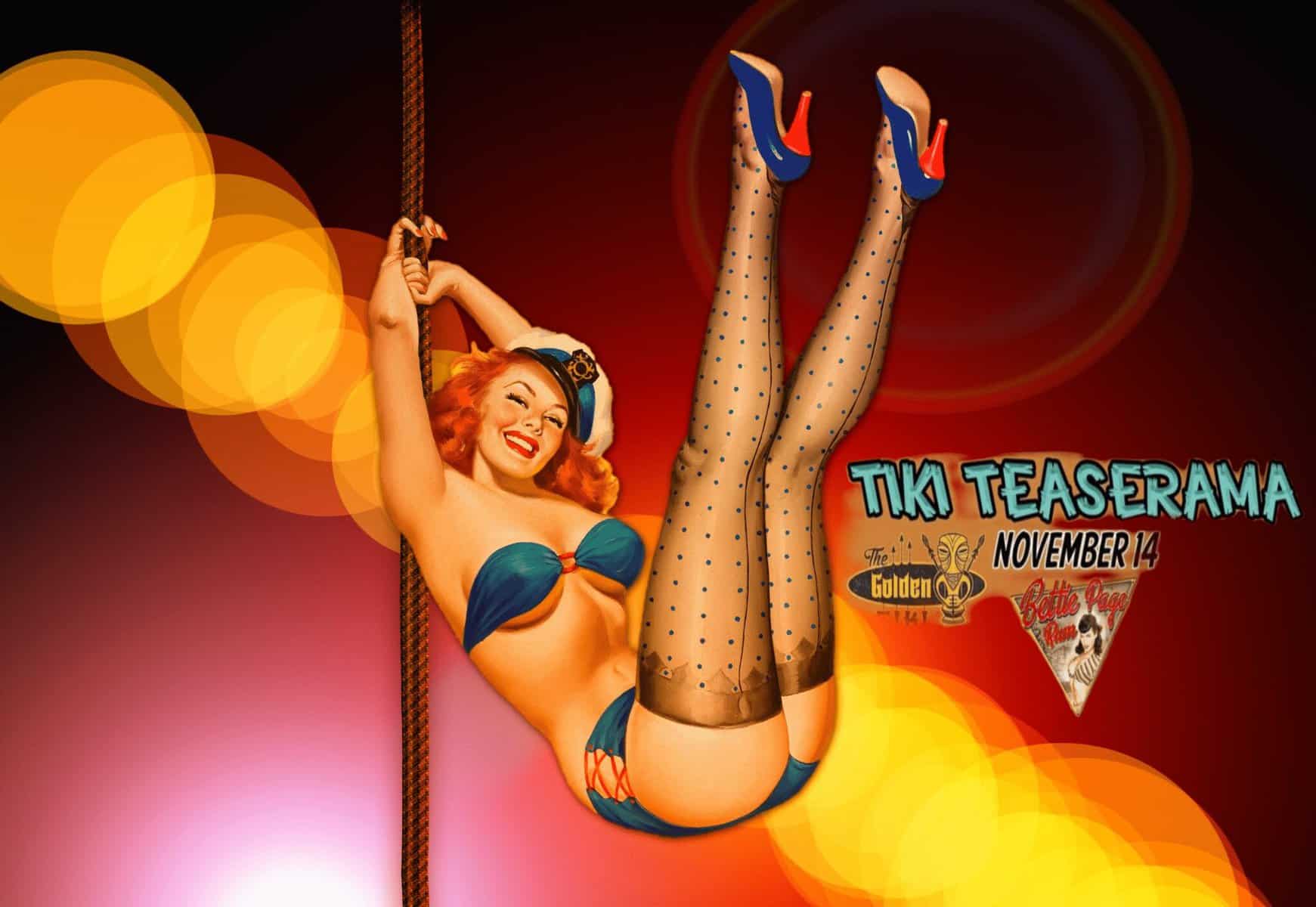 Get ready for another fun and exciting evening as The Golden Tiki presents "Tiki Teaserama" on November 14th at 9 p.m. This dazzling burlesque show is proudly sponsored by Betty Page Rum and MC'd by the illustrious pin-up supermodel, Bernie Dexter. Get ready to be transported back in time with the retro swing and jump blues music by Trevor & the Swingin' Johnsons, paying homage to the golden eras of the 1940s and 1950s.
Prepare to be mesmerized by captivating performances from the singing burlesque seductress, Sweet Siren, and the alternative pin-up model and burlesque dancer, Alaina Rose Lee. As the night unfolds, delight in the exquisite Betty Page Rum cocktails and the chance to snag some fantastic swag. It's an event you won't want to miss!
Aspiring Actors and Actresses Invited to Audition for Las Vegas Little Theatre's 'Darling Mr. London
Open auditions have been announced for the upcoming production of "Darling Mr. London" by Anthony Marriott and Bob Grant, directed by David Ament. Those interested in auditioning are invited to attend in-person auditions, scheduled for Monday, November 13, and Tuesday, November 14 at 7 pm.
Rehearsals are set to commence immediately, leading up to a series of performances from January 19 to February 4, 2024. The location for auditions and performances will be the Las Vegas Little Theatre at 3920 Schiff Dr., Las Vegas, NV, 89103.
"Darling Mr. London" will be showcased on Fridays and Saturdays at 8 p.m., with Sunday performances at 2 p.m., and a special Saturday matinee on January 27 at 2 p.m.
The play promises a night of hilarity as it unfolds the story of Edward, whose mundane life takes an unexpected turn when four glamorous females arrive, eager to meet the flirtatious Mr. London in person, setting off a chain of comical complications. All roles for the production are currently available, making it an exciting opportunity for aspiring actors.
Inside Scoop: Shoo Loong Kan Hotpot Rumored to Revive Historic Chinatown Space
We are told that the famous Chinese hotpot chain Shoo Loong Kan (called Xialongkan in some states) is eyeing the former Emperor's Garden space on the second floor of the Chinatown Plaza for a new location. While no official confirmation has been released, our highly reliable insider sources suggest that the deal is finalized.
Emperor's Garden, once a beloved staple in the community, especially for breakfast, closed its doors several years ago, leaving a void in the Chinatown Plaza's culinary scene. The arrival of Shoo Loong Kan, with its roots in Sichuan, China, would bring an exciting and authentic hotpot experience to the neighborhood.
Shoo Loong Kan's signature spicy Chongqing-style hotpot is a favorite among hotpot enthusiasts, featuring a rich and flavorful broth that perfectly complements a variety of fresh ingredients. The chain's commitment to quality ingredients and a lively atmosphere has earned it a loyal following worldwide.

With over 800 locations in China, Shoo Loong Kan is one of the most popular hotpot chains in the country. The chain has been rapidly expanding in recent years, and it is estimated that it will have over 1,000 locations in China by the end of 2024. In The US they have locations in Flushing, Chicago, Los Angeles, and Houston. Dallas, Manhattan, and Fort Lee, NJ are also scheduled to open in the next few months.
The opening of a Shoo Loong Kan in Chinatown would mark a significant revitalization of the historic space, breathing new life into a beloved dining destination. Stay tuned for official confirmation and further updates on this exciting development.
Exciting Additions to Kura Revolving Sushi: Must-Try New Dishes!
If you're a fan of  Kura Revolving Sushi in the Shanghai Plaza,  they have just introduced a mouthwatering array of new dishes that will tantalize your taste buds.
Kura Revolving Sushi, renowned for its innovative conveyor-belt sushi concept, has always been a favorite among locals and tourists alike.
Now they have added some new dishes to their already impressive menu that are to die for
The new menu items are Hamburger Steak Nigiri –  a fusion of Japanese and Western flavors. For seafood lovers, they added Fried Scallops that are perfectly cooked crispy on the outside, and tender on the inside. Teriyaki Chicken – Teriyaki is the classic Japanese favorite, and Kura has perfected it. Tender, grilled chicken glazed with sweet and savory teriyaki sauce  and Beef Fried Rice– comfort food at its best
A mouthwatering blend of seasoned beef and fried rice, this dish is a satisfying option for those craving a heartier meal. Each bite is filled with rich flavors that will transport your taste buds to Japan.  If you're looking for something fresh and light, the Umami Cucumber Salad is the answer. Crisp cucumber slices are dressed in a delightful umami sauce that's a perfect balance of savory and refreshing.
Kura Revolving Sushi's commitment to providing an authentic and innovative dining experience is evident in these new offerings. Whether you're a sushi aficionado or simply someone who loves delicious food, you'll find something to savor.
Kura Revolving Sushi
Open 7 days
11:30 am to 9 pm and 10 on Friday and Saturday
City View Apartments Unveils Stunning Renovations and Rebranding: Welcome to the Oasis of Namaste Apartments
In a past edition of "This Week in Chinatown," we introduced you to the City View Apartments' ambitious renovations and rebranding on Arville Street and Desert Inn Rd. Today, we are thrilled to unveil the breathtaking transformation as the final strokes are applied, welcoming you to the newly reimagined Namaste Apartments—a true gem in the heart of Las Vegas.
The attention to detail in this remodel has been nothing short of spectacular, with each facet of the property meticulously designed to create a harmonious living space. One outstanding feature is the awe-inspiring mural on the south side of the complex, facing Spring Mountain Rd. Crafted by local artist Guilherme Lemes, this mural is a testament to the vibrant artistic community within Chinatown. Its large, captivating presence adds a unique touch to the exterior, seamlessly blending modern aesthetics with local artistry.
Step inside, and you'll find a haven of luxury and convenience. Namaste Apartments boasts an array of contemporary features, including Keyless Front Door Entry, Nest Thermostat, Full-Size Stainless-Steel Appliances, Quartz Countertops adorned with Subway Tile, and Lenox Slab Cabinets featuring Brushed Nickel Hardware. The remodel extends beyond aesthetics to essential conveniences like Washers/Dryers and Dishwashers.
Beyond the well-appointed interiors, Namaste Apartments offers a world of premium onsite amenities. Residents can enjoy a fully-equipped fitness center with free weights, a refreshing pool and spa, and engaging weekly yoga classes and group exercises. For pet lovers, a dedicated dog park awaits. Need to catch up on work? The business center is at your service, and when it's time to unwind, the clubhouse provides the perfect retreat.
The prime location of Namaste Apartments ensures not just accessibility but also a vibrant community atmosphere. Whether you're employed nearby or on the iconic Strip, you're just minutes away from everything.
Excitingly, 1 and 2-bedroom units are currently available. Don't miss the chance to experience the epitome of modern living at Namaste Apartments—a place where attention to detail, local artistry, and community converge to redefine your living experience.
Namaste Apartments
3355 Arville Street
Las Vegas, NV 89102
(833) 292-6385
Lucky Cat Arrives in Chinatown: Unleashes Crave-Worthy BBQ
Calling all BBQ lovers! Lucky Cat BBQ, a new food truck serving up mouthwatering barbecue goodness, has just landed a semi-permanent spot at the Maaco parking lot on Spring Mountain Rd. Just a few steps west of Arville, next to the Wells Fargo bank on the corner, Lucky Cat is poised to become a go-to spot for Chinatown's barbecue aficionados.
Mark your calendars for their next service on Tuesday, November 14th, from 5:30 PM to 9:30 PM. Get ready to indulge in their signature Banh Mi Sandwiches, Smoked Pork Belly Fried Rice,  BBQ Tacos, Carnitas Style Smoked Pulled Pork Street Tacos, and Smoked Brisket Cheesesteak. For an extra burst of flavor, don't miss their Brisket Elote, a delectable fusion of Mexican street corn and savory brisket.
And that's not all! Lucky Cat BBQ is constantly expanding its menu with new and exciting creations. To stay updated on their latest offerings and upcoming service times, be sure to follow them on Facebook
So, what are you waiting for? Head over to Lucky Cat BBQ this week and experience the tantalizing flavors of their authentic barbecue. You won't be disappointed
Sunright Tea Studio Instagram Giveaway: Win FREE Drinks for a Month in December!
In the Sunright Tea Studio Instagram Giveaway, participants have a chance to win FREE drinks for a month. One fortunate follower will be selected to enjoy complimentary drinks throughout December. The entry rules are straightforward:
To enter, one must follow Sunright Tea Studio on Instagram at @sunrightteastudio.nv.
In the comments section, tag a different friend for each entry.
That's it! Each comment with a tagged friend represents an entry into the giveaway. The winner will be chosen randomly and announced the following Wednesday.
The lucky winner will be entitled to 1 FREE drink of their choice per day from December 1st to December 31st, 2023 (with a limit of 1 free drink per day). It's important to note that the winner must be present at our Las Vegas Chinatown location to redeem their complimentary drinks. Don't miss this fantastic opportunity to enjoy a month of delightful beverages from Sunright Tea Studio!
MOB Tour Finale 9-Ball Tournament to Culminate at Griffs Billiards
Join the action at the MOB Tour Finale 9-Ball Tournament this Saturday, November 11th, at Griffs Billiards in Las Vegas
The MOB Tour Finale 9-Ball tournament will be held this Saturday, November 11th, at Griffs Billiards. The tournament will feature two brackets, with over $3,000 in total added money.
Registration for the tournament will open at 9:00 AM, and play will begin at 10:00 AM. The entry fee is $60 for MOB Tour card holders and $70 for non-card holders.
The MOB Tour is a nine-ball pool tour that is open to all levels of players. The tour provides a fun and competitive environment for players to improve their skills and compete for prize money.
If you are a fan of the nine-ball pool, be sure to come out and support the MOB Tour Finale this Saturday at Griffs Billiards in Las Vegas. It is sure to be a great day of pool and competition.
Casa de Raku Emerges from the Ashes of Sweets Raku, Unveiling a Vibrant Tapas Haven in the Heart of Chinatown Vegas
In May, Chinatownvegas.com reported the heartbreaking closure of Sweets Raku, a beloved French-inspired Japanese Dessert restaurant. Subsequently, it was revealed in later updates that the establishment would transform into a Japanese-Spanish-style tapas bar. Unexpectedly, and with no apparent signs of renovations, Casa de Raku made a surprising announcement via their social media accounts, officially marking the transition from Sweets Raku to Casa de Raku.
The grand opening of Casa de Raku is scheduled for November 11 (Sat) at 6 pm, situated at the former location of Sweets Raku – 5040 Spring Mountain Rd, Las Vegas, NV 89146. The tapas bar promises an array of European-style dishes featuring exotic meats, seafood, drinks, and, of course, desserts for the sweet enthusiasts. Operating on a walk-in basis only, Casa de Raku does not accept reservations.
Operating hours are as follows:
Thursday to Saturday: 6 pm – 2 am (Last order at 1:30 am)
Closed on Sundays and Mondays.
Casa de Raku expresses gratitude and anticipation, extending a warm welcome to everyone. Chinatownvegas.com eagerly anticipates more exciting developments from this new addition to the scene.
Urban Matcha extends a warm invitation to the community for its Grand Opening celebration! The festivities will take place this weekend, on 11/11 – 11/12, marking the exciting debut of the brand's new identity as URBAN MATCHA. Attendees are invited to explore the new shop, check out the latest cheese cap collection, and indulge in Premium Uji Matcha items.
As a special treat for this weekend only, Urban Matcha is offering a fantastic deal – purchase one soft serve and receive a complimentary cheese cap drink! It's an opportunity to savor the unique flavors and enjoy the vibrant atmosphere of Urban Matcha's fresh beginnings. Join the celebration and create sweet memories at URBAN MATCHA! Love, Urban Matcha.
As we wrap up this edition, we're reminded of what makes Chinatown unique. From the alluring scents of authentic cuisine to the wealth of cultural discoveries, Chinatown remains an ongoing sensory delight.
Join us again for the next edition, where we'll continue to explore the wonders of Chinatown. And always keep in mind, "What Happens in Chinatown, Happens Here."
See you in the next edition
Subscribe to Chinatown's New YouTube Channel
In our ongoing efforts to promote and highlight what we feel is the best Chinatown anywhere, we have launched a YouTube Channel to capture it.
The channel plans on featuring businesses, food, chefs, breaking news, street reports, and much more. Chinatown Vegas' YouTube Channel hopes to capture a real sense feel of what it's like to visit the super-fast growing Chinatown.
9 Amazing Ramen Dishes to Try in Chinatown
Discovering Traditional Chinese Medicine in Las Vegas Chinatown
Chinatown Vegas Features Perfect Places to Master Martial Arts for Kids and Adults
8 Cool Things To Do In Chinatown Vegas