Chinatown Report: This Week in Chinatown
Las Vegas Chinatown news and analysis by Chinatownvegas.com. Food. Restaurants. Tips. Things to do. Events. What's in? What's out? RUMORS + much more
While the warm weather is certainly a sigh of relief, the significant development is the closure of IX Skewer & Bar in the Shanghai Plaza and the anticipation surrounding its replacement. Despite only opening last December, IX Skewer had already garnered a devoted following. However, it has since been sold, and a highly reputable Chinatown restaurant is rumored to be taking its spot. The identity of this restaurant will be revealed later in this article.
What else around town?
We understand the best part of visiting Las Vegas is spending time in Chinatown, but sometimes you wanna explore what else there is to do in this city. Las Vegas has a lot to offer beyond the popular Chinatown area.
This weekend, music fans can catch Brad Paisley's Acoustic Storyteller at the Wynn, Katy Perry at Resorts World, Smokey Robinson at the Venetian, or Usher at the Park MGM.
For those who love racing, the NHRA Four-Wide Nationals at the Las Vegas Motor Speedway is sure to be a thrilling event. And for a taste of traditional Western culture, the Clark County Fair & Rodeo at the Clark County Fairgrounds is the place to be. With so many options, Las Vegas has something for everyone, no matter what your interests are.
We're growin'
We are getting noticed. This week, the affluent NY Times recommended Chinatown as a must-visit place if you have 36 hours of time to spend in Las Vegas. Check out the article, it's great.
Also, Chinatown Vegas' social media hits some milestones. Our Twitter account has passed 7,000 followers and Instagram passed 5,000. This growth is all organic and shows an interest in everything surrounding our great neighborhood. You can follow us from the links at the bottom of this page.
Let's have a look and see what is new in Chinatown
We are starting from the east and heading west on Spring Mountain Rd.
Get Your Blues On: The Sand Dollar Presents 'Bet on the Blues' this Weekend!
Attention music lovers! The Sand Dollar Lounge is excited to announce another weekend of great live music performances. This Friday, the 14th, will be a special night featuring the talented musicians of  LV Blues Society's "Bet on the Blues". As a non-profit affiliate of The Blues Foundation, this group has been promoting the best blues music in Southern Nevada for over three decades. 10 pm – 2 am
On Saturday the 15th, there will be Las Vegas rock band Until the Eclipse performing covers and originals from 6 pm until 9 pm and Vegas blues band the Moanin' Blacksnakes from 10 pm until 2 am.
On Sunday will be one man jam band, Dan Fester taking alternative rock requests from 10 pm until 2 am. Dan is a live-looping artist with over 2000 shows under his belt. By renovating and remixing songs to his personal taste, Dan Laster has the ability to create mashups that reach new heights of transcendence.
Must be 21 and over and as always, No Cover.
JD Bar and Lounge to Convert Six Store Fronts into Beer-Centric Haven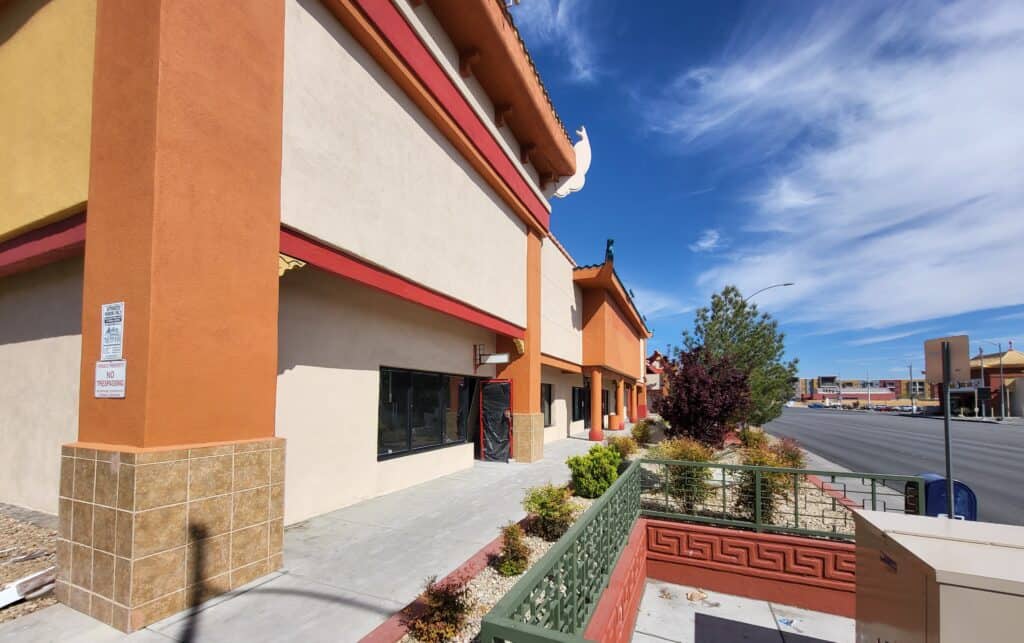 ​
JD Bar and Lounge has begun its work to convert six storefronts on the western side of Valley View Boulevard between Renate Drive and Vanessa Drive into a new beer-centric lounge. The establishment aims to provide a unique experience for beer enthusiasts, offering a wide selection of craft beers and a relaxed atmosphere for customers to enjoy. JD Bar and Lounge hope to become the go-to ​Chinatown ​beer destination for those seeking a refreshing and enjoyable night out.
Experience the Life of Vincent van Gogh in Leonard Nimoy's 'Vincent' at the Las Vegas Little Theater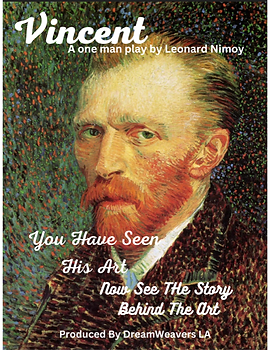 The Las Vegas Little Theater will host " Vincent" a production by Leonard Nimoy, presented by DreamWeavers LA. The live performances are Friday, April 14 at 8 pm, Saturday, April 15 at 2 pm, and Sunday, April 16 at 2 pm.
Leonard Nimoy's one-man play, 'Vincent', delves into the lesser-known aspects of Vincent van Gogh's life and art. Through a recollection of letters between Vincent and his brother Theo, the play sheds light on the struggles and thoughts behind some of the artist's most famous works. The production provides a multimedia experience by displaying Van Gogh's paintings and drawings on stage through projection while Theo speaks about them, offering a new perspective on the renowned artist's works. 'Vincent' is an intimate and thought-provoking production that is sure to captivate audiences.
The ticket price for all seats is $30, but LVLT subscribers can purchase tickets for $25
3920 Schiff Dr, Las Vegas, NV 89103
Phone: (702) 362-7996
New Arrival Alert: Fresh Japanese Fish Now Available at Local Specialty Market
Fukuya Japanese Market sells a wide variety of Japanese food, snacks, and household items, and also offers delicious Japanese cuisine from its kitchen. The market has recently added fresh fish from Japan to its selection, which can be descaled and cleaned upon request at no additional charge. Customers can also choose to have their fish filleted or cut into blocks for an additional fee.
The public can now purchase hard-to-find fish, including Alfonsino (red bream), Japanese sea bass, barred knife jaw, sudachi buri, horse mackerel, striped jack, ice fish, blackhead sea bream, and more direct from Japan
Orders must be placed by 7 pm on Friday and picked up on Saturday.
3910 Spring Mountain Rd
Behind Tofu Hut
702-202-2129
America Asia Travel Center is Replaced with an IFIXFORU / Ultra Mobil Store
IFIXFORU has taken over the location of the America Asian Travel Center in the Chinatown Mall at Chinatown Plaza, offering more than just smartphone repairs. Along with expertise in fixing smartphones, their services extend to an extensive range of electronic devices such as computers, laptops, game consoles, cameras, and mp3 players. Furthermore, they are an authorized Ultra Mobile center.
Reliable Sources are Saying that China Mama has Acquired IX Skewer and Bar Will Bring its Chinese Cuisine to the Shanghai Plaza
In a stunning development for the culinary scene in Chinatown, IX Skewer and Bar has closed and insiders tell us that it has been sold to China Mama, a long-time favorite of the community. This news comes just weeks after a fire in which China Mama suffered severe damage to its restaurant, making this acquisition a significant win for both businesses.
The Shanghai Plaza, already known as the busiest strip mall in Chinatown, will get even busier with the addition of China Mama's delicious menu.
Neither of the two businesses was immediately available for comment. IX closed for good on Wednesday, April 12. Although the sale to China Mama hasn't been confirmed, our sources say it's a done deal.
Stay tuned for more updates on this major development.
A + Spa & Massage To Expand Services with Full-Service Hair and Skin Care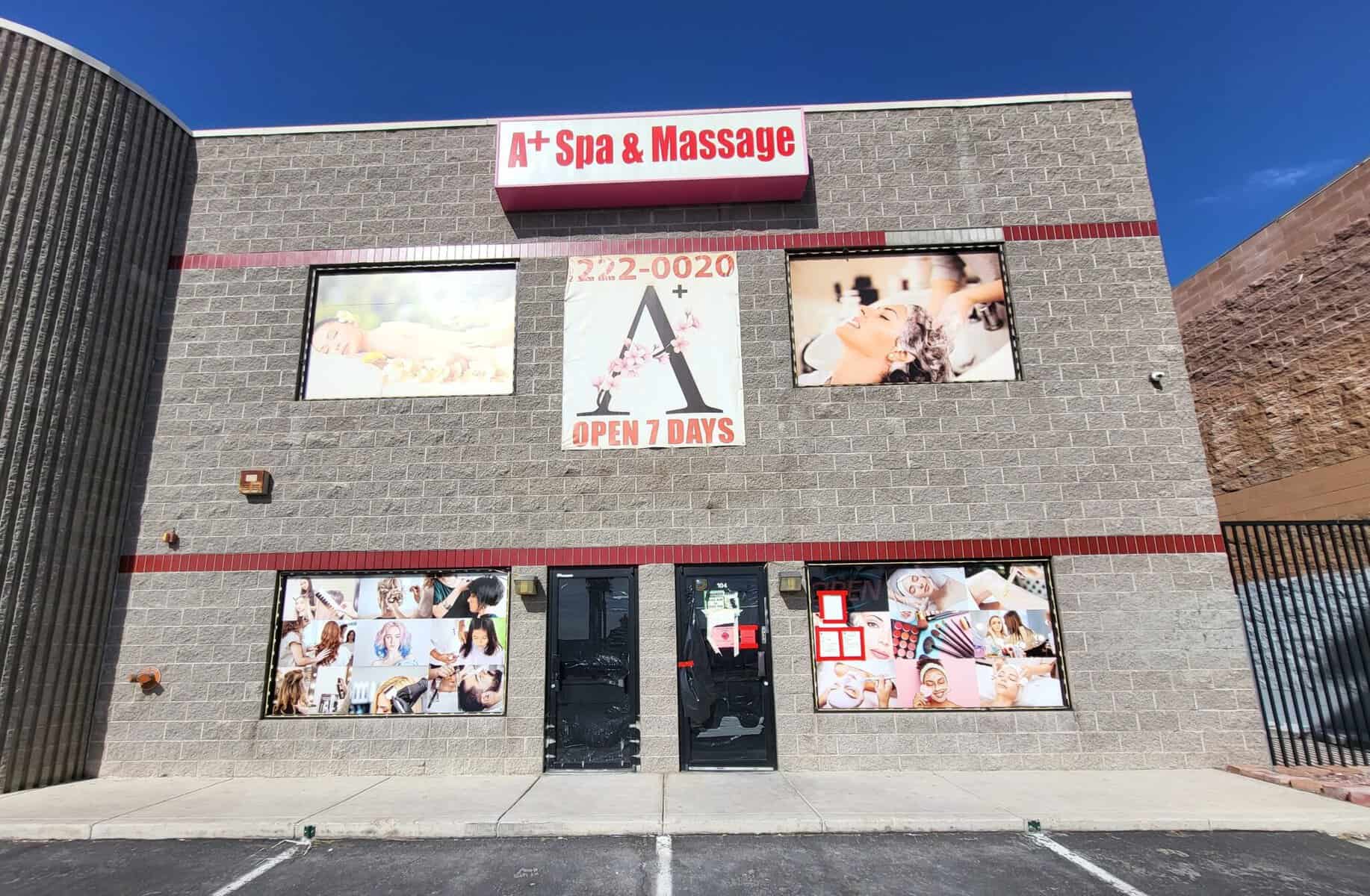 The A + Spa and Massage located on the western side of Decatur Blvd., a few steps south of Spring Mountain is currently closed and awaiting permits to begin its remodeling project, which will include adding full-service hair and skin care services to its offerings.
Kaiseki Sanga's April Tasting Menu
Kaiseki Sanga, the traditional Japanese multi-course restaurant has shared with us the new tasting menu for April. Diners will start with a combination appetizer with edamame chawanmushi with hotate, duck, sesame soy tofu, uni, bamboo shoot, green beans, shrimp, tofu/ hotaru ika, and asparagus.
The sushi and sashimi selections consist of seared katsuo (skipjack tuna), maguro, madai (true sea bream) from Hokkaido, uni, and otoro nigiri. As a unique spectacle, you can observe the masterful searing of the otoro nigiri using a traditional katana (Japanese sword).
The meat course is an A5 wagyu steak cooked and served in a small cast iron pot.  The dessert course is cantaloupe, honeydew, and sesame ice cream monaka (a Japanese confection consisting of a layer of azuki bean paste sandwiched between two delicate and crispy mochi wafers).
Kaiseki Sanga has made a name for itself as perhaps the finest Japanese restaurant in the city. You will want to book well in adance.
You can book your table here
Dessert Oasis Laundromat is Now Open in Chinatown Decatur Plaza, Offering Modern
Amenities and a Convenient Location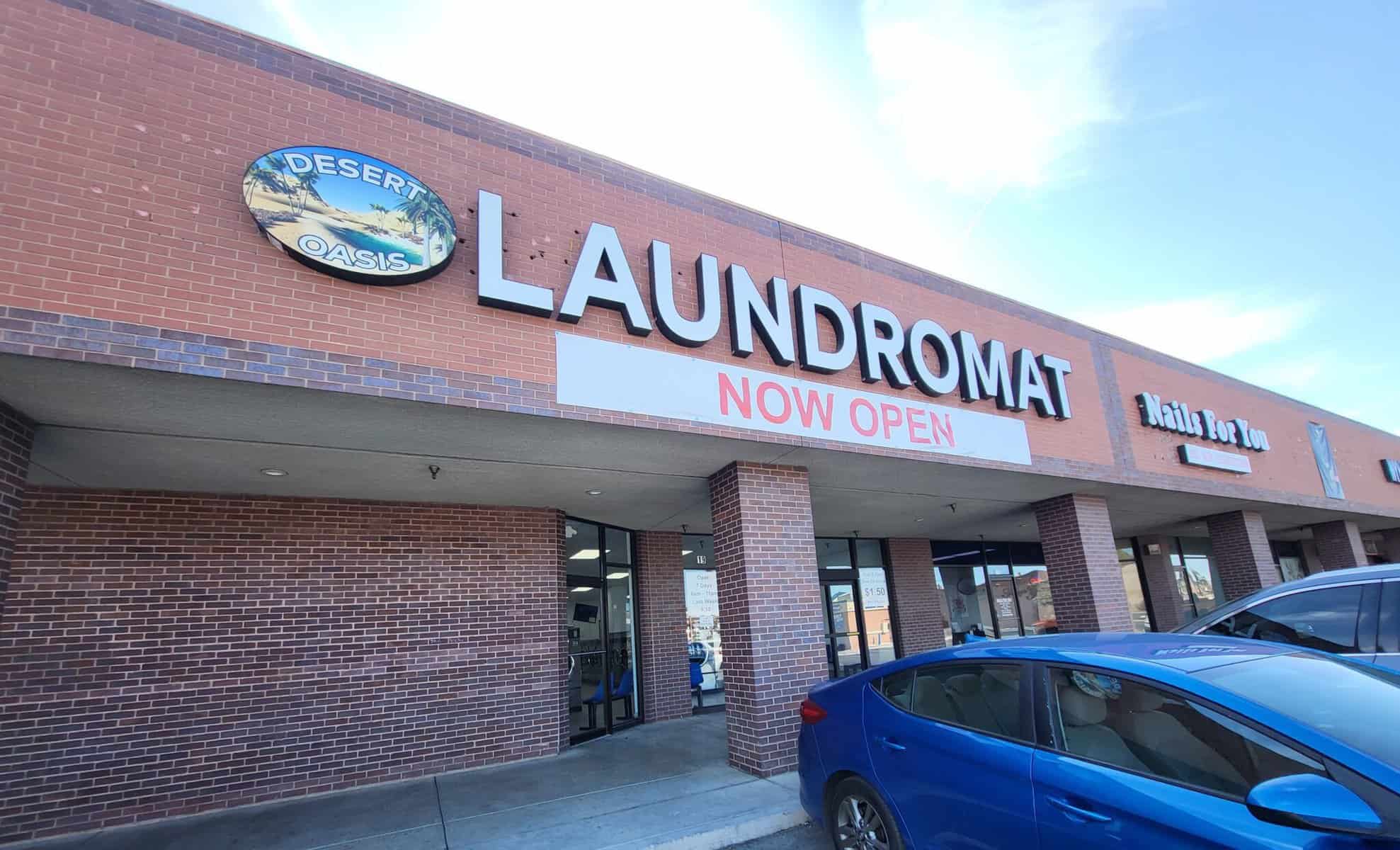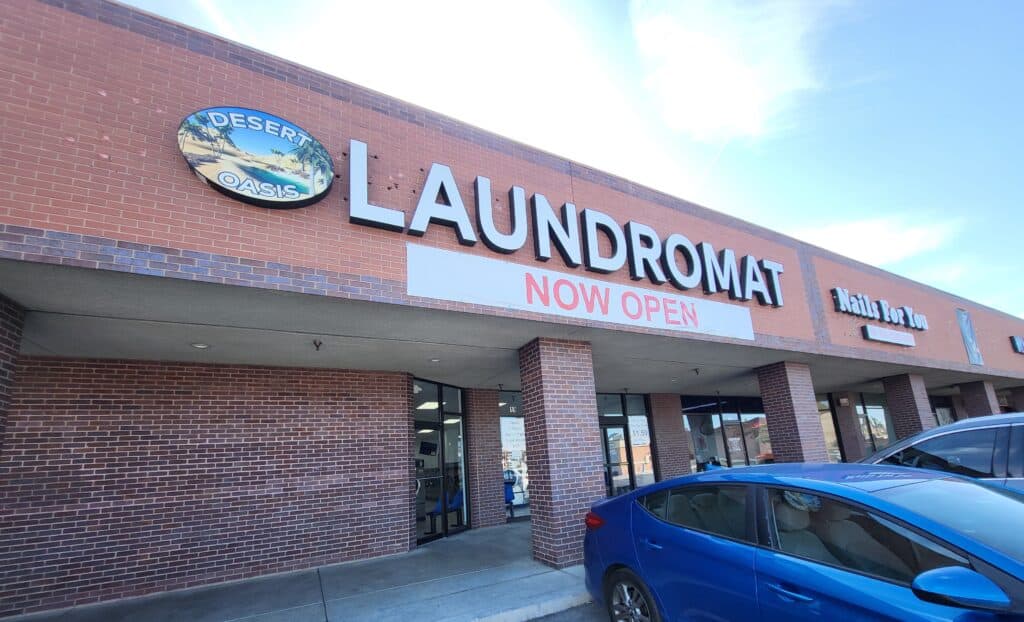 Dessert Oasis Laundromat, the newest addition to Chinatown, is now open. The modern laundromat was built in the former dry cleaners' location and offers a fresh look and new amenities. It is situated next to Nails 4 You in the Chinatown Decatur Plaza.
Sweets Raku's New Dessert 'Haru' Blossoms with Spring Flavors and Textures
A new dessert has made its way onto the menu at Sweets Raku, the Japanese-French style dessert shop located in Seoul Plaza. The dessert, called Haru, meaning "Spring" in Japanese, features a combination of flavors and textures that are sure to delight the taste buds.
The crispy pie is filled with sponge cake, strawberry mousse, and jam, and topped with a delicate cherry blossom cream adorned with pink petals. To complement the dessert, a side of cherry blossom ice cream and thin white chocolate cookies are served, creating a harmonious blend of sweet and savory notes. Patrons will surely be impressed by the artistry and taste of this exquisite dessert from Sweets Raku.
A new Sign is Up and Remodeling is Underway: 777 Korean Restaurant is Set to Replace Lau and Oc in Spring Mountain Center
In the March 17th edition of "This Week in Chinatown," we were the first to report that Lau and Oc by Pho Real, located in the Spring Mountain Center, had closed down and would be replaced by a Korean restaurant named 777 Korean Restaurant. We can now confirm that this is indeed the case, as the new sign has been put up and remodeling has commenced. The restaurant is expected to announce its opening date soon. It is worth noting that the number 7 is considered lucky in South Korea.
That's it for this week. Until next Friday, keep enjoying Chinatown
Subscribe to Chinatown's New YouTube Channel
In our ongoing efforts to promote and highlight what we feel is the best Chinatown anywhere, we have launched a YouTube Channel to capture it.
The channel plans on featuring businesses, food, chefs, breaking news, street reports, and much more. Chinatown Vegas' YouTube Channel hopes to capture a real sense feel of what it's like to visit the super-fast growing Chinatown.
If you love Chinatown, follow us on Social Media: