Chinatown Report:
This Week in Chinatown
Special Halloween Edition, 2023
Welcome to the Halloween edition of "This Week in Chinatown," brought to you by Chinatownvegas.com!
Chinatown is gearing up for a spooktacular week filled with Halloween events and festivities. From costume contests to haunted houses, there's something for everyone to enjoy.
Chinatownvegas.com will highlight each business hosting a special Halloween event in this article, starting east to west, mall by mall.
As you explore Chinatown, you'll also discover numerous other businesses donning Halloween decorations and offering special deals. So be sure to wander around the neighborhood and unearth hidden gems!
And what's Halloween without the latest neighborhood happenings? Stay tuned for updates on new businesses, events, and more in the coming days.
We are starting from the east and heading west on Spring Mountain Rd

Sand Dollar Lounge Transforms into Nightmare on Spring Mountain for Spooktacular Halloween Pop-Up
Get ready for a hauntingly good time this fall as the iconic Sand Dollar Lounge transforms into 'Nightmare on Spring Mountain' for its spooktacular fourth year. This immersive Halloween pop-up experience promises bone-chilling specialty drinks, live music, and over $10,000 worth of Halloween décor and lighting.
Step into a world of eerie fall-inspired holiday cocktails, chillingly dark décor, and a nostalgic 1980s horror movie ambiance. It's the perfect place to unleash your inner child, no matter your age.
Details:
Hours: Open daily from 4 p.m. to 4 a.m.
Location: Sand Dollar Lounge
Dress Code: Embrace the Halloween spirit and arrive in your most festive attire!
'Nightmare on Spring Mountain' is located at 3355 Spring Mountain Rd, Las Vegas, NV 89102. No reservations are required – it's first come, first served. Don't miss out on this spooktacular adventure!
Must be 21+. No Cover Charge
Play it Again Sam's 2023 Halloween Bash
Join Play it Again Sam's, the Gaming Gentlemen's Club, for a spooktacular Halloween Bash in 2023! The event is set for Friday, October 27th, from 8:00 PM to 10:00 PM.
Get your ghoulish garb ready and prepare to enter the costume contest for a chance to win exciting prizes. Enjoy special drink deals as you game and socialize in style. Play it Again Sam's will be giving out specialty drinks and swag to make your night even more thrilling. Plus, don't miss the opportunity to savor Titos Vodka samples and receive some swag from the Titos Vodka team.
Please note that this event is exclusively for guests aged 21 and above. It's a night of thrilling fun you won't want to miss, so mark your calendar and join Play it Again Sam's for a fantastic Halloween celebration
Halloween at The Golden Tiki: A Spooktacular Extravaganza
The renowned Golden Tiki, already a Las Vegas tiki bar legend, has undergone a spine-tingling transformation for the Halloween season. If the shrunken heads weren't eerie enough, you're in for a real treat. The atmosphere is dripping with extra-spooky decor, setting the perfect stage for an unforgettable Halloween experience.
Indulge in a Halloween-themed cocktail menu featuring chilling concoctions like the Blood Bath, Vampiro, and the No Brainer (a shared skull-shaped cocktail; keep the mug for an added charge). But the surprises don't end there. Special theme nights will haunt the establishment, including "Dead Disco" on October 26, "Island Horror Night" on October 27, "Zombie Brunch" on October 29, and the ultimate "Adult Trick or Treat" on October 31.
Join the ghoulish festivities at The Golden Tiki in Chinatown and revel in a Halloween celebration like no other!
Mas Por Favor's Spooktacular Taco Tuesday
Experience a fiesta of flavors and frights this Halloween at Mas Por Favor! It's the night where tacos and treats come together to create an unforgettable Taco Tuesday.
Indulge in a devilishly good time with $2 street tacos, $5 house margaritas, and $3 tequila shots. But that's not all; the night gets even spicier with a live DJ to keep the beats going.
Dress to impress and participate in the costume contest for a chance to claim the title of the night's best-dressed ghoul or ghost.
Join Mas Por Favor for a spooktacular evening of tacos, tunes, and thrills on Halloween night, from 9:00 PM until closing time. It's a celebration you won't want to miss!
Spooky Savings Await: Up to 25% Off at 99 Ranch Market's Halloween Sale
Get ready for a fantastic Halloween sale at 99 Ranch Market, where spooky savings await! Enjoy up to 25% off on a wide range of items, including hard-to-find treats like Kasugai Grape & Peach Gummy, Morinaga Hi Chewy Kiwi Stick, Wang Zai Hot Kid QQ Candy, Jin Jin Passion Fruit Flavored Jelly Bag, Morinaga Hi-Chew Infusions, Hapi Bingbing Wafer Cone Green Tea, and much more. It's the perfect opportunity to stock up on your favorite snacks and goodies this Halloween season! Don't miss out on these fang-tastic deals.
Join Mama Chai's and GROW (Greenhouse on Wheels) for a Halloween Plant Event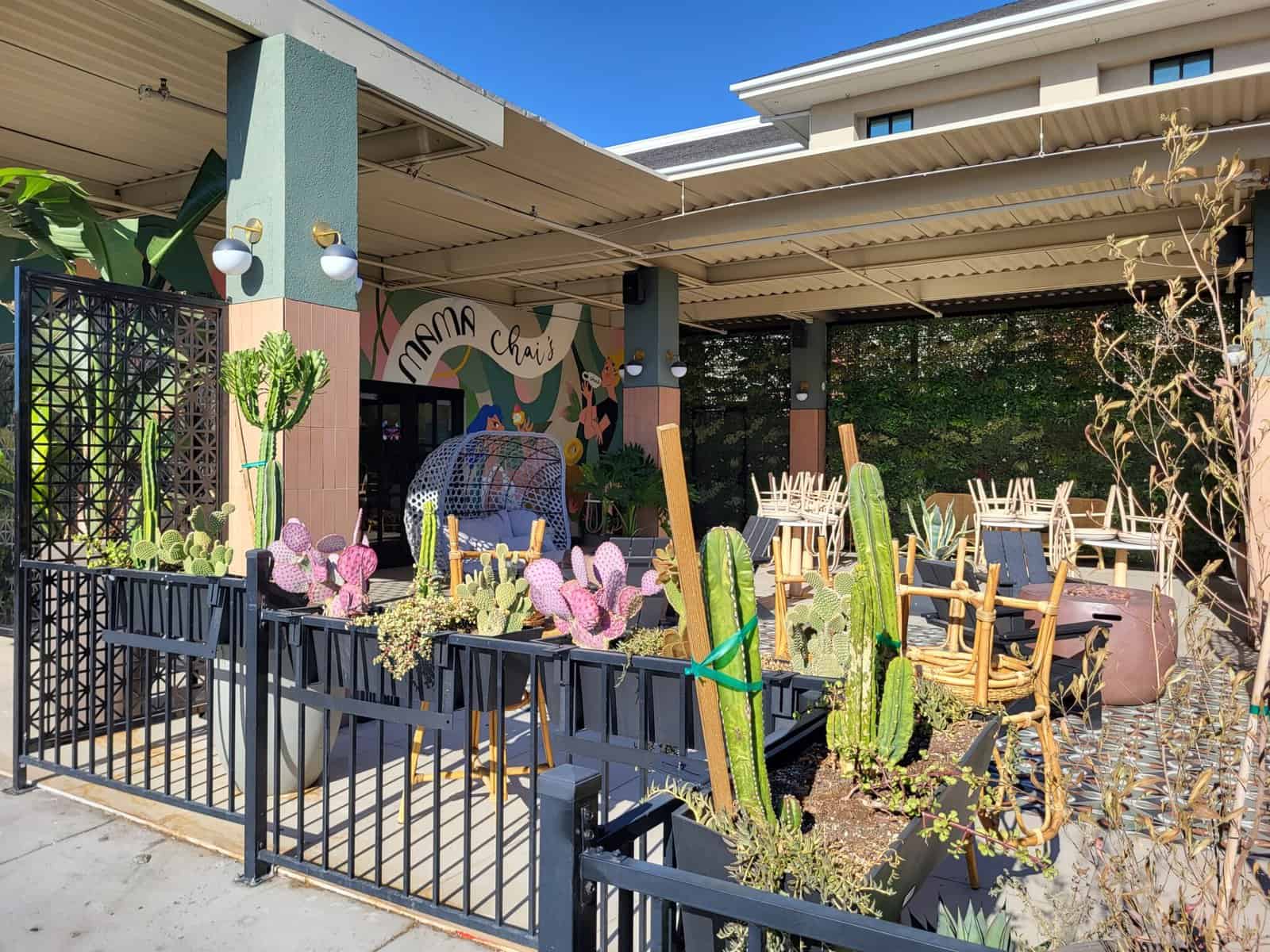 Celebrate Halloween with a creative and family-friendly plant event co-hosted by Mama Chai's and GROW (Greenhouse on Wheels). Come and join us for a day of fun as you paint and decorate plant pots, create your unique jewelry, and enjoy goodie bags to take home!
Supplies are provided free of charge but are limited, so RSVP by sending a message to @greenhouseonwheels.
Event Details:
When: October 28, from 2:00 PM to 5:00 PM
Where: Mama Chai's, 4240 Spring Mountain Rd, Las Vegas, NV 89102
But the fun doesn't stop there! On Sunday, Mama Chai will host a pumpkin painting event from 12:00 p.m. to 4:00 p.m. It's first come, first served, so be sure to join them for some Halloween creativity
Join Kura Revolving Sushi Bar's 'Kuraween' Costume Contest and Win Prizes
Celebrate Halloween with Kura Revolving Sushi Bar and get a chance to be one of the 10 lucky winners to receive a $100 Kura Revolving Sushi Bar gift certificate! To participate, simply follow the Official Rules available at kurasushi.com.
Here's how to enter:
Follow @kurasushi_usa on Instagram.
Post a photo or video of yourself wearing a Halloween costume at one of our locations and tag it with #kuraween between Friday, October 13, 2023, and Tuesday, October 31, 2023.
Ensure that your Instagram account is public from the time of entry through Friday, November 3, 2023, so that your entry can be collected.
The giveaway runs from October 13, 2023, at 10:00 a.m. PDT, to October 31, 2023, at 11:59 p.m. PDT. Winners will be chosen at random, with the odds of winning dependent on the number of entries received. Please note that entrants must be 18 years of age or older, legal U.S. residents, and living in the U.S. to participate. This promotion is not affiliated with Instagram and is void where prohibited by law. Winners will be announced via @kurasushi_usa Instagram Stories and direct messages by @kurasushi_usa on or about Friday, November 3, 2023
FrightNight at the Leatherneck Club: A Veteran's Halloween Extravaganza
Embrace the eerie atmosphere as the Veteran Social Club presents "FrightNight at the Leatherneck." This exclusive 21+ event is set to be a spine-tingling celebration you won't want to miss.
Explore an array of fantastic drink specials and partake in the optional Costume Contest, where you can showcase your scariest, funniest, or sexiest Halloween attire for a chance to win exciting prizes. Spooktacular raffles are in store for all attendees.
Delight in delectable food offerings and military/veterans can enjoy the bonus of their first drink (including non-alcoholic options) on the house. With mandatory fun around every corner, the Leatherneck Club guarantees an unforgettable evening.
Join us on Saturday, October 28, from 6:00 PM to 11:00 PM PDT, at the Leatherneck Club, and let the Halloween festivities commence
(702) 368-1775
Game Nest Arcade Presents Halloween Lock In: A Night of Spine-Tingling Gaming
Prepare for a thrilling night of non-stop gaming at the Game Nest Halloween Lock-In, a delightfully wicked in-person event! Game Nest Arcade warmly invites enthusiasts of all ages to join in the spooktacular gaming and fun. From 8 p.m. until the break of dawn, gamers of every skill level will indulge in an extensive array of the latest and greatest games, including beloved classics and unique Japanese titles.
The Halloween Lock-In goes beyond gaming; it offers a splendid selection of food and drinks, along with an exhilarating Smash Tournament. Brace yourself for an unforgettable night of gaming madness, mingling, and the opportunity to forge lasting friendships.
Tickets to this Halloween Lock-In provide an hourly game card, a lanyard, and a cardholder. Remember, attendees must sport a wristband throughout the event.
So gather your gaming buddies and immerse yourself in an unforgettable Halloween Lock-In at Game Nest Arcade! Don't miss out on the fun!
Sunright Tea Studio Grand Opening Celebration
Wanna step away from the Halloween festivities for a moment? Stop by Sunright Tea Studio. On Saturday and Sunday, October 28th and 29th, from 11 a.m. to 9 p.m., Sunright Tea Studio will be celebrating its grand opening at its Las Vegas Chinatown location.
To celebrate, Sunright Tea Studio is offering a buy-one-get-one-free deal on all menu drinks, plus the first 50 customers per day on October 28th and 29th will receive a $25 Sunright gift card with any purchase.
Additionally, Sunright Tea Studio will be selling 25 Super VIP cards per day during the grand opening celebration. Super VIP cardholders will receive a free Sunright mug or coaster.
Promotional items are available while supplies last.
Vampire Clinic Halloween Extravaganza to Come to Afterlife Tea & Boba Room
Join Afterlife Tea & Boba Room on October 28th, 2023, from 6:00 PM to 11:00 PM for the "Vampire Clinic" Halloween Extravaganza. Co-hosted by Kpop Nook, the event features:
K-Pop Random Dance Play at 8:00 PM: Dance to your favorite K-Pop hits in front of the DJ booth.
Costume Contest: Show off your creative costumes.
Trunk-or-Treat: Explore decorated trunks filled with treats.
Exclusive Merchandise: Pre-order Stray Kids' lucky draw pcs and discover Lomo cards from other popular groups.
This free, all-ages event offers limited parking. Don't miss out on a night of fun, games, and fantastic costumes! For more information, visit the Afterlife Tea & Boba Room website and social media
Gimik Republik Halloween Party: Get Ready to Spook and Groove
Gimik Republik is about to take your Halloween celebrations to the next level. With DJ Paolo on the decks, the party vibes will be through the roof during this Deejay Nite extravaganza. Get ready to dance the night away in your most spooktacular and monstrous outfits. There's a fantastic prize up for grabs – $1,000 awaits the winner of the best Halloween costume, and three lucky runners-up will each score $200!
Join in the fun, dance, and potentially win big, so don't miss out on this thrilling Halloween bash. Gtakits!
Tuesday, October 31, 2023 at 8 pm
Industry 13's Halloween Extravaganza: Live DJ, Costume Contest, and More at New Koreatown Village Plaza Location
Experience a Spine-Chilling Night at Industry 13's New Koreatown Village location: Live DJ from 10 PM – 2 AM, All-Night Happy Hour, and Mysterious Halloween Cocktails. Join the Costume Contest with Impressive Prizes: 1st Place – $500 Visa Gift Card, 2nd Place – A 43-inch Samsung TV, 3rd Place – The Latest iPad.
Important Information:
Winners will be revealed at the stroke of midnight.
Admittance is restricted to 21 and older after midnight.
Prepare for a night of spine-tingling tunes, extended happy hours, and enigmatic Halloween concoctions. Don't miss your chance to participate in the costume contest and win fantastic prizes, including a $500 Visa gift card, a 43-inch Samsung TV, and the latest iPad.
China Fresh Tea's Halloween Offer: Free Bubble Wands and 20% Off Drinks
From October 29th to 31st, China Fresh Tea is getting into the Halloween spirit with a fantastic treat for its valued customers. Join the fun as China Fresh's team hands out free Halloween bubble wands, adding a touch of magic to your dining experience.
As an extra treat, you can enjoy a thrilling 20% discount on your drinks when you tag China Fresh on Instagram during your visit. It's the perfect opportunity to capture your Halloween moments and savor the flavors of China Fresh with some extra savings.
Don't miss out on this special Halloween offer from China Fresh. Visit them from October 29th to 31st, claim your free bubble wand, and share your experience on Instagram for a delightful discount on your drinks. Celebrate Halloween with China Fresh in style!
As we draw the curtains on this ghoulish Halloween special edition of "This Week in Chinatown," we hope you're ready for a spooktacular time exploring the eerie events and celebrations in the heart of Chinatown, Las Vegas. The spirits of Halloween have certainly left their mark on our vibrant neighborhood, and the fun is far from over. Join us next week as we continue to uncover the most exciting news, events, and cultural treasures that Chinatown has to offer. Until then, remember, what happens in Chinatown, happens here.
Happy Halloween!
Subscribe to Chinatown's New YouTube Channel
In our ongoing efforts to promote and highlight what we feel is the best Chinatown anywhere, we have launched a YouTube Channel to capture it.
The channel plans on featuring businesses, food, chefs, breaking news, street reports, and much more. Chinatown Vegas' YouTube Channel hopes to capture a real sense feel of what it's like to visit the super-fast growing Chinatown.
9 Amazing Ramen Dishes to Try in Chinatown
Discovering Traditional Chinese Medicine in Las Vegas Chinatown
Chinatown Vegas Features Perfect Places to Master Martial Arts for Kids and Adults
8 Cool Things To Do In Chinatown Vegas