Chinatown Report: This Week in Chinatown
Las Vegas Chinatown news and analysis by Chinatownvegas.com. Food. Restaurants. Tips. Things to do. Events. What's in? What's out? RUMORS + much more
Hello, esteemed friends! Welcome to the latest installment of "This Week in Chinatown," proudly presented by Chinatownvegas.com. Prepare to delve into the most recent events, delectable culinary wonders, and captivating cultural gems awaiting your discovery within the vibrant and ever-changing landscape of Las Vegas's Chinatown.
BLACKPINK, the renowned K-pop girl group, dazzled in sold-out performances at Allegiant Stadium. Their electrifying shows drew massive crowds, captivating fans with their music and stage presence. Following the concerts, a significant number of attendees flocked to Chinatown to savor diverse cuisines, creating a vibrant culinary celebration as fans and locals alike embraced the excitement.
We are starting from the east and heading west on Spring Mountain Rd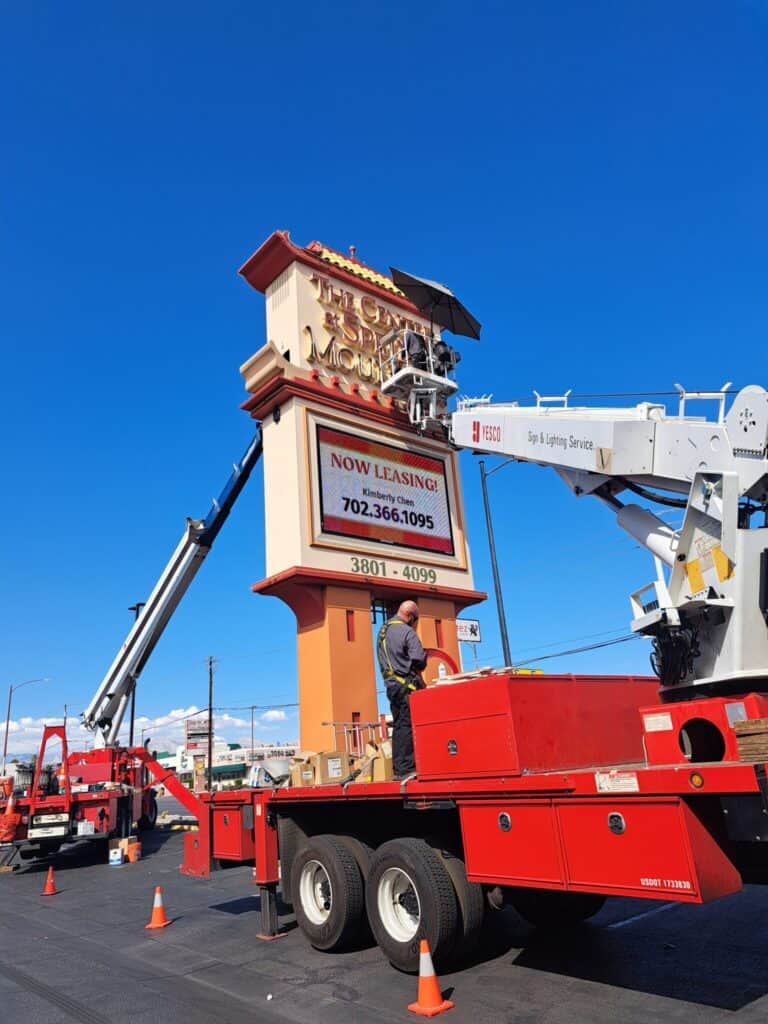 California 3D Retro Enters Soft Opening Phase: Explore Exclusive Collectibles at Their New Center at Spring Mountain Location
In our April 28th edition of "This Week in Chinatown," we broke the news about California 3D Retro's relocation to the Center at Spring Mountain. Since then, we've diligently monitored their journey, and today we're thrilled to unveil the latest chapter: the store's soft opening phase. California 3D Retro, renowned for curating exclusive and sought-after figures from global pop culture and the art scene, now invites enthusiasts to explore its eclectic offerings.
Dedicated to catering to collectors and enthusiasts alike, the store boasts an impressive array of limited-edition vinyl toy collectibles, blind boxed toys, Japanese Sofubi toys, Hot Toys, Bearbricks, and rare pop-culture figures. With something to captivate all ages, California 3D Retro's new location at the Center at Spring Mountain is destined to become a haven for collectors and enthusiasts alike.
Boba Shop, Volcano Cafe, Temporarily Closes for Renovations, Raising Concerns Over Future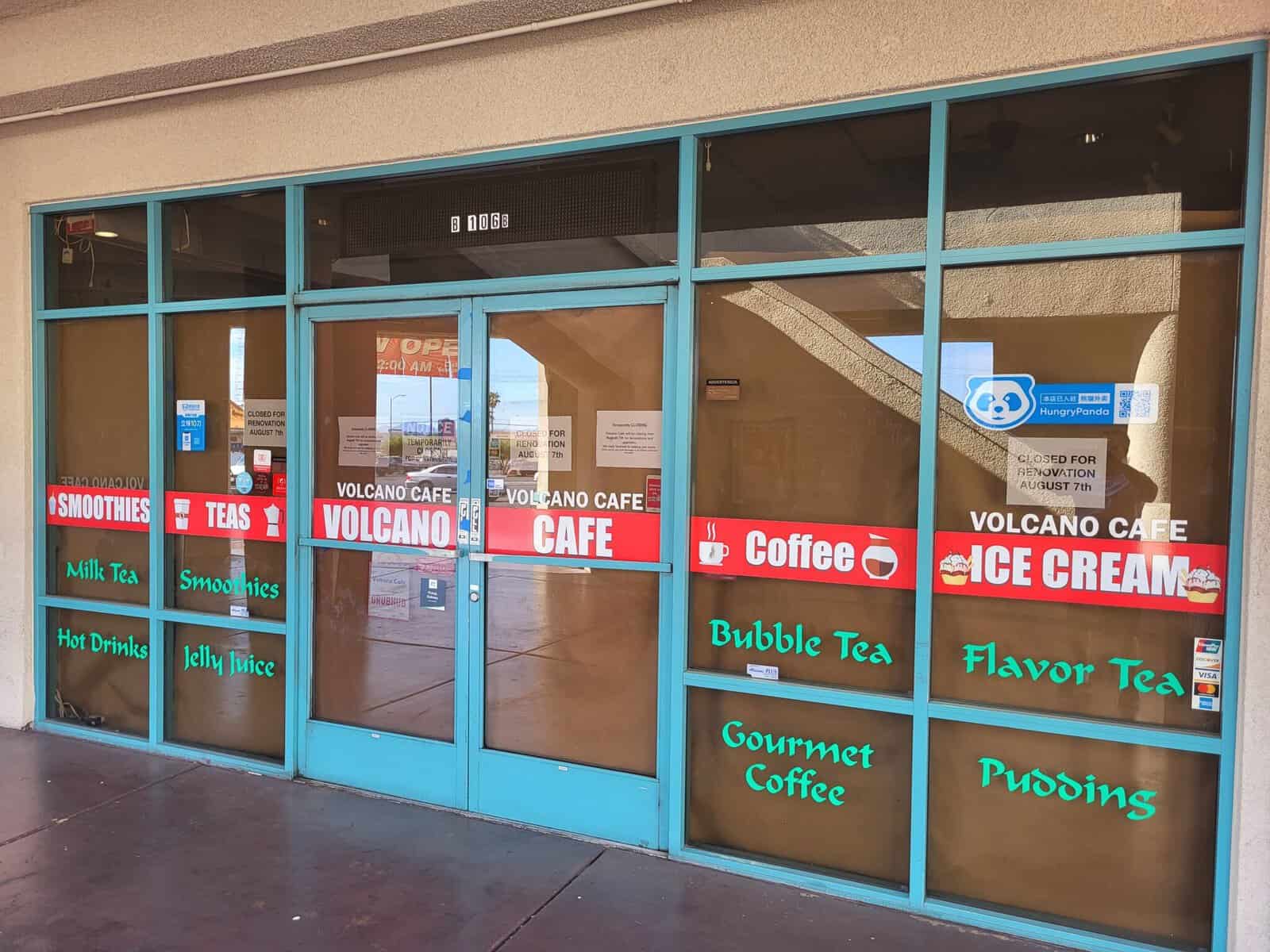 Nestled in the heart of Chinatown Plaza, Volcano Cafe, the beloved boba shop, has recently shuttered its doors for renovations. Despite a closure notice since August 7th, the absence of visible renovation work has raised worries about a potential permanent closure. As a cornerstone of the plaza, the shop's significance to the community is undeniable. Regrettably, attempts to contact management for clarification have yielded no response.
Experience the Tradition: Free Lion Dance Classes Every Saturday at Lohan School of Kung Fu
Discover the art of Lion Dance at Lohan School of Kung Fu! Every Saturday, embrace the tradition with free classes at 12 PM for youth and 1 PM for teens and adults. Since 1995, Lohan School of Kung Fu has been a cherished cornerstone of the Asian community, sharing the essence of martial arts. Join in and be part of the legacy!
Emerging from ancient Chinese rituals, Lion Dance transformed into a festive art form. Combining martial arts, dance, and ornate costumes, it symbolized strength and repelled evil. Evolving over centuries, it spread across Asia, adapting to various cultures. The dance, marked by rhythmic drumming and acrobatics, embodies heritage, unity, and cultural vibrancy.
Farewell to JMT: Korean Street Food Restaurant Closes Doors, Sparks Interest for Vibrant Chinatown Mall Space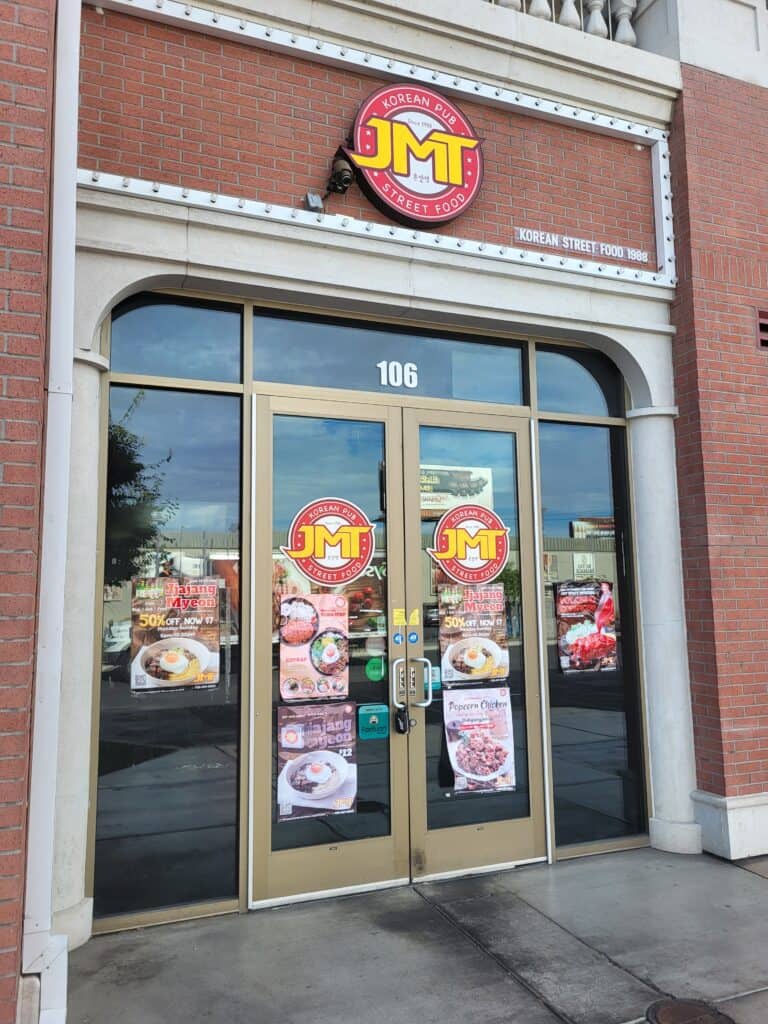 The Korean street food eatery, JMT, has officially ceased operations. Having initially reported on its launch on October 7th of the previous year, it's with a heavy heart that the closure is acknowledged. In the bustling Chinatown mall, there exists a lengthy roster of prospective successors eager to occupy the space, testament to the mall's lively and vibrant atmosphere.
Beauty Transformation Alert: 'Shibuyala' to Morph into 'Reiwatakiya' on September 1st, Elevating Cosmetic Experiences
Unveiling a Transformative Change: "Shibuyala" Set to Emerge as "Reiwatakiya" on September 1st
In a move that promises to redefine beauty experiences, the renowned Japanese cosmetic haven "Shibuyala" is gearing up to unveil its exciting rebranding as "Reiwatakiya" on September 1st! This much-anticipated evolution aims to infuse a fresh vibe into the cosmetic landscape while staying true to the essence that beauty enthusiasts have adored.
Exclusive First Look: Palette Tea Lounge Set to Redefine Chinatown Dining
Our commitment to delivering timely and exclusive updates remains unyielding, and today we're thrilled to unveil the latest scoop on Palette Tea Lounge, a sensation emerging from San Francisco's highly sought-after Koi Palace. Since our groundbreaking report, we've remained steps ahead of other media outlets, consistently providing you with the freshest details. And now, the excitement escalates as we unveil the new storefront signage and offer a sneak peek into the mesmerizing interior.
Prepare to be enchanted, for Palette Tea Lounge is poised to redefine the Chinatown dining experience. Upon entering, guests find themselves captivated by the theater of the open kitchen, a culinary symphony in motion. Flanking the dining room are expansive murals, immersive artistry that transports you to another realm. Custom mosaic tiles grace the hallways and open kitchen area, each piece a testament to intricate craftsmanship.
Square lanterns dangle from above, casting a soft, inviting glow that further elevates the ambiance. As we projected from the outset, this destination is primed to set Chinatown ablaze, combining the mastery of dim sum artistry with a visual tapestry that's nothing short of spectacular. Reliable sources hint at an anticipated opening towards September's end, aligning seamlessly with our earlier predictions.
Stay with us as we continue to unearth the pulse of Palette Tea Lounge, your unrivaled source for all things culinary and captivating.
Former Cafe Sanuki Space to Welcome 'Specialty Noodle': Chinese Lamian Shop Set for Early October Debut
In the March 31st edition of "This Week in Chinatown," we unveiled exciting news about the impending opening of a Chinese restaurant in the former Cafe Sanuki location. It is now confirmed that Specialty Noodle, a Chinese Lamian (ramen) shop, is rapidly renovating the space with aspirations for an anticipated early October opening.
Ramen, while often associated with Japanese cuisine, originally has its roots in China, where it's known as "lamian." Lamian refers to hand-pulled noodles, a technique that predates the popular dish we recognize as ramen today. This historical connection adds an intriguing dimension to the culinary landscape. With the upcoming opening of "Specialty Noodle," a Chinese Lamian shop, in the former Cafe Sanuki space, excitement brews as we anticipate the revival of these authentic flavors and techniques, bridging the gap between cultures and offering a unique twist on a beloved dish.
Iconic Transformation Complete: Jackpot Joanies Steps into the Spotlight as 24-Hour Gaming Bar, Following 'Irene's' Legacy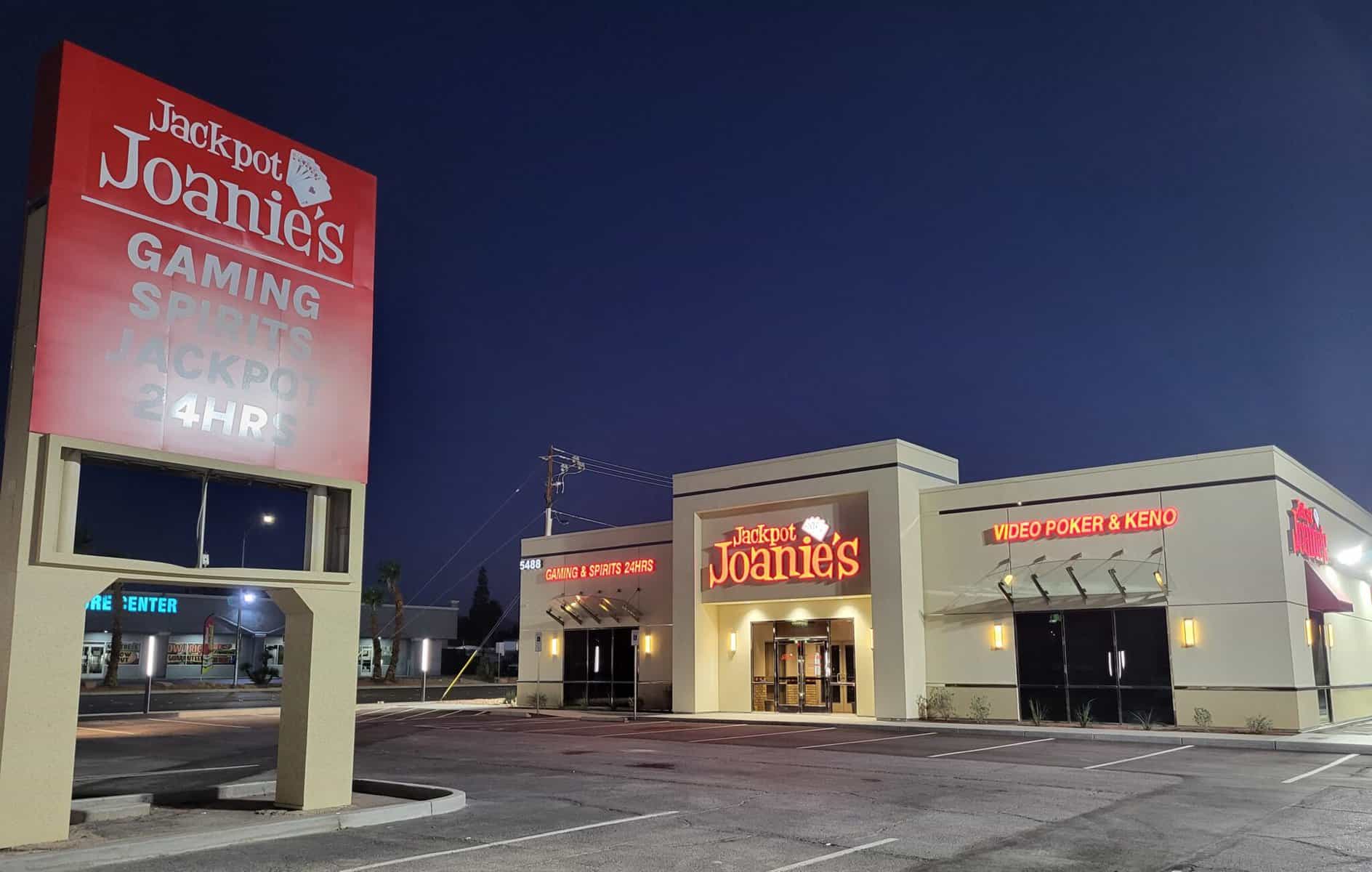 The journey of Jackpot Joanies taking over the iconic "Irene's" has been a recurrent theme in our updates, ensuring our audience stays informed. Today, we're pleased to announce the exciting news that the 24-hour gaming bar has officially opened its doors. The transition from Irene's to Jackpot Joanies marks a new chapter, and we look forward to witnessing the continued legacy of entertainment and fun in this well-loved establishment.
Industry 13 Launches Soft Opening: First Store in Korea Town Village Unveiled with Exclusive Updates, Plus 50% Off Karaoke Rooms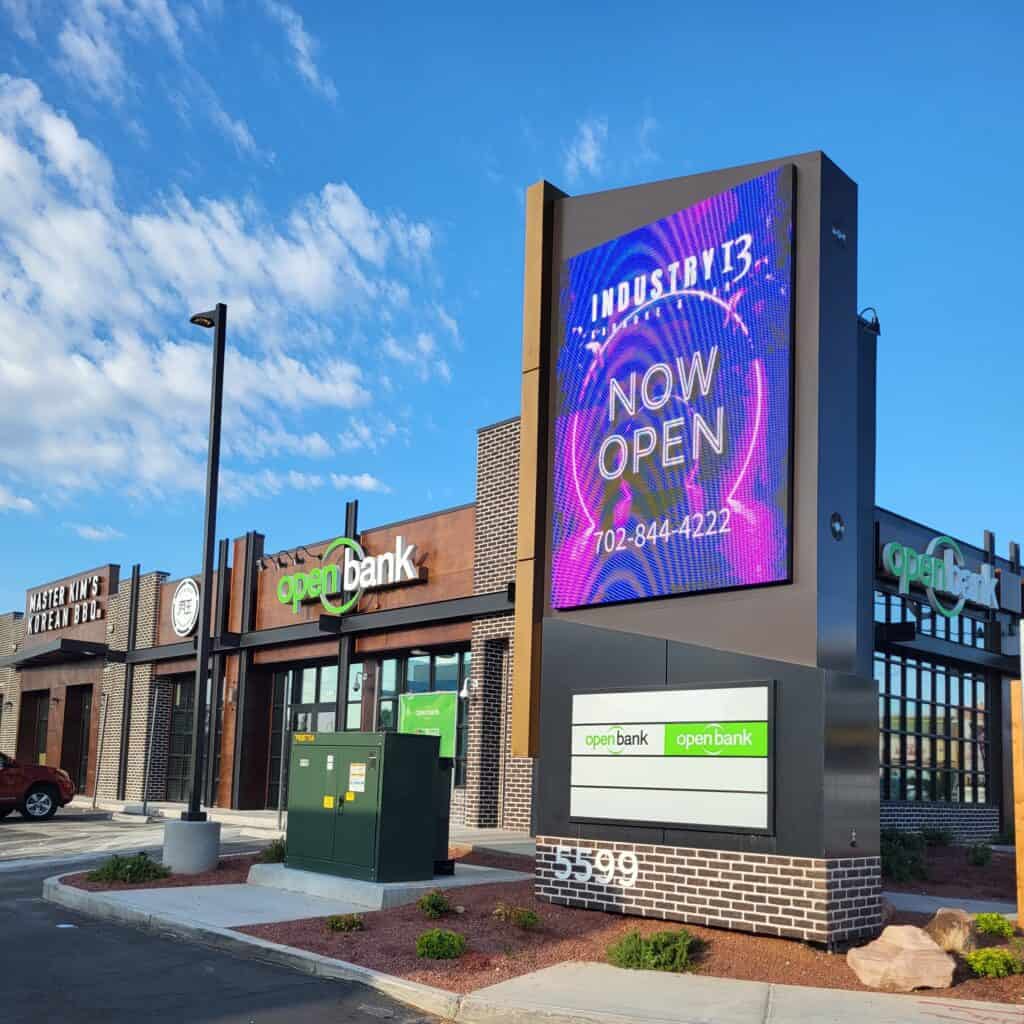 Marking a significant milestone, Industry 13 has initiated its soft opening as the inaugural establishment within the enchanting Korea Town Village. It was Chinatown Vegas that initially broke the news about this burgeoning strip mall, providing consistent and exclusive updates. Distinguished by its splendid blend of stone and metal accents, both indoors and outdoors, this locale stands as an unparalleled masterpiece.
Industry 13's entrance into the vibrant Korea Town Village signals a pivotal moment, with its soft opening promising an exciting journey ahead. Notably, during this phase, all karaoke rooms are available at a remarkable 50% off, adding an extra layer of allure to the experience. Chinatown Vegas' role in uncovering this development underscores its unwavering commitment to delivering unique insights to its audience.
As the community eagerly anticipates the unfolding of this remarkable addition to the culinary and retail landscape, the harmonious amalgamation of contemporary design and inviting ambiance ensures an exceptional encounter for visitors and patrons.
Ssoju Makes Way for New Korean-Style Bakery Cafe: Ppang Co. Set to Delight with Fresh Baked Goodies and Beverages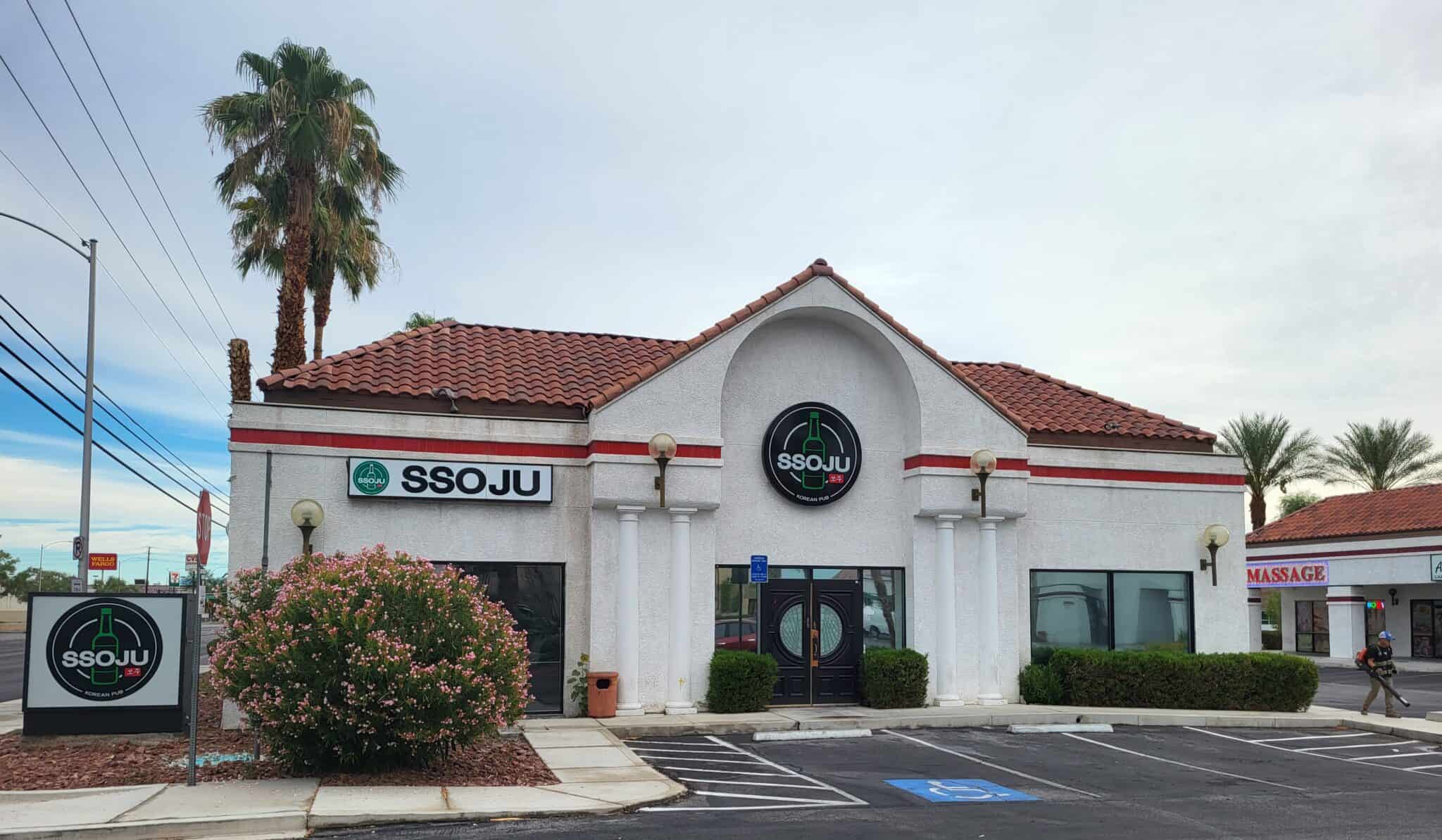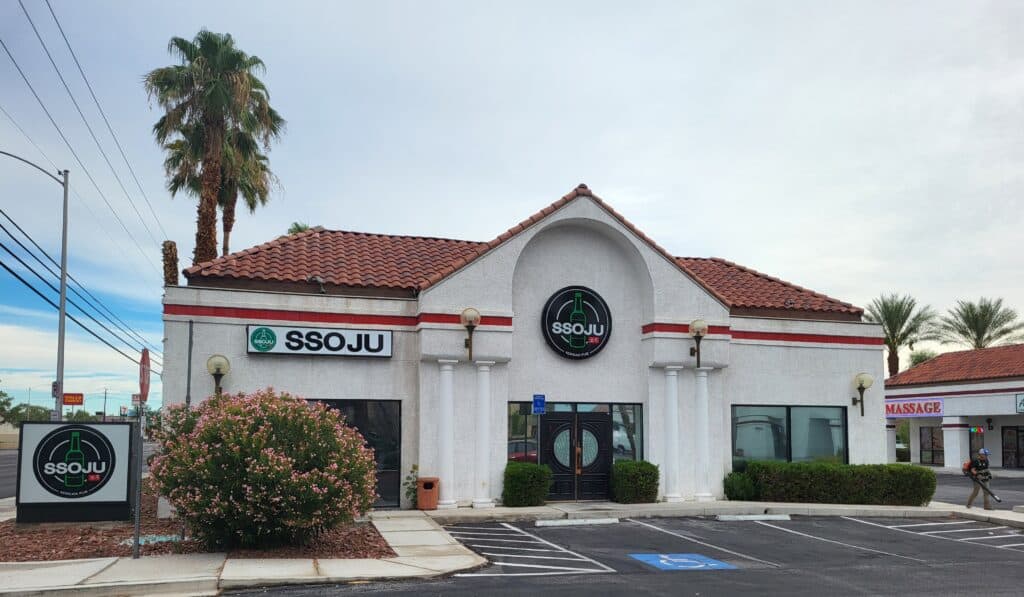 Ssoju bids farewell as it closes its doors in Kangnam Square on Jones, just a few steps south of Spring Mountain Rd. Exciting changes are on the horizon as the space transforms into the all-new Korean-style bakery cafe named Ppang Co. The upcoming spot will delight with an array of grab-and-go sandwiches, bread, delectable cakes, pastries, alongside a range of coffee beverages and boba tea drinks. Stay tuned for the delicious offerings at Ppang Co.!
Rebranded as Urban Matcha, Former Matcha Cafe Maiko Opens with Unchanged Quality Menu
Two weeks ago, it was reported that Matcha Cafe Maiko was undergoing a rebranding to become Urban Matcha. Now, it can be confirmed that Urban Matcha has officially opened its doors. The management assures customers of the continued provision of the same quality menu. Anticipation remains high as supporters eagerly continue to back this establishment.
Noodlehead Adjusts Schedule: Closed Wednesdays, Still Serving Stellar Sichuan-Inspired Fare Six Days a Week
Noodlehead, the renowned Sichuan-inspired noodle shop, has updated its schedule to include a closure on Wednesdays. However, patrons still have the opportunity to relish the city's finest offerings like dan dan noodles, beef brisket soup, yinbin (burning mouth) noodles, and more, infused with Sichuan and Malaysian inspirations for the remaining six days of the week.
As we say goodbye to yet another remarkable week, may the treasured memories of Las Vegas's vibrant Chinatown continue to linger, and may the unforgettable experiences remain dear to your heart. Look forward to reuniting with us again next Friday for another thrilling chapter of shared moments. And as an enduring reminder, "What Happens in Chinatown, Happens Right Here." Until our next encounter next week, cheers.