Chinatown Report: This Week in Chinatown
Las Vegas Chinatown news and analysis by Chinatownvegas.com. Food. Restaurants. Tips. Things to do. Events. What's in? What's out? RUMORS + much more
Introducing the latest edition of "This Week in Chinatown" brought to you by Chinatownvegas.com. Discover the freshest updates, mouthwatering culinary wonders, and captivating cultural gems awaiting you in the lively Chinatown of Las Vegas.
Whether you call this vibrant neighborhood your home or are an eager visitor, "This Week in Chinatown" serves as your ultimate compass, revealing the dynamic array of experiences that await. Prepare to embark on an extraordinary journey like no other as you delve into the vibrant tapestry of Chinatown Vegas.
This past week
Throughout the entire week, the city bravely endured scorching temperatures exceeding 110 degrees, reaching a sweltering 116 degrees on some days. Despite these challenging conditions, the city remained bustling and full of life. Travelers faced additional hardships due to ongoing construction on the Strip, causing delays and difficulties for those coming from that area.
Furthermore, the traffic situation was far from ideal, with the traffic cones on Decatur and Spring Mountain causing constant disruptions since November 8 of the previous year. To add to the chaos, the traffic light timers throughout the city seem to be completely out of sync with reality, leading to frustrating and inefficient traffic flow. It is evident that the city needs to hire a traffic expert to address this widespread issue, particularly noticeable on Spring Mountain Rd.
Now, experience the enchanting realm of Chinatown: Where tradition meets excitement, and unforgettable adventures await.
We are starting from the east and heading west on Spring Mountain Rd.
48-Year Anniversary Extravaganza: The Sand Dollar Unveils Live Music Lineup to Mark the Occasion
The Sand Dollar Lounge is abuzz with excitement as it commemorates its momentous 48 Year Anniversary, and the celebrations promise to be extraordinary. The highlight of the festivities revolves around an impressive lineup of live music, making it an event not to be missed.
Commencing on Friday, the jubilation's commence from 6 to 9 pm with the invigorating sounds of Thee Mess Arounds, a spirited band hailing from Las Vegas. Later that evening, from 10 pm to 2 am, the stage will be illuminated by the captivating melodies of Ian Crawford & Cosmic Miles, enthralling the audience with their musical prowess.
Saturday is set to be equally electrifying, beginning with the dynamic performance of Wildrose, a country and rock outlaw band, from 6 to 9 pm. As the night progresses, from 10 pm to 2 am, The Moanin' Blacksnakes take the spotlight, promising an unforgettable experience for all in attendance.
For those who crave even more live music, The Sand Dollar offers additional performances that can be explored by visiting their website at Thesanddollar.com. With such an extensive array of talent, the 48 Year Anniversary of The Sand Dollar promises to be an unparalleled celebration of music and camaraderie. Must be 21 + and as always, there i never a cover charge.
Planty Pop-Up Extravaganza: Join The LV Plant People at Mama Chai's this Saturday for Plant-Inspired Treats and Local Market Fun
Don't miss the exciting Plant Pop-Up event this Saturday, hosted by The LV Plant People at Mama Chai's! Indulge in delectable plant-inspired pastries, refreshing drinks, and explore the local vendor market, all while relaxing on our shaded outdoor patio. Join us on July 22nd from 5 PM to 8 PM for an unforgettable evening of greenery and community!
Hurry, Only a Few Days Left to Savor Kumamoto Wagyu at Kura Revolving Sushi's Monthly Discoveries
In their Monthly Discoveries, Kura Revolving Sushi is proudly presenting Kumamoto Wagyu, a renowned type of beef hailing from Kumamoto Prefecture, Japan. The limited-time offering has garnered attention for its exquisite flavor and premium quality. With only a few nights remaining, patrons have the opportunity to indulge in this delectable delicacy until Sunday, July 23. Don't miss out on the chance to savor this culinary delight at Kura Revolving Sushi.
Kumamoto Wagyu, stands distinguished for its unparalleled quality, tenderness, and intricate marbling, denoting the even dispersion of fat within the meat. This esteemed beef variety comes from the Japanese Black cattle, celebrated for its exceptional attributes that have earned it global acclaim among discerning meat connoisseurs.
Chinatown's New Hotpot Haven, Pot Master, Now Open – Indulge in 20% Off Promotional Offer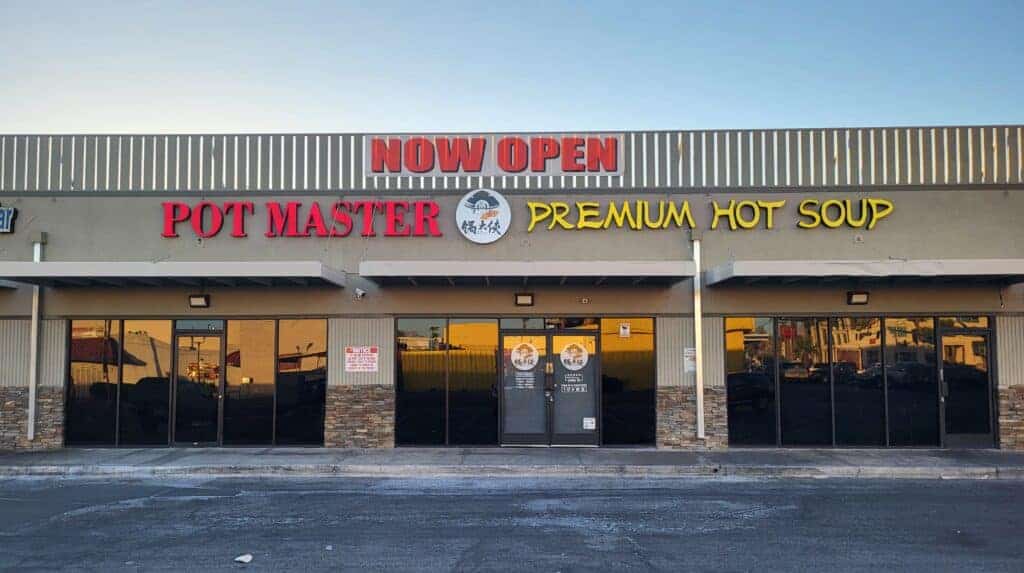 In an April edition of This Week in Chinatown, it was revealed that H.K. Seafood Garden would transform into a new hotpot restaurant named "Pot Master." After several updates, we are excited to announce that they have officially opened their doors. The restaurant is operated by the skilled team from Xiao Long Dumplings, located across the street in Chinatown Plaza.
Pot Master crafts soups with the finest ingredients, ensuring a burst of flavor in every bowl. To celebrate their opening, Pot Master is offering a generous 20% off promotion during their first week.
Pot Master Premium Hot Soup, originating from Taiwan Mini hot pot, offers a delightful selection of hot pot choices like Stinky Tofu, Creamy Curry, Seafood Tofu, Korean Style Kimchi, and Thai Tom Yum. Create your unique pot with 12 house blend flavors, proteins, and veggies. Open daily from 11 am to 10 pm, the restaurant also serves fruit teas and will soon have a liquor license, enhancing the dining experience. Enjoy a customizable and flavorful hot pot adventure at Pot Master.
Sunlight Tea Studio Gets Closer to Grand Opening: New Sign Installed, Interior Remodel Underway for Early Fall Debut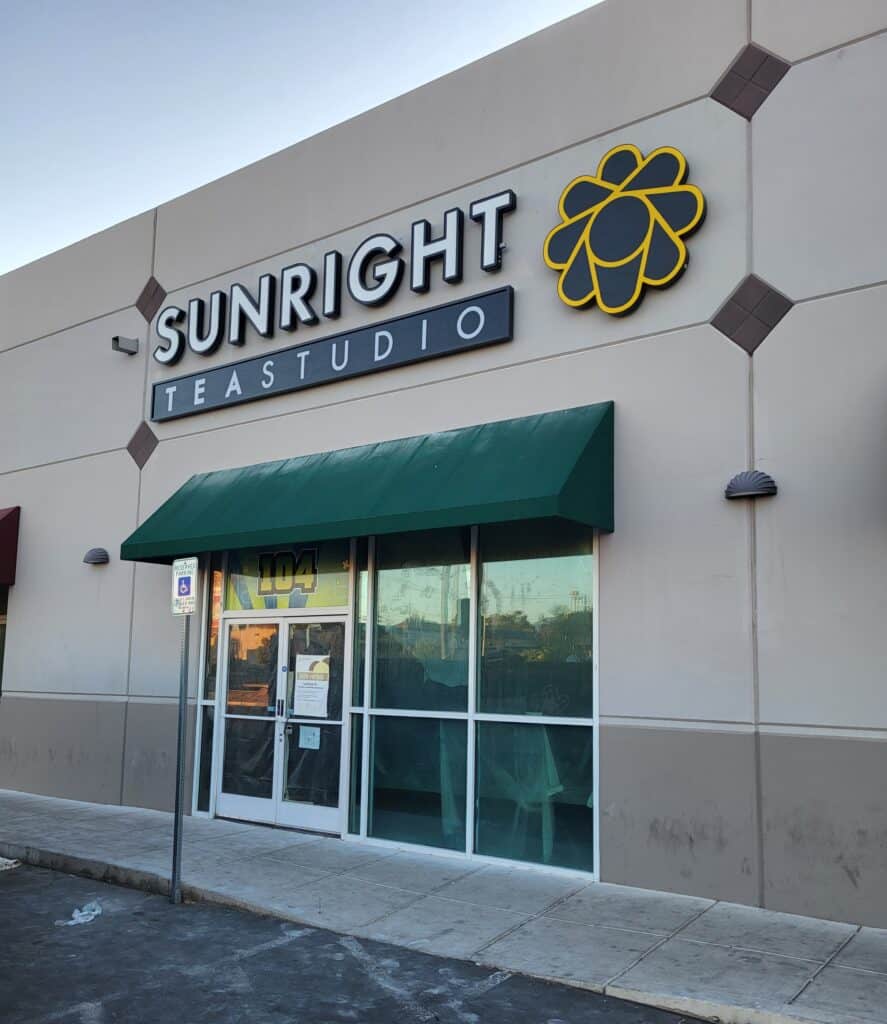 In our May 26 weekly report, we were excited to break the news about Sunlight Tea Studio, was coming to the Hotai Plaza. Recently, the tea studio has completed the installation of its eye-catching sign and commenced a comprehensive interior remodel. While an exact opening date is yet to be confirmed, insiders suggest it will likely be in early fall.
Situated between the much-loved 8oz Korean Steak House and Bar and Dan Han Cafe & Sandwich, Sunlight Tea Studio enjoys a prime location within the neighborhood. This strategic positioning, along with the anticipation surrounding its unique offerings, is generating considerable buzz among locals.
With the promise of a delightful selection of teas and potential additional beverage options, Sunlight Tea Studio is poised to become a charming and trendy spot for tea enthusiasts and those seeking a cozy, welcoming ambiance.
As the interior remodeling progresses, curiosity builds around the design and atmosphere that the tea studio will offer. Residents and visitors alike eagerly await the grand opening to indulge in the sensory experience that Sunlight Tea Studio is sure to provide.
Lucky Foot Spa Prepares for its Reopening Following Spectacular Remodel!
In an edition of This Week In Chinatown last February, we clarified the rumors and confirmed that a restaurant was not taking over the space, but instead, Lucky Foot Spa was undergoing a remarkable transformation. The exterior has been beautifully renovated, and the interior has received a complete makeover as well. Currently, the spa eagerly awaits the installation of a new sign and some finishing touches to perfect the inside. Stay tuned for the exciting reopening of this rejuvenated foot spa.
702-425-3966
4661 Spring Mountain Road Suite A
Koreatown Village Nears Opening with Master Kim's and Industry 13 Signage, Plus Nevada's First Open Bank
Koreatown Village is steadily approaching its grand opening, with the recent installation of signage by Master Kim's Korean BBQ and Industry 13. This highly anticipated Chinatown strip mall has been a subject of interest in our previous reports, with its name unveiled in a January edition of This Week in Chinatown. The mall promises a distinctive appeal, boasting unique finishes, incorporating a variety of stone and metal elements.
Excitingly, in addition to Industry 13 and Master Kim's, Koreatown Village will proudly host Nevada's inaugural Open Bank. While an official opening date remains undisclosed at present, we are committed to keeping you informed with the latest updates as soon as we receive them.
Almost Rebuilt: End Cap of Fire-Damaged Building to House New Furniture Store After Years of Construction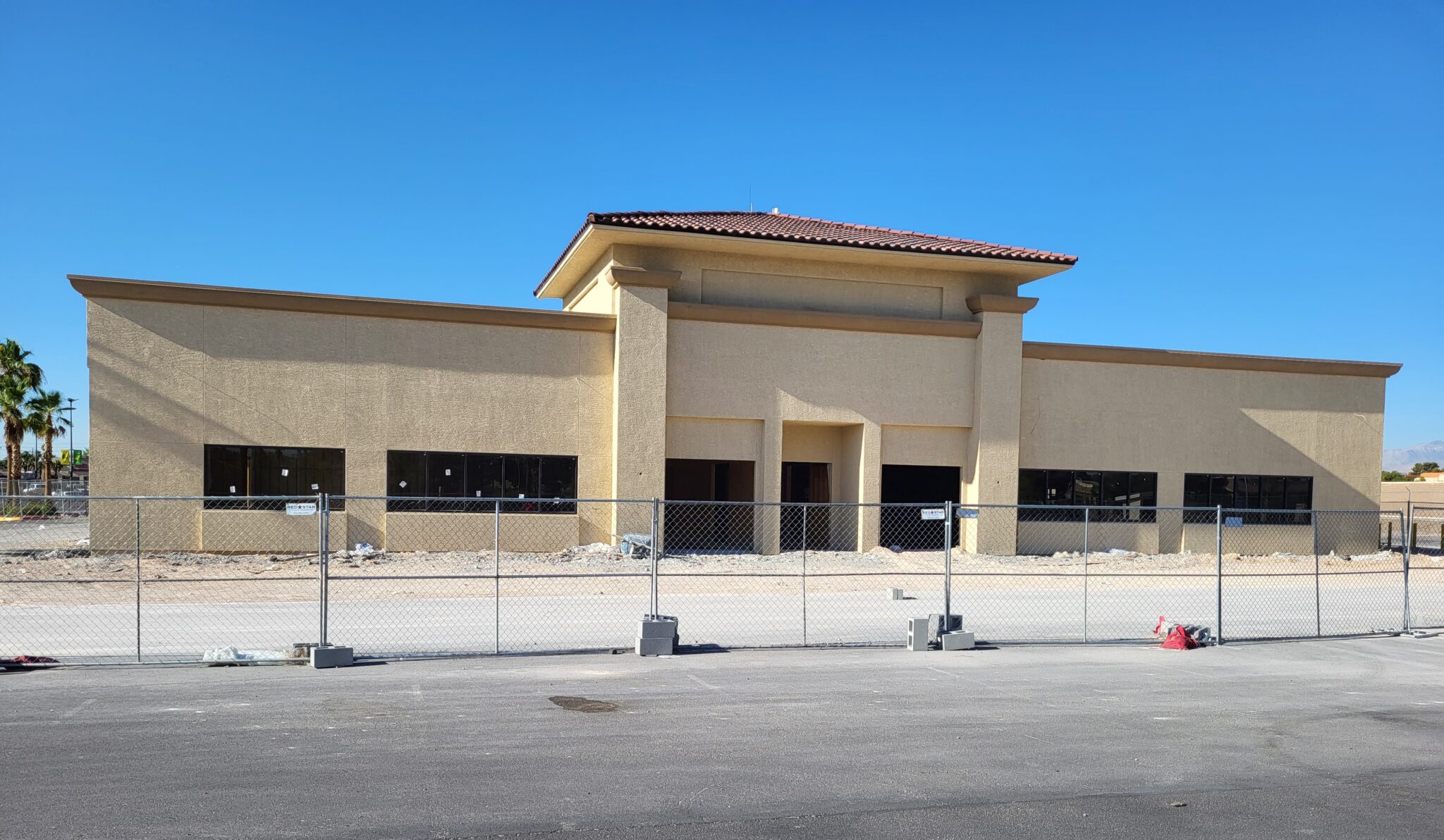 For many years, construction has been underway following a devastating fire in 2018 that caused damage to eight businesses, notably the severely affected 5 Star Furniture store. The mystery surrounding the spacious end-cap unit on the north side, which faces Desert Inn Rd, has finally been unveiled, as it is set to become a furniture store. However, it remains unconfirmed whether it will be the revival of the 5 Star Furniture store. Rest assured, updates on this development will be provided as new information emerges.
As we bid farewell to another remarkable week, let us cherish the unforgettable moments and experiences. With the promise of reuniting next Friday, we look forward to creating more cherished memories together. Remember, what happens in Chinatown, happens here. See you next week
Subscribe to Chinatown's New YouTube Channel
In our ongoing efforts to promote and highlight what we feel is the best Chinatown anywhere, we have launched a YouTube Channel to capture it.
The channel plans on featuring businesses, food, chefs, breaking news, street reports, and much more. Chinatown Vegas' YouTube Channel hopes to capture a real sense feel of what it's like to visit the super-fast growing Chinatown.