Chinatown Report: This Week in Chinatown
Las Vegas Chinatown news and analysis by Chinatownvegas.com. Food. Restaurants. Tips. Things to do. Events. What's in? What's out? RUMORS + much more
Exciting news for tourists and locals alike visiting Chinatown! This week, it was announced that the Vegas Loop tunnel system, spearheaded by Elon Musk's Boring Company, will be expanded to include a station in the area. While the exact location of the Chinatown Station has yet to be confirmed, there is already a buzz of speculation and rumors around the upcoming development.
Where is the best burger in Las Vegas? Well, of course, it's in Chinatown. You will have to scroll down toward the end to learn which Chinatown-born burger place beat out more than 60+ burgers places to win the title.
It's finally warm. After a what seemed like an April Fools' prank, the upper 70s on that day was followed by mid to upper 30-degree morning and daytime temperatures barely breaking 50! January weather in April. But the forecast is warm going forward.
Let's have a look and see what is new in Chinatown
We are starting from the east and heading west on Spring Mountain Rd.
Las Vegas Little Theater has announced open auditions for their upcoming production of "Tuck Everlasting" Actors of all ages, ranging from 11 to 70, are invited to audition for all roles in the play. In-person auditions will be held on Monday, April 10th, and Tuesday, April 11th at 6:30 pm at the theater's location.
"Tuck Everlasting," tells the story of Winnie Foster, a ten-year-old girl who yearns to explore beyond the confines of her home. During one of her adventures in the family's small forest, she encounters Jesse Tuck and learns about the spring that granted him and his family immortality after drinking from it.
This is an exciting opportunity for actors to demonstrate their skills and become a part of the cast for an outstanding production. Interested individuals can visit the theater's website or get in touch with them directly for more details and to register for auditions.
Those interested can fill out an audition form here or call the theatre at 702-362-7996 or email them at info@lvlt.org
Golden Tiki Presents: Rare and Exclusive Hamilton 8 yr. St. Lucia Pot Still Rum – Limited Availability
The Golden Tiki is currently offering a rare and limited edition rum that is sure to delight rum aficionados. The Hamilton 8 yr. St. Lucia Pot Still Rum, named after the renowned rum expert Edward Hamilton, is a highly sought-after spirit with very limited availability. Once this exquisite rum is sold out, it may be gone forever.
If you're a rum enthusiast looking for a rare and exclusive experience, then the Hamilton 8 yr. St. Lucia Pot Still Rum at the Golden Tiki is a must-try. But don't delay, as this limited edition spirit is likely to sell out quickly!
Join the Easter Egg Hunt at Shokku Ramen and Win a Free Bowl
Shokku Ramen, the 24-hour ramen restaurant famous for its signature bowls and Japanese plates, is spreading Easter cheer throughout the month of April with its exciting Easter egg hunt.
Diners who order one of Shokku's delectable signature bowls during the month of April may find a colored egg hidden inside. If they do, they win a free bowl on their next visit, adding a fun twist to the dining experience.
With its open kitchen, Shokku Ramen provides a unique experience for customers as they watch the preparation of their meals. The restaurant's commitment to quality ingredients and authentic flavors has made it a beloved destination for ramen lovers in the area.
H.K. Seafood Garden in Chinatown Las Vegas Closes, Making Way for New Hot Pot Concept: Pot Master
H.K. Seafood Garden, a popular Cantonese seafood restaurant, has officially closed its doors. After a successful run since its opening in 2009, the restaurant has unfortunately shut down and is no longer in operation.
Chinatown Vegas has attempted to contact the restaurant, but it seems that the phone number has been disconnected. However, we have received news that a new hot pot concept called Pot Master will be taking its place. Pot Master will be located in the Arville Plaza, situated at the corner of Arville Avenue and Spring Mountain Road.
We understand that H.K. Seafood Garden was a beloved restaurant in the community and we share in your disappointment at its closure. Nonetheless, we are excited to welcome Pot Master to the neighborhood and hope that you will join us in trying out their new hot pot concept.
Join the Fun at Griff's Sunday Singles FasTrack 8-Ball Chip Tournament in Chinatown Decatur Plaza
Join Griff's Bar & Billiards in the Chinatown Decatur Plaza for their exciting weekly event – the Singles FasTrack 8-Ball Chip Tournament, taking place every Sunday afternoon.
Participants can practice starting at 1 pm, with the tournament beginning at 2 PM sharp. The event will be hosted on 7′ Diamond Tables and requires a $25 entry fee (including Green Fees), with an additional $10 optional WTA Sidepot.
It will be an afternoon filled with fun and competition at Griff's Bar & Billiard.  You don't want to miss out on the chance to showcase your skills and compete with other talented players. Visit Griff's at the Chinatown Decatur Plaza and get in on the action!
Chamon, the authentic matcha salon, is preparing to reopen after being closed since 2019. According to reports, the salon will reopen soon.  Chamon boosts a traditional Japanese design with clean wood and minimal decor, creating a zen-like ambiance. Visitors can indulge in various matcha treats such as matcha soft serve, matcha latte, and matcha jelly. Chamon initially opened its doors in 2018 and quickly gained popularity due to its unique offerings and relaxing atmosphere.
Hwaro Space in Chinatown Gutted: Reasons Still Unclear
In the October edition of "This Week in Chinatown," it was reported that Hwaro at Seoul Plaza in Chinatown had closed down. Recently, it has been observed that the space has been completely gutted. However, it is still unknown whether this was for a renovation or an entirely new concept. More information is yet to be discovered, and we will let everyone know.
New Sign Completed for Jackpot Joanies, Set to Replace Irene's Cocktail Lounge in May with 24-hour Gaming, Food, and Full Bar
We have been following the remodel of this and now can report that the new sign and awning are up for Jackpot Joanies, which will replace the long-standing Irene's Cocktail Lounge. The ongoing remodeling work is expected to be completed soon, and the new establishment is scheduled to open sometime in May. Jackpot Joanies will offer 24-hour gaming, food, and a full bar.
New Korean Grocery Store K Place Mini Mart is Now Open in Mountain Point West Business Park, but May Be Hard to Find!
The Korean expansion continues with the opening of K Place mini-mart, a brand new Korean grocery store located in the Mountain Point West Business Park. If you're familiar with the area, K Place mini mart can be found in the strip mall that is also home to Hobak Korean BBQ, Gabi, and other popular businesses.
However, please note that the store is located in the back, directly behind Hobak, which may make it a bit difficult to find. But once you do, you'll be amazed by the wide variety of authentic Korean ingredients and products that are not available elsewhere.
K Place mini-mart is now open 7 days a week from 11 am to 6 pm, ready to serve you the finest Korean ingredients and products. Whether you're looking for spices, seasonings, snacks, or beverages, K Place mini-mart has got you covered.
Chef Alicia Shevetone's Sin City Kitchen Premieres Season 2 at Sea Fresh
Sin City Kitchen, hosted by Chef Alicia Shevetone, has announced the premiere of its highly anticipated second season in Chinatown. Chef Alicia, known for her renowned Las Vegas-based company, Dink Cuisine, is a pop-up chef and cookbook author with a passion for curating unique cooking experiences through various forms of media, including print, digital, social, and live events.
The first episode of the new season of Sin City Kitchen was filmed at Sea Fresh in the Mountain View Plaza, alongside Chef Jimmy Li, the co-owner of the restaurant who was recently nominated as a James Beard semi-finalist. The second season promises to showcase exciting culinary creations and features a diverse range of special guests, highlighting Las Vegas' thriving food scene.
With Chef Alicia's expertise and creativity in the kitchen, fans of the show can expect a thrilling and mouthwatering culinary journey. Be sure to catch the premiere of Sin City Kitchen's second season and indulge in the delectable dishes created by Chef Alicia and Chef Jimmy!
SCK streams on Hey Vegas, a streaming TV network showcasing Las Vegas entertainment and lifestyles, on AppleTV, Roku Player, and Amazon Prime.
FukuBurger of Chinatown Wins Best Burger in City, Triumphs Over 60 Rivals in 8 News Now's Best Burger Bracket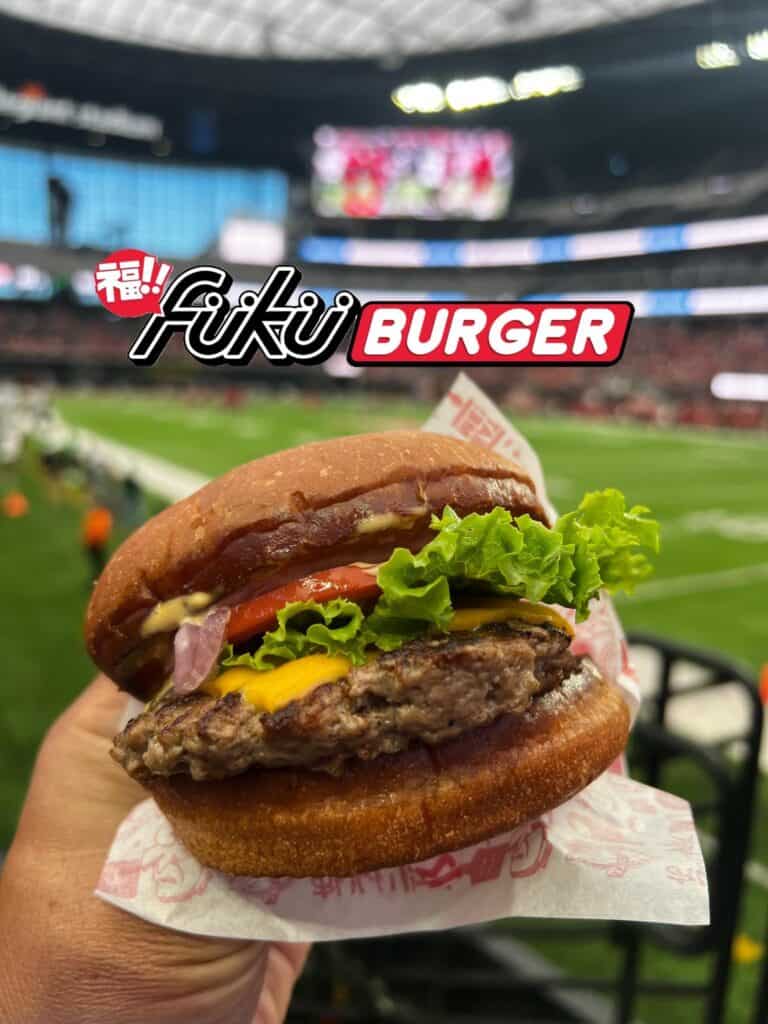 Congratulations to FukuBurger, a super-loved burger joint born in Chinatown, for winning the title of Best Burger in the city! The victory came after beating over 60 other participants in the Best Burger Bracket by CBS affiliate 8 News Now.
Born and raised in Chinatown, Fuku is a 100% locally grown concept that began with a food truck and has since expanded to several locations, one of which is housed inside the Allegiant Stadium, the home of the Las Vegas Raiders
Colin Fukunaga, the founder of the eponymous restaurant, takes pride in his Chinatown beginnings. He served as one of the early ambassadors for the area, actively promoting it and spreading the word about its offerings. When we called to congratulate him and reflect on his journey, he had this to say:
"When we first started as a food truck, was the beginning of social media. Just Facebook and Twitter back then. We would say our location was in the abandoned lot next to the Bank of America in Chinatown. Most people would respond " We have a Chinatown in Vegas?" Chinatown LV, that's where it all started"  
So now when people ask where is the best burger in Las Vegas, we can proudly say " In Chinatown, naturally" Way to go, Fuku!
That's it for this week. See ya all next Friday.
Chinatown's New YouTube Channel Launched
In our efforts to promote and highlight what we feel is the best Chinatown anywhere, we have launched a YouTube Channel to capture it.
The channel plans on featuring businesses, food, chefs, breaking news, street reports, and much more. Chinatown Vegas' YouTube Channel hopes to capture a real sense feel of what it's like to visit the super-fast growing Chinatown.
If you love Chinatown, follow us on Social Media: