Chinatown Report: This Week in Chinatown
Las Vegas Chinatown news and analysis by Chinatownvegas.com. Food. Restaurants. Tips. Things to do. Events. What's in? What's out? RUMORS + much more
Brrrrr! On Valentine's Day, we experienced rain, sleet, snow, sun, and winds. The temperature was around 59 degrees at 11 am and dropped to 33 degrees in one hour. Totally not normal. But, good news. We expect temperatures to reach almost 70 on Monday.
Construction at the Spring Mountain and Decatur intersection looks like it has made some progress. Still, no word on when it will be complete but visually seems to be nearing its completion.
Tang, the new Korean restaurant in the Sa-Yo Plaza is looking like its nearing completion as well as the new Koreatown Village. We are looking forward to another Korean restaurant and Korean businesses almost ready to open in the Koreatown Village.
With lots of events in Las Vegas this weekend, it should be a super busy week ahead in Chinatown.
Letters of the Week:

We receive several inquiries about Las Vegas Chinatown.
We will feature some here in our weekly report.
Sunita Khatri asks:
"Is there a 24-hour bus that goes up and down the Chinatown strip? Is it easy to access from the casinos?"
Sunita,
The RTC ( Regional Transportation Center) bus #203 runs 24 hours a day and goes all along Spring Mountain Rd. From the Strip, (Las Vegas Blvd) you catch it at the northwest corner of Las Vegas Blvd by the Fashion Show Mall. That's across the street from Treasure Island, Palazzo, and the Wynn hotels. The Duece goes up and down the strip and can drop you off there. It's  $8 for a 24-hour or $20 for a 3-day unlimited pass. The buses run pretty much on schedule and are very clean, safe, and reliable.
The stops are not often as convenient as we would like, but we believe it is the best way to visit our Chinatown. We recommended downloading the RTC App. It saves time boarding and the bus only takes exact change nor does it accept credit cards. Details on the app can be seen in the video below.
Let's have a look and see what is new in Chinatown.
We are starting from the east and heading west on Spring Mountain Rd.
Win a Free NBA All-Star Package
Chinatown-born high-end footwear and apparel store FEATURE has a contest with a chance to win an NBA All-Star experience.
To enter participants must Like this photo on Instagram and follow @feature⁠
Take a picture at our NBA All-Star experience (If you're not able to attend the week's events, for an alternative entry post a photo of your favorite pair of NBA-inspired sneakers like the classic LeBron 9 All-Star release) or of the NBA-inspired shoes you're wearing during the week and post it.
and Tag @feature and use the hashtag #FeatureAllStar
⁠
The more you post, the more chances of winning you have The #FeatureAllStar Contest closes this Sunday, 2/19. The winner will be announced on Monday, 2/20. Since launching its first store in Las Vegas Chinatown, FEATURE has grown with outlets in the Wynn Plaza in the Wynn Hotel, Calabasas, CA, Scottsdale, AZ as well as its online store.
Wear it Wednesday discounts at Shokku Ramen
Every Wednesday, at Shokku Ramen, guests that wear their favorite anime shirts will receive 15% off of their check. Wear full cosplay and receive a 25% discount
Jinju Gomtang abbreviates its name to "Mr. Tang"
Newly opened in the Chinatown Plaza,  is using an abbreviation of its name to a simpler "Mt. Tang". Tang means soup in Korean and that is exactly what the restaurant specializes in. Here is a look at its menu.
IX Adds New Dim Sum Menu
The newly opened IX Skewer and Bar have added several Cantonese dim sum items to its Sichuan-based menu. The restaurant will open at 9:30 for breakfast and serve dim sum until 3 pm daily.
J.M.T 50% off deal
J.M.T. is offering a 50% off promo Donkatsu (Togkatsu)  for our new menu launch.  The spicy cutlet comes in two styles – the original J.M.T. katsu and curry spicy katsu. Available 12 pm-10:30 pm 7 days a week.
Kuma Co a shop that sells cute plushies, figures, and hats is now open
Kuma Co, from the same team that brought us 888 Collectibles next door is now open. Located on the second floor of the Shanghai Plaza upstairs from Weera Thai. Kuma Co featured brands such as Sanrio, San-X, Sonny Angels, Smiski, and much more.
Heading west on Spring Mountain, the Joyful House remodel into Pallete Tea LV is moving along. There is a full-time team working on the interior of this much-anticipated restaurant opening.
A few stores down. Lucky Foot Spa is getting a face-lift. While rumors were that another restaurant was opening, Chinatown Vegas has been told it's a remodel and will reopen with the same name and owners.
Sea Fresh expands its set menus and now offers 3, 6, and 8-course options
Sea Fresh, the 16-seat restaurant by newly nominated James Beard Award chef Jimmy Li has expanded its prix fixe tasting menu and in addition to its well-received 6-course menu, they are now offering a 3 as well as an 8-course prix fixe tasting menu.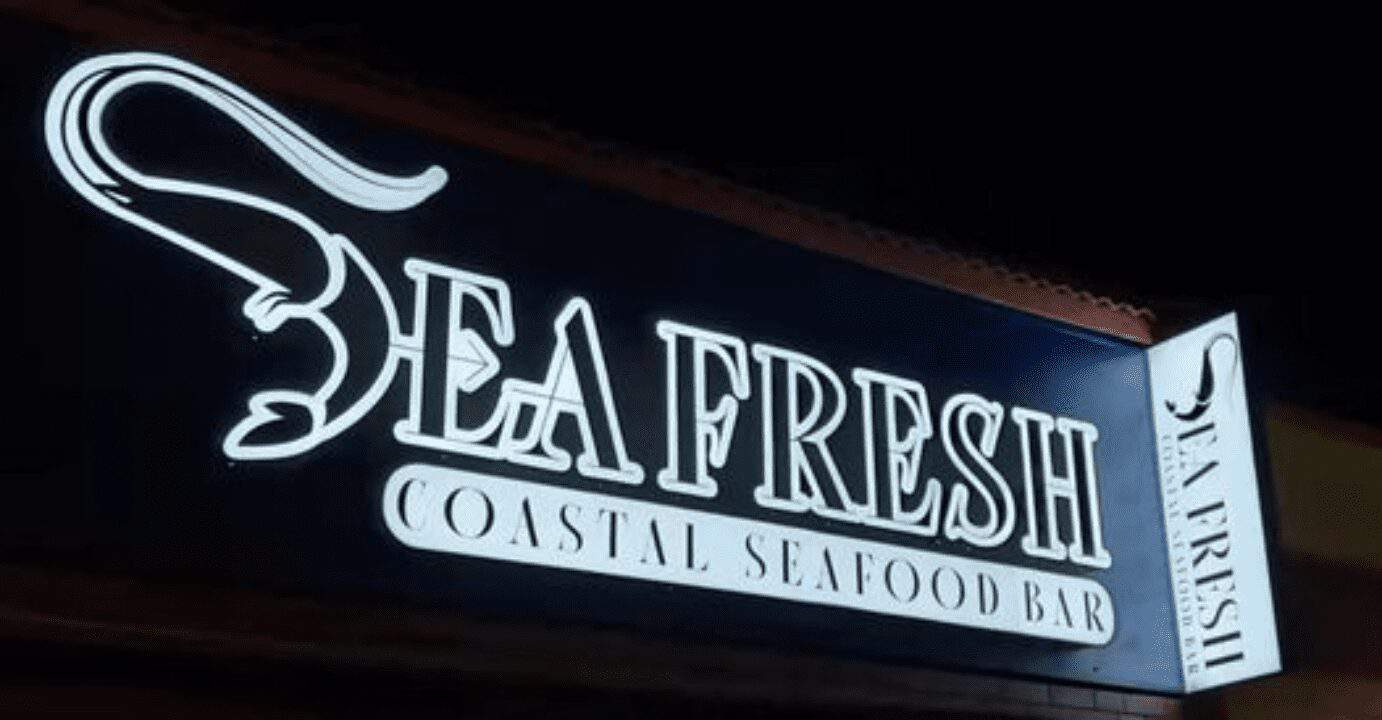 This week's specials at the 168 Market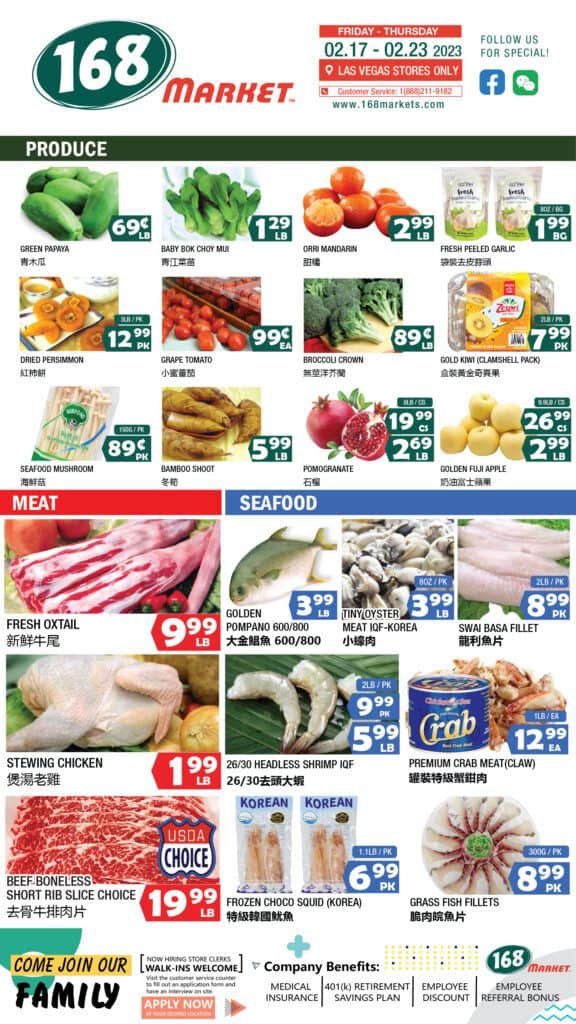 That's a wrap for this week. Continue enjoying Chinatown. See ya next week.
Subscribe to Chinatown's New YouTube Channel
In our ongoing efforts to promote and highlight what we feel is the best Chinatown anywhere, we have launched a YouTube Channel to capture it.
The channel plans on featuring businesses, food, chefs, breaking news, street reports, and much more. Chinatown Vegas' YouTube Channel hopes to capture a real sense feel of what it's like to visit the super-fast growing Chinatown.
Follow us on Social Media: