Chinatown Report: This Week in Chinatown
Las Vegas Chinatown news and analysis by Chinatownvegas.com. Food. Restaurants. Tips. Things to do. Events. What's in? What's out? RUMORS + much more
Welcome, dear readers, to another exciting edition of "This Week in Chinatown"! We want to wish every one a happy Memorial Day Weekend. As the vibrant streets of Chinatown bustle with energy, we are thrilled to bring you the most up-to-date news, events, and stories from this captivating neighborhood. From cultural festivals to culinary delights, we've got you covered.
This past week
As the weekend unfolded and the Electric Daisy Carnival (EDC) took center stage in town, . The neighborhood pulsated with the infectious energy of festival-goers, their vibrant costumes and glowing accessories illuminating the streets. Local businesses thrived, as visitors flocked to indulge in delectable cuisine, discover unique shops, and embrace the rich cultural tapestry of Chinatown.
Chinatown, once a hidden gem, became a bustling hub like never before as it welcomed a massive influx of Electric Daisy Carnival (EDC) attendees. The neighborhood brimmed with excitement and vibrant energy as the streets were filled to the brim with festival-goers.
What's coming?
This week in Las Vegas, there are several exciting events to enjoy. If you're a music lover, Ringo Starr and His All Starr Band are performing at The Venetian on Friday, May 26, and Saturday, May 27, with the show starting at 8:30 PM. Experience the iconic tunes and energetic performance of this legendary musician and his talented band.
For fans of Air Supply, the Australian soft rock duo, they will be holding concerts on Friday and Saturday at a venue in Las Vegas. The shows begin at 8 PM, allowing you to immerse yourself in their timeless ballads and captivating melodies.
If you're into electronic dance music (EDM), the Exodus Festival Las Vegas is taking place at the MGM Grand. It is renowned as the longest-running EDM festival in Vegas, offering a series of events and performances throughout the weekend. Prepare for a thrilling EDM experience at this exciting festival.
These are just a few of the entertainment options available in Las Vegas this week. Make sure to check event details, ticket availability, and any COVID-19 guidelines before attending. Enjoy the vibrant music scene and embrace the lively atmosphere of Las Vegas!
Now, let's shift our focus to the heart of the action—Chinatown. The place to be for endless excitement and a seamless fusion of tradition and modernity.
We are starting from the east and heading west on Spring Mountain Rd.
Live at Sand Dollar Lounge: Chris Tofield, Boot Juice, and Lara Ash & Inferno Set to Rock the Stage
This week at the Sand Dollar Lounge in Las Vegas promises an exciting lineup of live music. On Friday, May 26th, Chris Tofield takes the stage. Known for his captivating performances, Tofield offers a blend of blues is sure to entertain the crowd. Then, on Saturday the 27th, get ready for Boot Juice, a high-energy 7-piece band that brings a fusion of blues, soul, and Americana. With their infectious energy, Boot Juice is bound to create a lively atmosphere.
To cap off the weekend, on Sunday the 28th, prepare for a rock-filled night with Lara Ash & Inferno, a rock cover band that knows how to deliver electrifying renditions of beloved hits. From classic rock anthems to contemporary favorites, their performance will keep the audience engaged. All shows are scheduled from 10 pm to 2 am, allowing plenty of time to enjoy the music and soak up the lively ambiance.
As always, the Sand Dollar Lounge maintains its commitment to providing exceptional entertainment without charging a cover fee. However, it's important to note that all guests must be 21 years or older to enter and enjoy the shows. With this week's lineup, the Sand Dollar Lounge continues its tradition of delivering memorable live music experiences for Las Vegas locals and visitors alike.
Rare Limited Edition  Enamel Pin Unveiled at The Golden Tiki
The limited edition enamel pin for The Golden Tiki's Mixologist, Adam Rains, is now available in the form of a puffer fish. It makes for a great addition to one's lapel, bag, or cork board. To purchase one, interested parties can log in to the Golden Tiki's' "Big Cartel" page.
The Golden Tiki is an iconic and vibrant destination known for its immersive tiki bar experience. Located in Chinatown, this tropical oasis transports visitors to a world of exotic cocktails, enchanting decor, and lively entertainment, creating a truly unforgettable atmosphere.
Experience the Grandeur of LV JAPAN FAIR: One of the Largest Japanese Cultural Festivals in Vegas
On Saturday, May 27, from 2 pm to 11 pm, the LV JAPAN FAIR 2023 invites attendees to partake in one of Vegas' largest Japanese cultural festivals. Visitors can immerse themselves in a delightful experience of shopping, tasting, and learning about Japanese culture. The festival offers an array of attractions, including live performances, interactive games, captivating robots, and much more.
The event showcases an enticing selection of street foods that allow guests to savor the umami flavors of Japan. Additionally, sake enthusiasts can explore a diverse range of Japanese sake flavors through tastings. The fair offers a lively atmosphere with DJ entertainment featuring renowned artists such as Ayame Tachibana, Miss Parker, and Meirlin. Anime enthusiasts can delight in browsing through various vendors offering a wide selection of goods inspired by Japanese artistry.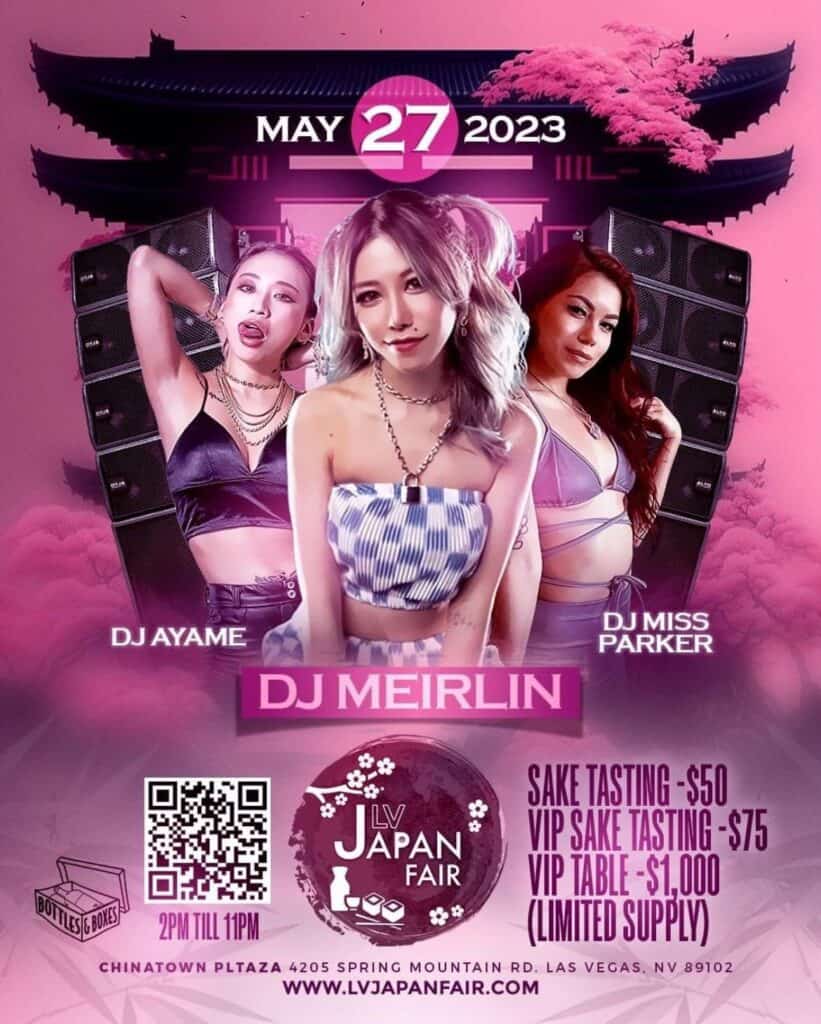 General admission is free, while Sake Tasting tickets are available for $50, and VIP Sake Tasting tickets for $75. This extraordinary event promises to bring the rich cultural tapestry of Japan to life in the heart of Las Vegas.
Long-Awaited Transformation at Kingdom Salon, Changes Coming and Secret Ohm Unveils Grand Opening, Now Taking Reservations
Exciting changes are on the horizon for Kingdom Hair Salon, for hair and beauty enthusiasts. After much anticipation, the salon is undergoing a long-awaited transformation that promises to elevate the customer experience to new heights. In addition to the revamped atmosphere and overall ambiance, Kingdom Salon is introducing a range of exclusive services designed to pamper and rejuvenate its clientele.
One of the notable additions to the salon's repertoire is the introduction of Japanese Head Spa services. This luxurious treatment combines ancient Japanese techniques with modern innovations to provide a deeply relaxing and therapeutic experience. Clients can indulge in scalp massages that stimulate blood circulation, promote hair growth, and alleviate stress. The meticulous attention to detail during these sessions ensures a blissful escape from the outside world.
Furthermore, Kingdom Hair Salon is now offering a specialized Hair Conditioning Treatment, aimed at nourishing and revitalizing the hair. This intensive treatment, tailored to individual hair types and concerns, helps restore moisture, repair damage, and enhance overall hair health. With expert stylists and top-of-the-line products, customers can expect their locks to receive the royal treatment they deserve.
Located directly upstairs, in a highly anticipated announcement, Secret Ohm, renowned experts in eyebrow tattoo and microblading, have finally revealed their grand opening plans. Customers eagerly awaiting their exceptional services can now breathe a sigh of relief as Secret Ohm is currently accepting reservations for the months of July and August. Whether you're seeking perfectly sculpted brows or a transformative microblading experience, their team of skilled professionals is ready to enhance your natural beauty and bring your desired aesthetic to life.
Secret Ohm is delighted to announce their Grand Opening event on July 11th. Although they are already open for business prior to that, this special occasion on July 11th will mark a significant milestone in their journey. Join them as they celebrate their official Grand Opening with exciting promotions and a warm welcome to all beauty enthusiasts.
Chinatown Vegas Gears Up for the Arrival of Sunright Tea Studio to Hotai Plaza
Exciting news for Chinatown Las Vegas! The latest addition to the vibrant culinary scene will be the arrival of Sunright Tea Studio. Set to open in the Hotai Plaza, this new establishment will join the ranks of other popular eateries such as Nabe Hot Pot, 8oz Korean Steak House and Bar, Sushi Zone, Garionban, and more.
Sunright Tea Studio has chosen a prime location, situating themselves between the beloved 8oz Korean Steak House and Bar and Dan Han Cafe & Sandwich. This strategic placement is sure to attract both locals and visitors eager to explore the diverse range of culinary offerings in Chinatown Vegas.
While the exact opening date for Sunright Tea Studio has yet to be announced, management has told us that they are shooting for a late summer, early fall  2023 opening. Rest assured that Chinatown Vegas will keep the community updated on any developments regarding this exciting addition. So, keep an eye out for further updates to discover when you can indulge in Sunright Tea Studio's tantalizing teas and unique tea-based creations.
Chinatown continues to flourish as a culinary destination, and with the arrival of Sunright Tea Studio, residents and food enthusiasts alike have yet another reason to explore the delectable offerings found within this vibrant community.
Sad Twist of Fate: Raku Sweets Forced to Close Earlier, Deepening Sorrow in the Community
In last week's edition of "This Week in Chinatown," it was reported that Sweets Raku had initially announced their closure would be on June 30th. However, the situation has taken a somber turn as the company recently disclosed on their social media that they will be closing much sooner, on May 30th. Along with the revised closing date, the business has also implemented alterations to their operating hours, which are now as follows:
Wednesday (5/24): Closed
Thursday (5/25): Closed
Friday (5/26): 3 pm-10 pm
Saturday (5/27): 3 pm-10 pm
Sunday (5/28): 3 pm-10 pm
Monday (5/29): Closed
Tuesday (5/30): 3 pm-10 pm
Wednesday (5/31): Closed
As the final days approach, the impending closure of Sweets Raku leaves a void in the hearts of its patrons. We extend our sincerest wishes for their future endeavors and cherish the memories created within their sweet haven.
Unveiling Tattoo Sensation Ayala Bratt's Groundbreaking Tattoo Shop: A Captivating World Unlike Any Other – Get Your First Look
At just 22 years old, Ayala Bratt is a remarkable artist who excels in various creative domains. Originally from Israel and now residing in the US for just a year and a half, Ayala has swiftly made a name for herself as a skilled tattoo artist, makeup artist, and graphic designer. With nine years of tattooing experience, Ayala specializes in fine-line and one-line tattoos, crafting elegant and distinctive designs. Notably, all the artwork in her shop is her own creation, showcasing her exceptional talent and creativity.
The shop exudes a distinct ambiance, adorned with an array of extraordinary artwork, including paintings, sculptures, and furniture. Its interior showcases a captivating industrial-chic style, creating a cool and captivating atmosphere.
Exciting New Korean Concept Banchan Coming to the Korea Town Plaza
We were saddened about the closure of El Charro Taqueria , the beloved Guadalajara style Mexican restaurant located in the KoreaTown Plaza. However, exciting news follows as we learn that Banchan, a new Korean concept, will soon be taking its place. The team behind the renowned Goong Korean BBQ is behind this upcoming venture. Despite our attempts to reach out to the management for further details, they have remained unreachable. We will continue to keep you updated on any developments regarding the closure of El Charro and the anticipated arrival of Banchan.
That's it for this week. Until the next, continue enjoying Chinatown
Chinatown's New YouTube Channel Launched
In our efforts to promote and highlight what we feel is the best Chinatown anywhere, we have launched a YouTube Channel to capture it.
The channel plans on featuring businesses, food, chefs, breaking news, street reports, and much more. Chinatown Vegas' YouTube Channel hopes to capture a real sense feel of what it's like to visit the super-fast growing Chinatown.
If you love Chinatown, follow us on Social Media: