Chinatown Report: This Week in Chinatown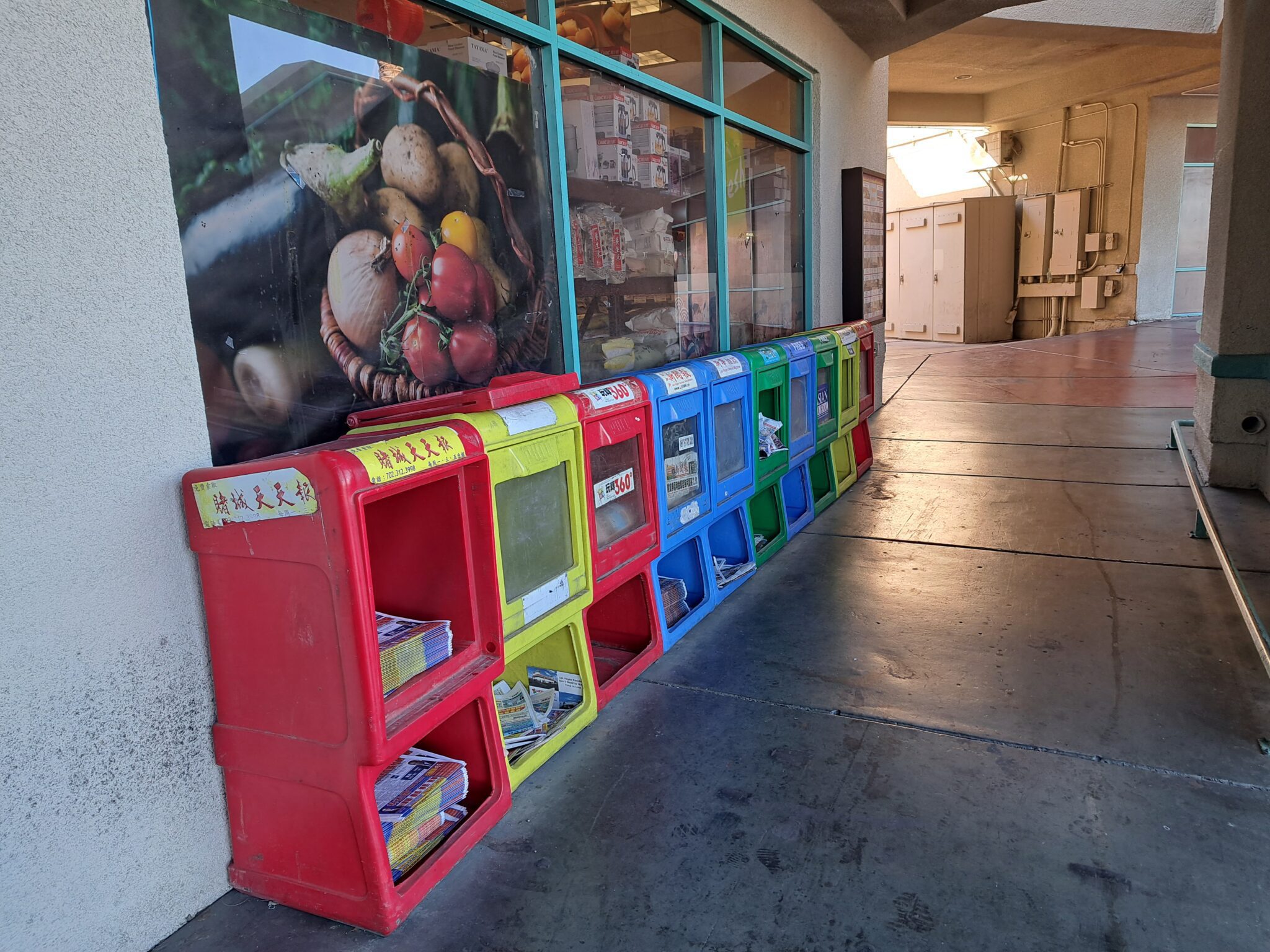 Las Vegas Chinatown news and analysis by Chinatownvegas.com. Food. Restaurants. Tips. Things to do. Events. What's in? What's out? RUMORS + much more
The past week
We Bridge successfully concluded its inaugural three-day cultural expo and two-day music festival in Las Vegas, which aimed to celebrate Asian entertainment and culture through unique 360-degree programming. The two-day music festival, which was part of the event, took place at the Michelob ULTRA Arena located within the premises of the Mandalay Bay Resort and Casino
It's official: the Oakland Athletics are leaving Oakland and will construct a new stadium on West Tropicana, situated just west of the I-15 at the former site of the Wild Wild West Motel. The A's are on their way! Will they be the Las Vegas A's or will they change their name?
The first annual Las Rageous festival was also a huge success featuring headliners Godsmack and Avenged Sevenfold, the Las Rageous festival also showcased top rock and metal acts Breaking Benjamin, Coheed and Cambria, Mastodon, Anthrax, Killswitch Engage, Escape the Fate, and The Devil Wears Prada. The festival also included a collection of wandering freak show performers, a showcase of local rock and metal bands, and a Vegas scene foodie-focused Food Truck Village.
626 Night Market
The 626 Night Market, which is an outdoor Asian-inspired night market located in Southern California featuring food, drinks, entertainment, and merchandise from local vendors, recently held a successful event at the Palms in Las Vegas this past weekend. The event received positive reviews and was attended by a large number of people who enjoyed the diverse range of offerings available.
What's coming?
The Viva Las Vegas Rockabilly Weekend 2023 will offer visitors the opportunity to rock around the clock while enjoying burlesque dancing, auto races, and other shows in Las Vegas. This annual Rockabilly Weekend and Car Show will provide an amazing holiday for all who attend during the middle of spring or fall. The city will host a variety of unusual events and shows over the course of a few days, attracting thousands of Elvis lookalikes and burlesque queens to the festival. The rockabilly weekend takes place at the Orleans Hotel.
Let's have a look and see what is new in Chinatown
We are starting from the east and heading west on Spring Mountain Rd.
3DRetro Relocating to Las Vegas Chinatown, Remodeling the Store to Match California Location
3D Retro based in Glendale, California has announced that it will be relocating its shop to the Center at Spring Mountain in Las Vegas Chinatown. Known for their exclusive and collectible figures from the pop culture and art scene around the world, 3DRetro offers limited edition vinyl toy collectibles, blind boxed toys, Japanese Sofubi toys, Hot Toys, Bearbricks, and rare pop-culture figures suitable for all ages.
The 3DRetro store will be remodeled to replicate its original California shop. The store will be moving into the space at 3999 Spring Mountain, located next to the T-Mobile store. While an opening date has yet to be announced, fans and collectors alike can look forward to the same high-quality and sought-after products offered at the new Las Vegas Chinatown location.
Bambu Desserts Delights Attendees with Popular Drink Samples at Inaugural We Bridge Festival in Las Vegas
Bambu Desserts, a popular Chinatown Vietnamese-inspired dessert chain, was an event favorite at the inaugural We Bridge Festival in Las Vegas. During the festival, Bambu Desserts provided attendees with samples of some of their most popular drinks, which included a variety of sweet and refreshing flavors.
The unique and delicious beverages were a hit with festival-goers, and Bambu Desserts received positive feedback and high praise for their offerings. The success at the festival is a testament to the quality and popularity of Bambu Desserts' menu and demonstrates their ability to captivate and satisfy customers with their innovative and tasty creations.
Banda Los Recoditos Enjoys a Variety of Paletas at Paleta Bar
Latin Grammy Award winners Banda Los Recoditos, the Mexican Banda group hailing from Mazatlán, Sinaloa, recently paid a visit to Shanghai Plaza's Paleta bar. This was initiated after a reporter from Univision contacted the gourmet Mexican pop shop on behalf of the band, who expressed their desire to visit the bar.
During the visit, three vocalists from the band indulged in the lime, mango, and watermelon paletas. Meanwhile, the reporter opted for the hazelnut crunch paleta. The band members thoroughly enjoyed the experience at the gourmet Mexican pop shop.
The visit to Shanghai Plaza's Paleta bar provided Banda Los Recoditos with a sweet treat and a memorable experience during their time in the city.
Banner Confirms China Mama's Arrival at Shanghai Plaza at the End of May, May 20th Opening Date Still On Track, As We First Reported
Chinatown Vegas announced in the April 14 edition of This Week in Chinatown that China Mama was moving into the Shanghai Plaza, taking over the IX Skewer and Bar space. The following week in the April 21st edition, we reported that the opening date was scheduled for May 20th. A banner at the former location confirms that China Mama will be opening at the end of May. The Chinatown community eagerly anticipates the restaurant's opening.
Gladys Guevarra to Perform at Gimik Republik in Chinatown Decatur Plaza on April 28-29
Filipino actress, comedian, singer, and TV host Gladys "Chuchay" Guevarra will be performing at the Gimik Republik located in the Chinatown Decatur Plaza on Friday, April 28th, and Saturday, April 29th. The performance will begin at 10 PM and end at 2 AM on both days. The event does not have a cover charge, and everyone21+ is welcome to attend and enjoy the performance.
Mrs. Guevarra is known for her humor and singing talent. She has acted in various shows, including "Bituing Walang Ningning," "Sabel," and hosted shows like "StarStruck" and "Spoon." Guevarra has released several albums showcasing her diverse musical range. She has won various awards, including Best Comedian and Best Comedy Actress at the PMPC Star Awards. She also was a housemate on Pinoy Big Brother  Celebrity Edition 2
Island Malaysian Cuisine Closes Doors in Las Vegas' Chinatown After 12 Years, Making Way for Yohama Noodle
The culinary scene in Las Vegas is always evolving, and as such, it's no surprise when restaurants come and go. One such restaurant that has recently closed its doors is Island Malaysian Cuisine, which had been a popular dining destination for 12 years. The restaurant, located on the second floor of the Pacific Asian Plaza in Las Vegas' Chinatown, was known for its authentic Malaysian cuisine, including dishes such as nasi lemak, beef rendang, and halal meats.
While it's always sad to see a beloved restaurant close down, there is a silver lining to this story. The space that Island Malaysian Cuisine once occupied will soon be home to a new restaurant called Yohama Noodles.
The owners of Yohama Noodles have not yet announced an official opening date, but they have expressed excitement about bringing their unique take on noodle dishes to the Las Vegas dining scene.
So while Island Malaysian Cuisine may be missed by many, food lovers can look forward to a new and exciting dining experience at Yohama Noodles.
Tang, a New Korean Restaurant, Soft Opens in Sa-Yo Plaza
Welcome to our neighborhood! In This Week in Chinatown's December 9th edition from last year, we reported that a new Korean restaurant was scheduled to open in Sa-Yo Plaza. The restaurant, named "Tang" (which means "soup" in Korean), had taken over a previous retail space. We are pleased to announce that Chinatown Vegas can now confirm the soft opening of the restaurant.
With a name like Tang, one would anticipate that the highlight of the menu would be soup. Indeed, this is the case, however, not just limited to beef bone broth. The true stars of the menu are the pork bone broth soups, particularly the traditional Soondae Guk with blood sausage, heart, and stomach, available in both spicy and non-spicy versions, as well as various versions of pork belly soups.
For the daring, or for those who have had a few too many drinks the night before, there is the "Beef Blood Hangover Soup" made with ox bone broth, ox blood, and vegetables.
Tang soft-opened this past Wednesday, April 26, and is currently open 7 days a week from 10 am to 10 pm, but plans to expand their hours within the next few weeks.
Mountain View Plaza's Mei Li Hair Salon Closes Down, Future Uncertain
Since its opening in 2010, the Mei Li Hair Salon has been a popular establishment located in the Mountain View Plaza of Chinatown, offering affordable haircuts and hair care services. Sadly, the salon has now closed down, and it is unclear whether it will reopen in the future or if a new owner will take over the premises. Currently, the shop remains boarded shut.
Desert Breeze Park ( a few minutes west of Chinatown )

Experience the Power of Tai Chi and Qigong at World Tai Chi and Qigong Day on April 29th
The World Tai Chi and Qigong Day (WTCQD) is an annual event that has been celebrated in nearly eighty countries since 1999. It aims to promote the related practices of T'ai chi ch'uan and Qigong. The event will take place at Desert Breeze Park on Spring Mountain Rd and is scheduled for Saturday, April 29, from 9:30 to 11:30 am.
The event is free to attend, and attendees will have the opportunity to witness demonstrations from various martial arts schools, including the Lohan School of Shaolin Dance and Demo team.
That's it for this week. Until next Friday, keep enjoying Chinatown
Subscribe to Chinatown's New YouTube Channel
In our ongoing efforts to promote and highlight what we feel is the best Chinatown anywhere, we have launched a YouTube Channel to capture it.
The channel plans on featuring businesses, food, chefs, breaking news, street reports, and much more. Chinatown Vegas' YouTube Channel hopes to capture a real sense feel of what it's like to visit the super-fast growing Chinatown.
If you love Chinatown, follow us on Social Media: