Chinatown Report: This Week in Chinatown
Las Vegas Chinatown news and analysis by Chinatownvegas.com. Food. Restaurants. Tips. Things to do. Events. What's in? What's out? RUMORS + much more
Welcome to another This Week in Chinatown. We hope that "the Fourth was with You" and you are ready to celebrate Cinco de Mayo.  There was much going on and much more upcoming in the always vibrant Chinatown as well as throughout Sin City.
Asian American Pacific Islander Heritage Month began on May 1, 2023, celebrating the contributions and history of Asian Americans and Pacific Islanders. The month was marked by cultural festivals, food fairs, and educational workshops honoring the achievements of this diverse group. As the month progressed, communities continued to highlight their impact on American society.
Looking for the ultimate ramen experience in Las Vegas? Look no further than Chinatown! Our latest article, "9 Amazing Ramen Dishes to Try in Chinatown," is a must-read for foodies and ramen lovers alike. We've scoured the streets to bring you the top nine must-try ramen dishes in this vibrant neighborhood, from classic tonkotsu to spicy miso and everything in between. Don't miss out on this mouth-watering journey through Chinatown's best ramen spots – click the link above to discover your new favorite bowl!
This past week
Ali Wong, the American-born comedian, writer, and actress of Vietnamese and Chinese descent,  returned to Las Vegas to perform live at the Encore Theater on April 28 and 29, receiving rave reviews from the sold-out audience. Her Asian stereotypical jokes raised a few eyebrows and had the crowd cracking up with laughter.
The Viva Las Vegas Rockabilly Weekend 2023, the annual Rockabilly Weekend and Car Show, was an amazing experience for all visitors who came to Las Vegas for it. During those few days, the city hosted various unusual events and shows, attracting thousands of Elvis lookalikes and burlesque queens to LV for the festival.
Esteemed rising Australian dance producer, Ninajirachi, made her debut U.S. tour in Las Vegas. On Saturday, April 29, people experienced AREA15′s newest event venue and surrounded themselves with Ninajirachi's glassy, transportive electro-pop, and club-ready tracks. The event featured direct support from special guest, Izzy Camina (DJ Set) from 9:30 pm to 11:30 pm.
What's coming?

On Wednesday, May 3rd, the country band The Chicks kicked off the first of six nights in Vegas at the newly named Bakkt Theater (Formerly Zappos) in Planet Hollywood. If you missed the first show, you still can as the concerts continue on May 6th, 10th, 12th, and 13th.
More why is it called Chinatown…
Looks like we've got another one. A social media message just came in, with yet another complaint about the name Chinatown. "Can we please stop calling it that?" they whined. And to top it off, they even played the race card, asking, "Don't you think it's racist to call it that?" Well, to put it simply, NO, it's not racist. Not even a little bit. And believe it or not, we've explained this before. But hey, we'll try again for ya!
The term "Chinatown" is a widely used descriptor for neighborhoods or areas with a significant population of people of Chinese descent or Asian ethnicities, and can be found in cities all over the world. This includes Asia, Europe, Oceania, Africa, and North and South America, where the term is commonly used to describe areas with a concentration of Asian businesses and communities.
It's important to note that the name "Chinatown" was not originally coined by Chinese people and is not a Chinese word. Instead, it was given by Asians in various cities outside of China to describe neighborhoods with a substantial population of Chinese and other Asian ethnicities.
Thus, while Las Vegas Chinatown features a variety of Asian cultures and businesses, the term "Chinatown" is a common phrase used globally to refer to areas with significant Asian communities and businesses.
Every city that has a Chinatown has a mix of Asian and non-Asian businesses, not just Las Vegas. In essence, "Chinatown" has become a catch-all phrase for neighborhoods with significant Asian communities and businesses.
Let's have a look and see what is new in Chinatown
We are starting from the east and heading west on Spring Mountain Rd.
Call for Submissions: Las Vegas Little Theater Announces 2023 Vegas Fringe Festival
The 2023 Vegas Fringe Festival, a two-weekend event showcasing new and established plays and performances lasting no more than sixty minutes each, will be held from June 9 to 18, 2023. The Las Vegas Little Theater is currently accepting submissions for this exciting event, which will take place at their facility located at 3920 Schiff Drive near the intersection of Spring Mountain and Valley View. The performances will be held in the Black Box Theatre and will be repeated multiple times throughout the festival. To apply, please visit Las Vegas Fringe Festival Application 2023
Play it Again, Sam's Adult Gentlemen's Club Throws Don Julio Party for Summer Kick-Off and Cinco de Mayo Celebration
The Adult Gentlemen's Club, Play it Again, Sam's, has announced a Summer Kick-Off/Cinco de Mayo party, featuring a Don Julio party on May 5th from 8 pm-10 pm. As part of the festivities, free taster shots of Don Julio palomas and margaritas will be offered, along with Don Julio swag given out upon entry. Attendees are advised to arrive early, and it should be noted that all guests must be 21 years of age or older to attend.
Mikiya AYCE Wagyu Shabu House Confirms Remodel with New Signage Displayed
On March 24th's issue of This Week in Chinatown, we announced that Mikiya AYCE Wagyu Shabu House from Temple City would be taking over the closed Xtra Sweet dessert shop. The front of the establishment now displays new signage, and renovations have commenced.
The space will undergo extensive remodeling, resulting in a spectacular upscale all-you-can-eat shabu restaurant that will feature all-you-can-eat wagyu beef. Although there is no fixed opening date, it is expected to be in the summer. We will monitor all developments and keep you informed.
Mama Chai's Boba & Mochi Donuts Hosts Kpop Cup Sleeve Event: Bon Voyage Celebrating BTS Members' Upcoming Endeavors
Mama Chai's – Boba & Mochi Donuts is teaming up with 702 Magic Shop to hold an exciting event called "Bon Voyage" for K-pop enthusiasts. The occasion is a celebration of BTS members' upcoming endeavors and is open to all fans of K-pop.
Guests can enjoy BTS-inspired Boba beverages and pastries, as well as browse a pop-up market showcasing locally made arts and crafts on Mama Chai's outdoor patio. The event is scheduled for Sunday, May 7th, from 12 pm to 6 pm.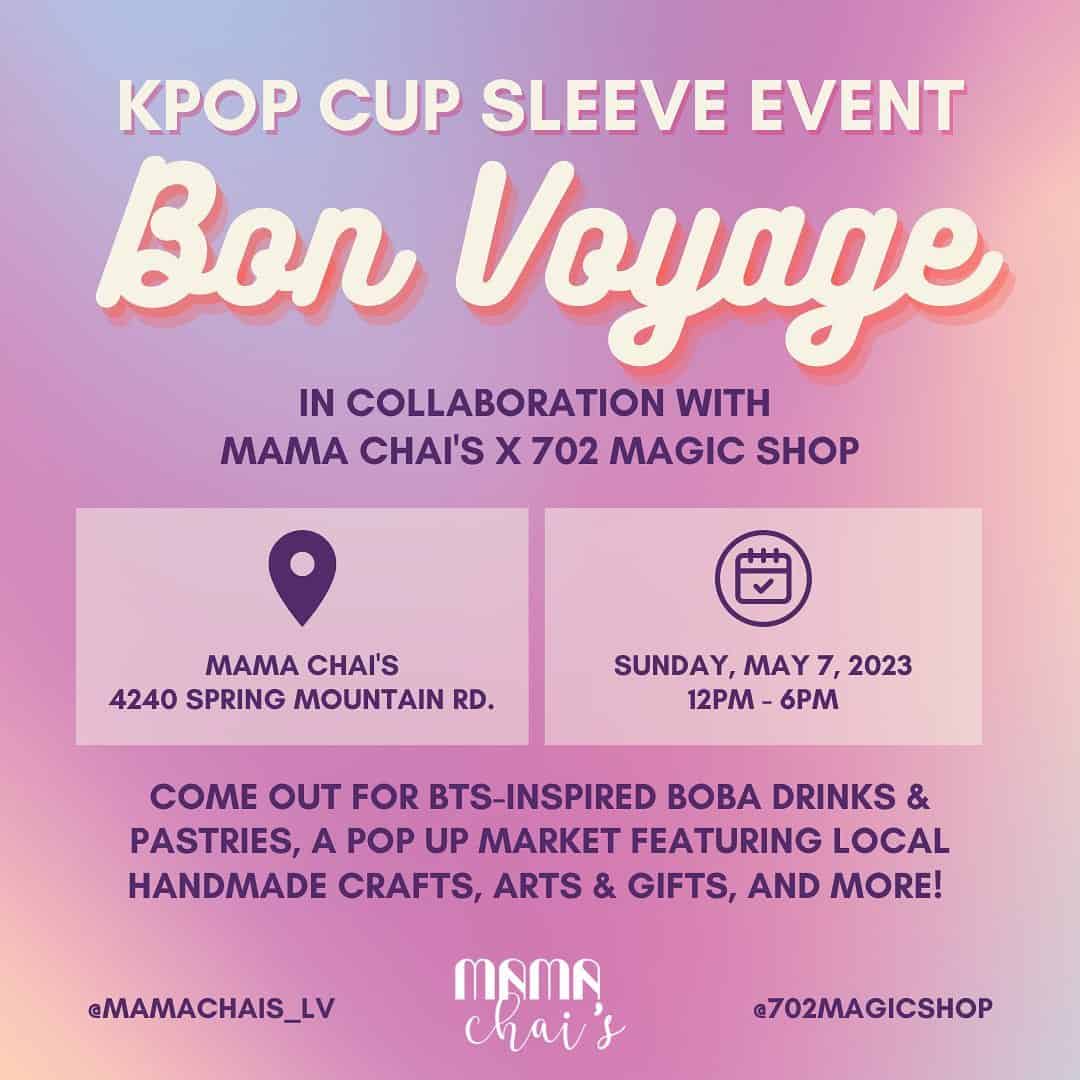 Take a MOMent to Celebrate Her: 85 Degree Bakery Cafe Offers 15% Off on Select Cakes for Mother's Day!
85 Degree Bakery Cafe is offering a special sale for Mother's Day with 15% off on four different types of cakes. The cakes included in the sale are Mango Creme Brulee, Classic Tiramisu, Delux Strawberry Cream, Red Velvet, and Machiatto Cream. To take advantage of this offer, you need to pre-order the cake on or before May 9th, 2023, and pick it up between May 10th and May 14th, 2023.
New Sign Installed at Pot Master Restaurant, Formerly H.K. Seafood Garden Location in Arville Square
In the April 7th edition of This Week in Chinatown, we reported that H.K. Seafood Garden in Arville Square had closed and that it would be replaced with a new concept called Pot Master. They began the remodel shortly after and now a new sign has been installed and it seems like the restaurant is getting ready to open its doors soon. Pot Master is owned by the same team as Xiao Long Dumpling in the Chinatown Plaza. It'll be exciting to see what Pot Master has in store. We will keep you posted on all developments.
Confirmed: California Born Chain Silverlake Ramen to Open in Chinatown's Shan Tau Square, Managed by the Team Behind Gen Korean BBQ
On This Week in Chinatown, April 21st, we shared news about a forthcoming ramen restaurant at Shan Tau Square, situated between Sea Salt and Shaking Crab. The latest update confirms that the California-based Silverlake Ramen chain is opening and it will be managed by the same team behind Gen Korean BBQ.
In 2012, Chef Tomas Aono, who was raised in Japan, and Jitaek Lim founded Silverlake Ramen. The first location was established at Sunset Junction in Silver Lake. It didn't take long for the restaurant to gain popularity, as patrons were willing to queue up for an hour to sample the richly flavored ramen broths.
We look forward to having more ramen options available in our neighborhood.
Neko Supremo's Dragon Late Night AYCE Special: Over 165 Items for Only $19.95
Experience the Dragon late-night all-you-can-eat special at Neko Supremo for only $19.95. From 11 pm until close, indulge in over 165 items to choose from. Please note that they operate on a first-come, first-served basis, and reservations are not available. Neko Supremo is the sister restaurant to Sushi Neko, both located in the same plaza and offering an AYCE dining experience.
Ayala Tattoo Shop brings a unique style to Cathay Hill Plaza with 22-year-old sensation Ayala Bratt
Cathay Hills Plaza is about to welcome the newest addition to its growing list of businesses with the arrival of Ayala Tattoo Shop. This new shop promises to offer tattooing, piercing, and art services by the talented 22-year-old tattoo artist sensation, Ayala Bratt.
Originally from Israel, Ayala has been living in the US for a year and a half now and has already made a name for herself as a skilled tattoo artist specializing in fine-line and one-line tattooing.
Her unique style is sure to attract a following among tattoo enthusiasts in the area. Cathay Hill Plaza is thrilled to have Ayala Tattoo Shop as part of its community and looks forward to its opening on May 18th. It's located next to the popular Hong Kong Garden seafood and dim sum cafe.
Marble FHB: Your New Destination for Essential Oils Treatment and Relaxation
Marble Fashion Health & Beauty (FHB), is now open and offers essential oil treatments and aromatherapy that target acupressure points to alleviate muscle tension, as well as stress in the head, body, and feet, providing a relaxing experience for the mind and body. They have created their own brand, Joss Essential Oils, in existence since 2021, and they aim to share the therapeutic benefits of our essential oils with everyone. they are open from 10:30 to 8:30 pm Monday through Saturday and 11:30 to 8:30 on Sundays. 702-969-5646
That's it for this week. Until the next, continue enjoying Chinatown
Chinatown's New YouTube Channel Launched
In our efforts to promote and highlight what we feel is the best Chinatown anywhere, we have launched a YouTube Channel to capture it.
The channel plans on featuring businesses, food, chefs, breaking news, street reports, and much more. Chinatown Vegas' YouTube Channel hopes to capture a real sense feel of what it's like to visit the super-fast growing Chinatown.
If you love Chinatown, follow us on Social Media: