Chinatown Report: This Week in Chinatown
Las Vegas Chinatown news and analysis by Chinatownvegas.com. Food. Restaurants. Tips. Things to do. Events. What's in? What's out? RUMORS + much more
Welcome to another This Week in Chinatown. In addition to having the #BestChinatown, Las Vegas is the entertainment capital of the world for obvious reasons. You can catch some of the hottest DJ's on any given night, and the city is home to some of the biggest and most spectacular shows in the world, from Cirque du Soleil to mind-bending magic acts. But that's not all, folks! The city also boasts world-class restaurants, shopping, and, of course, infamous casinos. In short, Las Vegas has everything you need for a good time.
This past week
This past weekend in Las Vegas was full of exciting events. The Orleans Hotel and Casino hosted the Jamz 2023, the largest national cheer and dance competition, from May 12th to May 14th. Meanwhile, the Las Vegas Polo Classic took place, featuring exciting matches and stylish fashion. And for music lovers, the Sick New World music festival brought in big-name heavy metal acts. Also performing around town were the B-52's,  and Katy Perry. Overall, it was a weekend of fun, entertainment, and excitement in Las Vegas.
We regret to inform you that a pedestrian has passed away following a tragic accident in Chinatown. According to the police report, the driver lost control of the vehicle, striking multiple light poles and the pedestrian. To make matters worse, the occupants inside the vehicle were reportedly 'possibly overdosing'. Despite being rushed to a nearby hospital, the pedestrian was pronounced dead shortly thereafter. Our hearts go out to the victim's loved ones during this difficult time.
What's coming?
EDC (Electric Daisy Carnival) is a massive music festival that takes place in Las Vegas every year, drawing in crowds from all over the world. This year, EDC is scheduled to take place from Friday, May 19th through Sunday, May 21st, and it is expected to bring in hundreds of thousands of visitors to the city. As a result, Las Vegas is likely to be extra busy during these dates, with heavy traffic and crowds in popular tourist areas.
In particular, Chinatown is likely to see a significant uptick in activity, as it is a popular destination for festival-goers looking for food and entertainment outside of the festival grounds. If you are planning to visit Las Vegas during these dates, it is advisable to plan ahead and be prepared for the crowds and extra activity in the city.
That's what's happening around town. Now lets get to Chinatown, where it's always the place to be.
We are starting from the east and heading west on Spring Mountain Rd.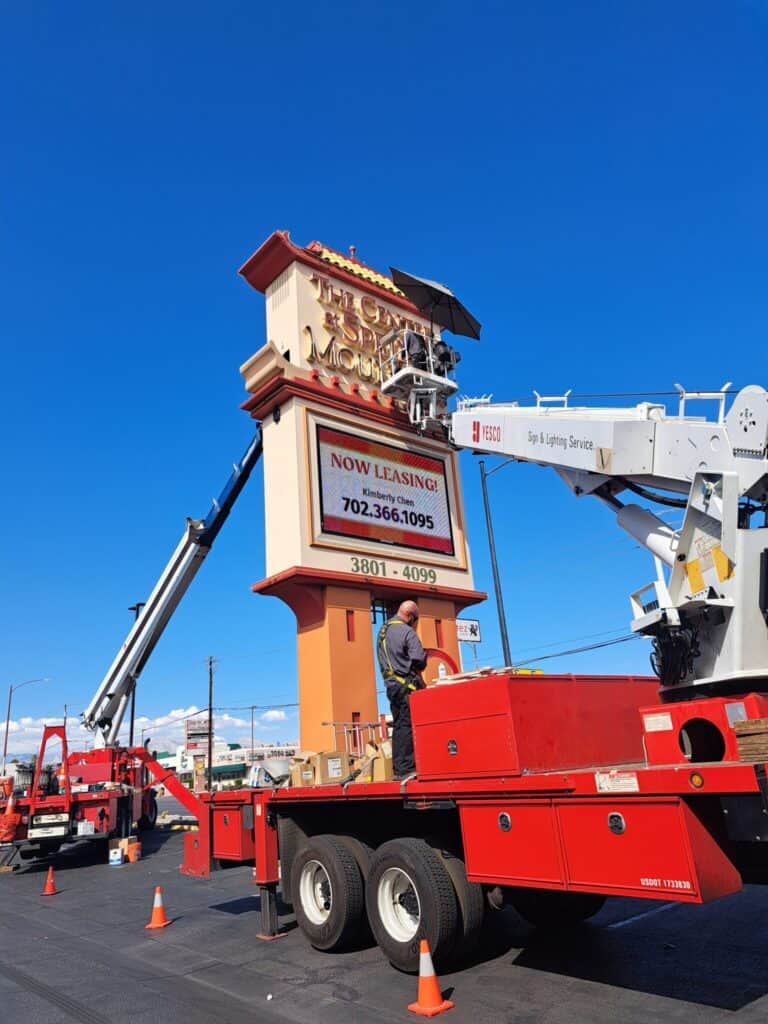 Ability School of Esthetics offers Low-Cost Esthetics Services and NV State Board Approved Laser Training Course
The Ability School of Esthetics has recently started offering a complete range of low-cost esthetics services through their Student Clinic. This includes Custom Facials, Waxing, Make-Up, and Microdermabrasion. Interested individuals can schedule their treatment by contacting them through phone or visiting their website at www.abilitylv.com
In addition to the low-cost esthetics services provided through their Student Clinic, the Ability School of Esthetics also offers a NV State Board approved laser training course. Upon completion of this course, NV Estheticians are eligible to upgrade to an advanced Esthetics license without the need for further exams. Moreover, they also provide a 75-hour laser training course to the public.
Las Vegas Little Theater Presents Award-Winning Play 'The Lost Virginity Tour' by Cricket Daniel
The Las Vegas Little Theater is proud to present their latest production, "The Lost Virginity Tour," a captivating play written by Cricket Daniel and winner of the 2023 New Works Competition.
Audiences can experience live performances of the play on the following dates and times: Fridays, May 19 & 26 at 8 pm, Saturdays, May 20 & 27 at 2 pm and 8 pm, and Sundays, May 21 & 28 at  2 pm.
In "The Lost Virginity Tour," the narrative revolves around four members of the Happy Trails Senior Resort Community Baking Club. As they embark on a road trip to revisit the locations where they each lost their virginity, they soon realize that delving into their past has the potential to significantly impact their future.
General admission tickets for all seats are priced at $20. Additionally, after the Sunday, May 21 matinee, there will be a special talk back session with the author, providing an opportunity for attendees to engage in a conversation about the play.
In the March edition of This Week in Chinatown, the auditions for the upcoming play were announced. Now, the moment you've been waiting for has arrived. You can finally purchase your tickets and witness this highly anticipated performance. Don't miss out on this unforgettable experience! Secure your spot by purchasing your tickets today. Tickets are available for purchase online here.
Renowned Pizza Maestro Michael Vakneen Prepares to Astound at 00 Pie and Pub's Grand Opening at The Center at Spring Mountain
Last October, in This Week in Chinatown, we were proud to be the first to announce the arrival of 00 Pie and Pub at The Center at Spring Mountain. Since then, we have closely followed its progress, and we are thrilled to share that this exceptional craft pizza joint has obtained its license, has begun staff training and is will open for a soft launch as soon as next week. Led by renowned pizza virtuoso Michael Vakneen, 00 Pie and Pub is poised to ignite a fervor among pizza aficionados with its reputation for crafting extraordinary pies that defy expectations.
The pizza pub offers approximately 40 to 50 seats, including bar seating, and features a delightful selection of Italian beers and wines on tap. With a custom-built pizza oven imported from Italy, guests can expect a thoughtfully curated menu of appetizers and a diverse array of craft pies, embodying a Neapolitan hybrid style.
Michael Vakneen, a world-class chef and pizzaiolo, holds the distinguished title of World Pizza Champion and has showcased his culinary talents as a member of the esteemed World Pizza Champions Team. His expertise will shine at 00 Pie and Pub, where he'll combines traditional techniques with innovative flavor combinations, setting a new standard for pizza excellence.
Play It Again, Sam's Hosts Industry Night Every Wednesday with Exclusive Drink Specials
Play It Again, Sam's, the Adult gaming gentlemen's club, is excited to announce their Industry Night, held every Wednesday from 6pm to 6am. During this special event, guests can enjoy exclusive drink specials throughout the night. To take advantage of these offers, simply present your sheriff's card upon arrival.
The drink specials available include $6 domestic beers, $7 import beers, as well as shots of Jameson or Siempre tequila priced at $9. Additionally, guests can indulge in the special offer of $60 buckets of beer, which includes any 5 beers of their choice, accompanied by a 375ml bottle of Jameson. This combination saves you nearly $43 compared to purchasing them separately, making it a fantastic deal for the evening. Must be 21 and over
China Mama's Highly Anticipated Move Nears Completion with New Sign Installation at its New Shanghai Plaza Location
China Mama, the popular restaurant, is steadily moving forward with its relocation process, and the planned opening this month remains on track. As a promising sign of progress, the establishment has recently unveiled its new sign, further solidifying its impending debut in the new location. Anticipation is growing among fans and food enthusiasts who eagerly await the chance to savor China Mama's renowned flavors once again. Keep an eye out for more updates as the final preparations are made for the highly anticipated opening later this month.
Experience Unbeatable Happy Hours and Entertainment at PT's in Chinatown
PT's in the heart of Chinatown on Spring Mountain Road is the ultimate destination for Happy Hours and good times. Join us every day from 5 PM to 7 PM and again from 12 midnight to 2 am for our incredible Happy Hour specials. Become a member of our Beer & Bites club for exclusive promotions and discounts.
PT's is the perfect place to gather with friends and enjoy gaming, delicious food, and catch your favorite sports on our big screen TVs. Make PT's your go-to spot for an unforgettable experience.
More Happy Hours: Everyday: 5:00 PM – 7:00 PM
Drinks: 50% off with Beer and Bites membership.
Food: 50% off Pizza and $5 Select Appetizers with Beer and Bites membership.
Everyday: 11:59 PM – 2:00 AM
Drinks: 50% off with Beer and Bites membership.
Food: 50% off Pizza and $5 Select Appetizers with Beer and Bites membership.
Open 24 hours
Experience Thrilling Billiards Action at Griff's Bar and Billiards: Sunday Singles FasTrack 8-Ball Chip Tournament!
Griff's Bar and Billiards extends a warm welcome to all billiards enthusiasts! Every Sunday afternoon, players have the opportunity to engage in the exhilarating Singles FasTrack 8-Ball Chip Tournament.
Participants can prepare themselves for intense competition by attending the practice session at 1 PM, followed by the highly anticipated tournament at 2 PM.
Griff's ensures a premium playing experience with their state-of-the-art 7′ Diamond Tables. For an entry fee of $25, which covers the green fee, players can dive into the thrilling tournament. Additionally, those seeking an extra challenge can partake in the optional $10 Winner-Takes-All (WTA) Sidepot.
Mark your calendars and seize the chance to be a part of the action-packed Sunday Singles FasTrack 8-Ball Chip Tournament at Griff's Bar and Billiards!
Beloved Dessert Haven, Sweets Raku, Shocks Community with Heartbreaking Announcement of Closure
Sweets Raku, a cherished dessert establishment that has been serving its community since 2013, has announced its heartbreaking closure. The news comes as a shock to the loyal customer base who have been indulging in their delectable treats for several years. Despite their gratitude for the unwavering support received from the community, circumstances beyond their control have forced the owners to make the difficult decision to shut their doors.
The owners of Sweets Raku express their deep sadness and extend their heartfelt appreciation to the customers who have been a part of their journey. They are grateful for the warm embrace and wonderful memories created within the walls of their establishment. Being a part of the Sweets Raku family has been an honor for them, and they sincerely thank everyone for their patronage.
The closure of Sweets Raku marks the end of an era for the community, leaving a void in the hearts and taste buds of dessert enthusiasts. As the final day of operation approaches on June 30, 2023, customers and the community at large reflect on the special moments shared within the cozy ambiance of Sweets Raku. The news of its closure resonates with a sense of loss and a bittersweet farewell to a beloved establishment that has left an indelible mark on the local culinary scene.
Sweets Raku's closure serves as a reminder of the unpredictable nature of life and the challenges faced by small businesses. While saddened by the turn of events, the community remains grateful for the lasting impact Sweets Raku has had, and the legacy it leaves behind as a symbol of culinary excellence and community connection.
Mei Li Hair Salon Reopens its Doors After Temporary Closure, Embraces Refreshing Remodeling
In the April 28th edition of "This Week in Chinatown," we informed our readers about the closure of Mei Li Hair Salon, expressing uncertainty about its future reopening. We are pleased to announce that this long standing Chinatown establishment has successfully resumed operations and is currently undergoing some minor remodeling.
Just outside the zone….
Experience the Colors and Traditions of Asia at the Asian Culture Festival: A Spectacular Celebration of Diversity
On Sunday, May 21 for the Asian Culture Festival, a vibrant celebration of Asian Culture Month organized by the Asian Pacific Community Awareness 501C 3 Non-Profit. Prepare to be enthralled by captivating performances representing the rich traditions of China, Japan, Korea, the Philippines, and many more.
Don't miss the opportunity to snap photos with LV Aviators Mascot Spruce, creating unforgettable memories. Additionally, there's a chance to win tickets to see the Piano Man, ensuring an exciting experience for all attendees.
Be sure to catch the exceptional performance by the talented Rita Lim, adding an extra touch of brilliance to this fantastic event. Save the date and join us at the Asian Culture Festival!
Although technically this is west of Chinatown by a few miles, we still thought it was relevant and important to mention.
That's it for this week. Until the next, continue enjoying Chinatown
Chinatown Vegas Offers Free Promotions for Local Businesses in This Week in Chinatown Publication – Don't Miss Out!
Chinatown Vegas is delighted to extend free promotions to businesses located in Chinatown. To be featured in the upcoming edition of This Week in Chinatown, which is published every Friday, kindly send us your information no later than Thursday at noon. You can submit your details to tips@chinatownvegas.com. Don't miss this opportunity to showcase your business to our readers!
9 Amazing Ramen Dishes to Try in Chinatown
Chinatown's New YouTube Channel Launched
In our efforts to promote and highlight what we feel is the best Chinatown anywhere, we have launched a YouTube Channel to capture it.
The channel plans on featuring businesses, food, chefs, breaking news, street reports, and much more. Chinatown Vegas' YouTube Channel hopes to capture a real sense feel of what it's like to visit the super-fast growing Chinatown.
If you love Chinatown, follow us on Social Media: