​

Chinatown Report: This Week in Chinatown

 
Las Vegas Chinatown news and analysis by Chinatownvegas.com. Food. Restaurants. Tips. Things to do. Events. What's in? What's out? RUMORS + much more
After months of complaining about the cold weather as well as the construction, it seems like both are about over. Yayyy. Bring on the warmth and sunshine.
The construction at the new Koreatown Village is in full force and we were told by its owner, restauranteur Freddy Hwang that the tentative opening will be this June.  The strip mall is unlike any other and very detailed. Anchors of the mall will be the first Open Bank (Korean-owned) in Nevada, Master Kim's Korean Barbecue, and Industry 13. We expect this to be a super popular hangout for both locals and tourists alike. Read more under Koreatown Village.
Letters of the Week:

We receive several inquiries about Las Vegas Chinatown.
We will feature some here in our weekly report.
Jacky Wang asks:
Are there any Churches (Christian) that do mass in both English and Mandarin?"
Hi, Jacky, there are several. Two are the River of Life Christian Church in the back of the Mountain Point Business Park West ( Behind Hobak/Gabi) on Spring Mountain Rd and the other is the Grace Chinese Baptist Church located next to the Sa-Yo Plaza on Spring Mountain Rd. They also offer translations of the mass through headphones.
Let's have a look and see what is new in Chinatown
We are starting from the east and heading west on Spring Mountain Rd.
00 Pie and Pub inches closer to its opening
The new sign has been placed for the new pizza place by the Lev Group. 00 (double zero or doppio zero) named after the flour used by most pizza chefs are almost ready. 00 Pie and Pub promises to serve craft pizzas in a fun, pub-like atmosphere
Grand Cru by Partage immersive food and wine experience
The front lounge will serve as a waiting area for both Partage restaurant as well as the food and wine experience room behind it.
Behind the Grand Cru Lounge, is the immersive food and wine experience room with various wall projections that will transport you to France. This new space is another major asset to Chinatown and another reason why there is no Chinatown anywhere like it.
Dee Thai Massage sets up shop inside Kyou Beauty Spa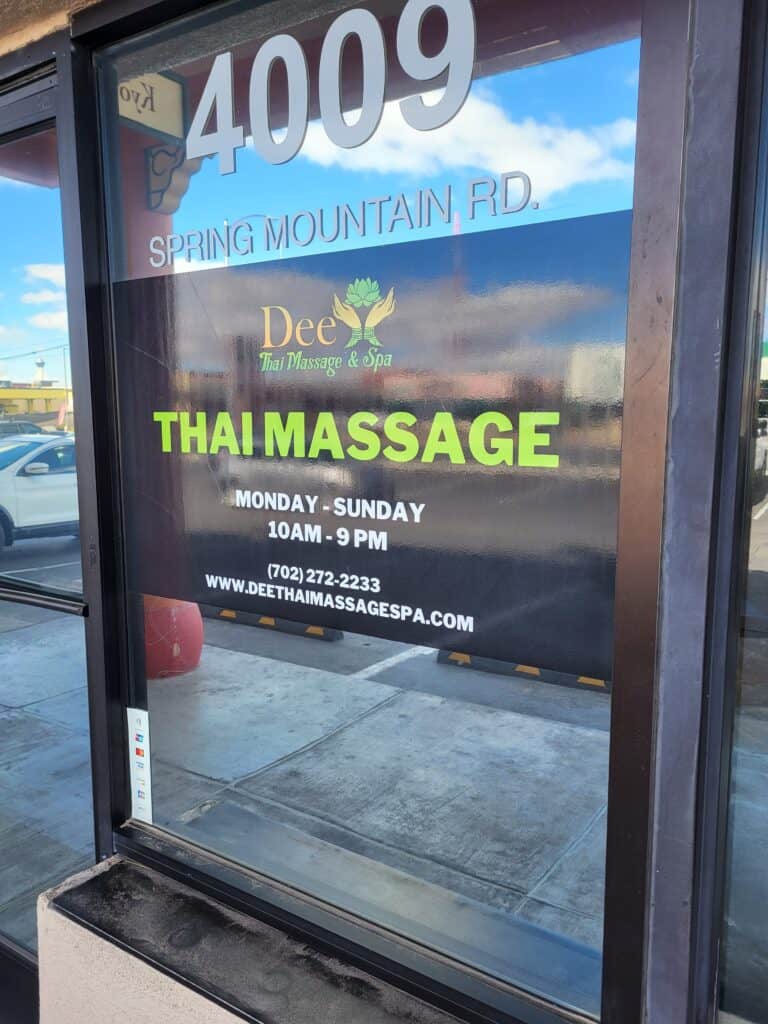 Dee Thai Spa and Massage is the parent company of Kyou Beauty Salon. Its main location is in Summerlin and they have now set up in Chinatown, sharing the space with Kyou.  Kyou, which has recently completed phase one of its remodel, makes this a prime stop for complete pampering.
You can book a massage and spa service here
New Items at Fukuya: Flavored Vinegar Drinks
We love Fukuya and now have yet another reason to shop there- Japanese-flavored vinegar drinks.  They come in blueberry, apple, honey black vinegar, and plum and you can drink them straight from the bottle. Vinegar drinks are very healthy and improve circulation and fatigue.
Open 7 days 10 am-7 pm
3910 Spring Mountain Rd, Suite 4, Las Vegas, NV 89102   702-202-2129
Some minor renovations at the Chinatown Plaza
The stairs leading to the second floor have has some cracks and wear and tear. There will be some restoration that is scheduled to start soon.
In the meantime, visitors can still access the second floor from the stairs on the left and right sides of the building.
99 Ranch Weekly Flyer
Fruits, meat, fish, package goods, you will find it all at Ranch 99 Market. Check out this week's specials for some significant savings.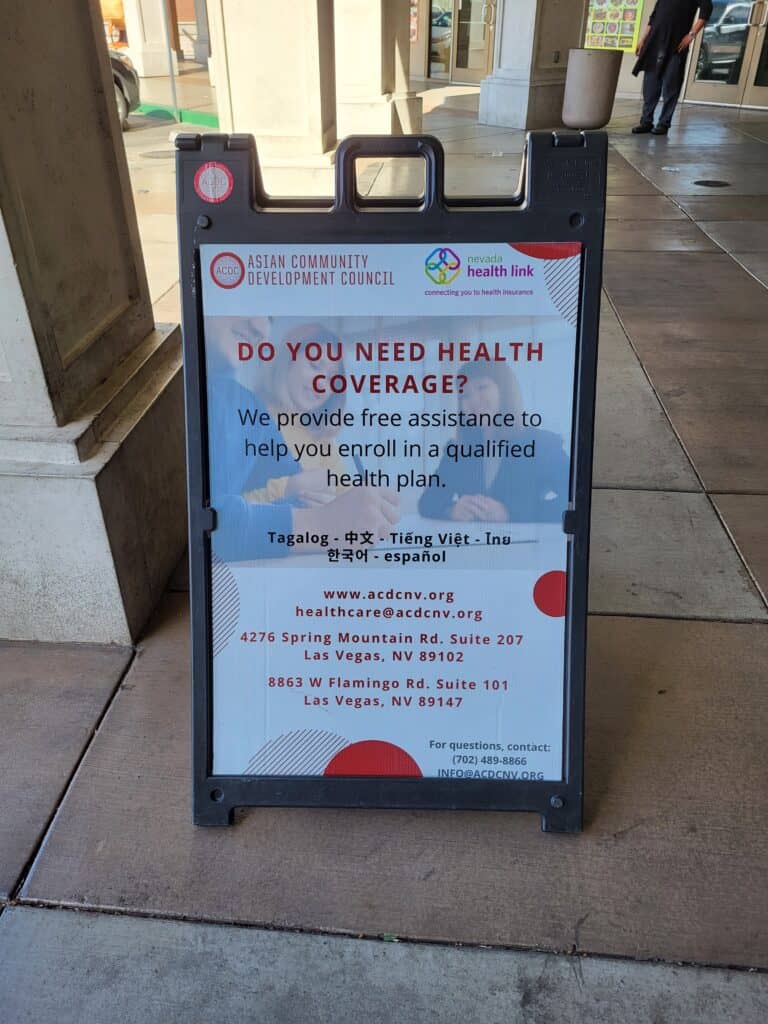 The Asian Community Development Center (ACDC) is offering free assistance to help you enroll in a health care plan. Visit Health Insurance Enrollment for more info or send an email to healthcare@acdcnv.org 
Pending last-minute delays,  the opening of Secret Ohm is any day now. Located on the second floor of the Shanghai Plaza. Chinatown Vegas spoke to a representative of the shop and are told the space is ready and they are just waiting for their business license. The eyebrow tattoo shop is certified in Thailand, Korea, Australia, Hongkong Russia, and the USA.
Kaiseki Sanga's March Omakase Menu
Kaiseki Sanga's new omakase menu for March is once again spectacular. Highlights for the luxurious omakase are caviar, uni, abalone, ankimo (monkfish liver), truffle, and snow crab appetizers, sashimi and a sushi course, Maine lobster with baked uni, A5 wagyu steak shabu-shabu with cha soba noodles & bamboo shoots, kuruma (Japanese tiger prawn) prawn, and edamame-egg crab tofu soup and dessert.
Gimik Republic karaoke on stage
Popular Filpino hangout, Gimik Republic has added open karaoke. Every Wednesday, Thursday, and Sunday there will be on-stage karaoke while live bands will continue to perform on Fridays and Saturdays
Ramen Boys is open. Finally.
The wait is over. Ramen Boys is open from 11 am to 11 pm 7 days a week and is already popular for its yuzu shio and tonkatsu ramen, crispy chicken skin (tori kawa chips), and Kaarage. The kitchen is under the direction of Japanese-born Chef Yosuke.
India House Bar and Grill will soft open this weekend
The name may confuse some with the word "Pinoy, " which relates to the Philippines or Filipinos, but it is not. The word Pinoy describes the style of place it is with a restaurant and bar with live music and karaoke.
India House will have live music on weekends and karaoke every night of the week. During the day, the 125+ seat restaurant will offer a buffet and ala carte dining but at night it will be only ala carte. There is also a full bar with large TV screens. In the next few months, India House will have outdoor dining on the patio, located on the top floor of the Pacific Asian Plaza with views of Chinatown and strip hotels.
Koreatown Village, by local restauranteur Freddy Hwang of the Sapporo Restaurant Group is planning to debut the 13,000-square-foot shopping center this June. Master Kim's Korean BBQ and an Open Bank and Industry 13  will be highlights of the strip mall.
Industry 13 is an upscale modern Asian karaoke bar unlike any other in our city. There are a total of 14 private rooms. Each room is unique with different metal trim and decor. Industry 13 will have a modern karaoke system in each room that will contain Chinese, and Korean and the ability to play songs from YouTube. They will have a full-service bar along with a fully operating kitchen to provide high-quality food.
The interior is set to be a modern-style industrial warehouse along with state-of-the-art video/audio systems in the bar area there is a very high brick back bar and is NY Soho/industrial chic. Some of the larger rooms will contain a small lit-up stage for patrons to enjoy and sing on, each room will be designed differently and will have its own unique look and feel.
Matcha Cafe Maiko now features Maiko Gelato
Matcha Cafe Maiko, the popular Japanese dessert spot that features products made with matcha imported from Uji, Japan has added Maiko gelato to its menu.
That's it for this week in Chinatown. See ya next week
Chinatown's New YouTube Channel Launched
In our efforts to promote and highlight what we feel is the best Chinatown anywhere, we have launched a YouTube Channel to capture it.
The channel plans on featuring businesses, food, chefs, breaking news, street reports, and much more. Chinatown Vegas' YouTube Channel hopes to capture a real sense feel of what it's like to visit the super-fast growing Chinatown.
If you love Chinatown, follow us on Social Media: