Chinatown Report: This Week in Chinatown
Las Vegas Chinatown news and analysis by Chinatownvegas.com. Food. Restaurants. Tips. Things to do. Events. What's in? What's out? RUMORS + much more
This past week
In Chinatown Las Vegas, you'll find a world of excitement. Explore unique shops, indulge in delicious cuisine, shoot a machine gun, buy a joint or two, get a world class tattoo, see a play and enjoy vibrant nightlife. We understand that when you visit Las Vegas, you may want to explore beyond Chinatown too. So each week  we will feature some highlights, if you must 😉
Got DJ's?
Which DJs were performing in Vegas? Well, last week, just like any other, we had a stellar lineup that included Tiesto, Seven Lions, Tyga, Gryffin, Steve Aoki, Benny Benassi, DJ Diesel (Shaq), DJ Pauly D, Lil Jon, Martin Garrix, Rich the Kid, Chris Lake, DJ Joe Maz, and dozens more. So, in addition to being the entertainment capital of the world, it was definitely the Caput Mundi  for DJ's as well.
Vegas Golden Knights' Historic Stanley Cup Win
Chinatown Vegas proudly extends heartfelt congratulations to the Vegas Golden Knights for their remarkable victory in winning the Stanley Cup. This historic achievement has united our community in an unparalleled sense of pride and joy, as we celebrate alongside our beloved team, showcasing the true spirit and resilience of Las Vegas. The victory parade will be on Saturday, June 17th and is gonna be lit!
What's coming?
Get ready for an exciting week ahead as we bring you a variety of events to look forward to. The Vegas Fringe Festival is currently happening at the Little Theatre in Chinatown, running from Friday, June 16 to Sunday, June 18. Don't miss the Juneteenth Festival, which takes place on Saturday from 4 PM to 9 PM at The Expo at World Market Center. You can also join the Radiance Wellness + Music Festival at Area 15, starting on Saturday at 8 AM and continuing until Sunday at 12 AM. And remember, there are plenty more thrilling events waiting for you to explore and enjoy!
Alright, folks, buckle up and get ready to dive into the center of all the action—the one and only Chinatown! This lively hot spot is like a roller coaster of endless thrills, where tradition and modernity go on a wild date. So hold on tight, because in Chinatown, the fun never sleeps
We are starting from the east and heading west on Spring Mountain Rd.
3D Retro Recreating its California Shop in New Las Vegas Chinatown Location
Chinatown Vegas was the first to report in the April 28th This Week in Chinatown that 3DRetro from California was relocating to Chinatown in the space at 3999 Spring Mountain. We revealed that the store would undergo a remarkable transformation, replicating the nostalgic ambiance of its original California shop.
Now we can confirm that the shop has been decorated with vintage red brick walls, custom old wooden shelves, glass display cases, and weathered flooring, among the captivating features to be expected. Although an official opening date has yet to be disclosed, fans and collectors can eagerly anticipate the arrival of the new Las Vegas Chinatown location, where they will find the same high-quality and sought-after products for which 3DRetro is renowned.
Experience a Captivating Rum Tasting at Golden Tiki's Las Vegas Rum Club Meeting with Art Deakins from Kuleana Rum Works – Reserve Your Free Tickets Now
Golden Tiki is set to host the Las Vegas Rum Club meeting on Wednesday, June 21, 2023, from 05:00 pm to 07:00 pm. The event promises an enriching experience with the presence of Art Deakins from Kuleana Rum Works, who will guide attendees through a captivating rum tasting and educational session. Guests are invited to expand their knowledge and savor the finest rum flavors during this exclusive gathering. Don't miss out on this extraordinary opportunity at Golden Tiki.
Tickets a free and can be reserved here Las Vegas Rum Club Meeting Tickets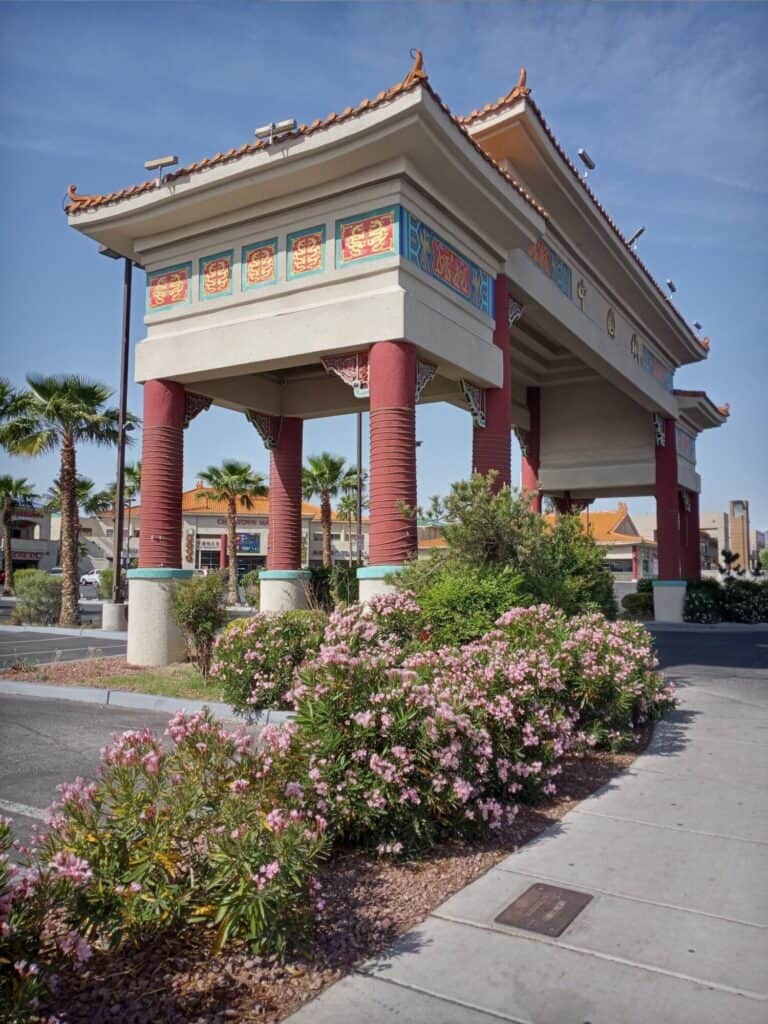 Bangkok Thai Kitchen in the Chinatown Plaza: Unbeatable $8.99 Happy Hour Specials on Weekdays from 3-6pm
Chinatown's Bangkok Thai Kitchen offers a delightful Happy Hour special from 3 to 6pm on weekdays. For just $8.99, customers can indulge in a variety of mouthwatering Thai dishes, carefully crafted to tantalize the taste buds. Located on the second floor of the vibrant Chinatown Plaza, Bangkok Thai Kitchen provides a cozy and inviting atmosphere to enjoy these irresistible culinary delights.
Paris Baguette New Location Near H Mart: Anticipated August Opening
Paris Baguette, the renowned bakery in Chinatown, previously announced plans to open a new location in the mall on Decatur and Sahara, adjacent to the H Mart that is coming soon. Recent updates indicate that, if everything goes as scheduled, the new Paris Baguette branch is expected to open during the first week of August.
In parallel, H Mart is anticipating an opening in December. Although this area is not officially part of Chinatown, it is only a short distance away, just a few blocks north. The community warmly welcomes these exciting additions to the city, eagerly anticipating the expanded culinary options they will bring.
Crown Bakery Alters Hours: Limited-Time Schedule Change until June 27th & 28th
Crown Bakery, the renowned traditional Korean Bakery nestled on the second floor of the "Nameless" strip mall  adjacent to Chinatown Plaza, has recently updated its operating hours for a limited period. Starting from today until June 27th and 28th, the bakery will be operating under reduced hours on Tuesdays and Wednesdays.
During this three-week period, Crown Bakery will be open from 10 am to 8 pm, instead of their regular hours of 8 am to 10 pm. Customers are advised to take note of this temporary adjustment in order to plan their visits accordingly.
Kingdom Hair Salon Introduces Japanese-Style Hair Spa Services and Special Grand Opening Offers
In the May 26th edition of This Week in Chinatown, the article highlighted the upcoming changes at Kingdom Hair Salon. Under new ownership, Kingdom Salon had introduced the addition of pampering Japanese-style hair spa services. To celebrate their grand opening, the salon was offering a special promotion featuring the Classic Hair Wash Service for only $28. This exclusive package included a 30-minute shampoo, scalp massage, and conditioner. Additionally, customers had the option to avail the Stylist blow-out service for just $10.
Japanese-style hair services offer a unique and rejuvenating experience for customers. The meticulous techniques and attention to detail in these services provide exceptional scalp and hair care. From soothing scalp massages to nourishing conditioning treatments, Japanese hair services promote healthy hair growth, increased relaxation, and an overall sense of well-being. With their focus on precision and quality, these services ensure that customers leave the salon with lustrous, vibrant hair and a renewed sense of self-confidence.
China Mama's Official Ribbon Cutting: Grand Opening Today
China Mama celebrated its grand opening with a captivating ribbon-cutting ceremony accompanied by a traditional lion dance. The vibrant display of Chinese culture added an extra touch of excitement to the event, captivating attendees and passersby alike.
China Mama's soft-opening received an overwhelmingly positive response, delighting eager patrons with its genuine Chinese flavors. Building upon this initial triumph, China Mama is ecstatic to announce its official Grand Opening today, June 16th, at 11 AM. Get ready to embark on a culinary journey filled with mouthwatering dishes and immerse yourself in the lively atmosphere as China Mama warmly welcomes the community to celebrate this auspicious occasion.
Refresh and Rejuvenate at Royal Foot Spa with Affordable Foot Detox Service for Only $25!
LV Royal Foot Spa is offering offers a special and affordable Foot Detox service. Priced at only $25, this 30-minute treatment is designed to cleanse and rejuvenate the feet. As part of a limited-time offer, the Foot Detox cannot be combined with other specials. Skilled therapists at LV Royal Foot Spa provide a relaxing environment where guests can unwind while their feet are soaked in a detoxifying warm bath. The treatment helps eliminate toxins and promote overall well-being.
Through gentle massage and targeted pressure point manipulation, the therapists stimulate circulation and relieve tension. LV Royal Foot Spa is open from 10:30 am to 11:00 pm, seven days a week, making it a convenient choice for those seeking a revitalizing Foot Detox experience.
Step Inside Hui Lau Shan: A First Glimpse of Chinatown's Newest Delight
After a series of delays, the highly anticipated Hui Lau Shan has finally opened its doors in Chinatown. Occupying the space previously held by Cafe No Fur, Hui Lau Shan can now be found on the second floor of the Pacific Asian Plaza, conveniently located on Spring Mountain Rd, just west of Decatur.
The highly anticipated soft opening will take place on Friday, June 16th, Saturday the 17th and Sunday the 18th from 2 pm to 7 pm allowing early patrons to savor the extraordinary flavors of this newly unveiled gem in Chinatown.
This popular dessert chain promises to delight visitors with its extensive menu of refreshing and flavorful traditional Hong Kong-style desserts. Indulge in an array of tantalizing mango-based treats and other delectable options as you satisfy your sweet tooth at Hui Lau Shan in Chinatown.
80's Retro Korean BBQ Transforms into Shin Yaki Niku: Japanese AYCE BBQ
The transition from an 80s retro-style Napal Baji all-you-can-eat (AYCE) Korean BBQ to Shin Yaki Niku Japanese AYCE BBQ demonstrates the owners' flexibility and adaptability. Through rebranding and renovating the establishment to focus on Japanese cuisine, they aim to offer customers a fresh and exciting dining experience.
Shin Yaki Niku, which translates to "Grilled Meat", is a premium Japanese AYCE BBQ from the same owners, Hobak F&C (the "Hobak Family"). Their menu features three enticing options: the Diamond Course priced at $28, the Prime Course at $34, and the Signature Course for $43. These all-you-can-eat offerings ensure diners can savor a wide range of delectable grilled meat dishes. Operating seven days a week, the restaurant welcomes guests from 11:30 AM to 11:00 PM.
While the absence of Napal Baji may be missed, the introduction of Shin Yaki Niku brings anticipation and excitement to patrons eager to explore this new Japanese culinary experience.
Red House Karaoke: Transforming Three Stores into a Karaoke Haven in Kangnam Square
Coming this October, an exciting transformation is underway. Red House Karaoke is set to open its doors after renovating and converting three stores into a captivating karaoke haven, complete with a mouthwatering menu.
Located in Chinatown in the Kangnam Square on Jones Blvd, Red House Karaoke is on a mission to redefine the karaoke experience. The venue is undergoing meticulous renovations to create an immersive and unforgettable atmosphere for karaoke enthusiasts.
Get ready to sing your heart out to an expansive selection of songs while indulging in delectable cuisine. Red House Karaoke will have a full bar and will serve a variety of mouthwatering dishes from their enticing menu, ensuring that guests can savor delightful flavors alongside their karaoke sessions.
Stay tuned for the grand opening of Red House Karaoke as it breathes new life into the three converted stores. Prepare to unleash your inner superstar, indulge in scrumptious fare, and create unforgettable memories.
And that's a wrap for this week, folks! Until we meet again next Friday, keep savoring the absolute awesomeness that Chinatown has to offer. And remember – If It "Happens in Chinatown, it Happens Here"