Chinatown Report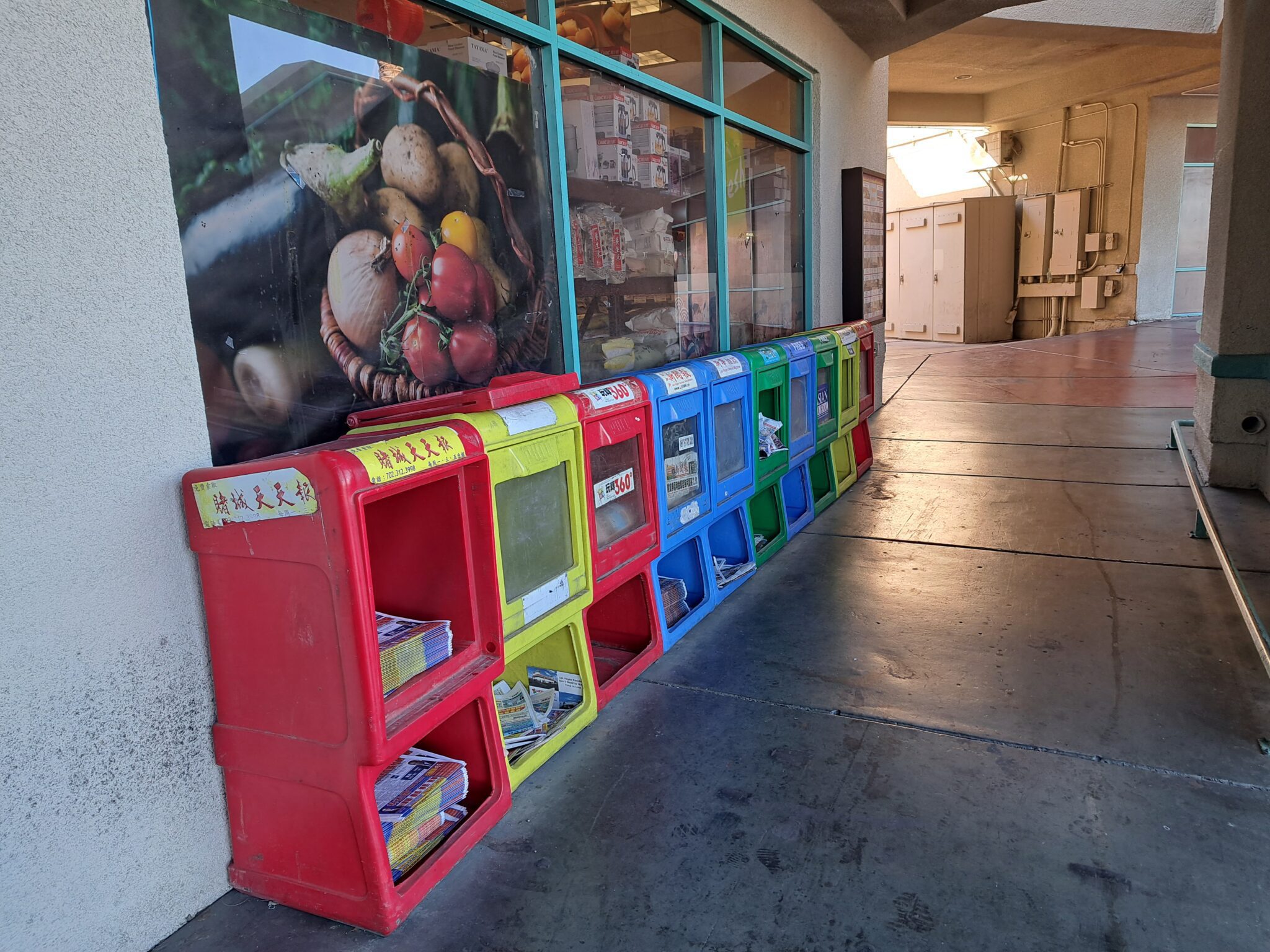 Las Vegas Chinatown news and analysis by Chinatownvegas.com. Food. Restaurants. Tips. Things to do. Events. What's in? What's out? RUMORS + much more
Always exciting in Chinatown and the past week was no exception.  An extra busy with Halloween and more of the When We Were Young Festival folks in town.
Besides some overnight sprinkles and early morning light rain on Wednesday, the weather has been good. The upcoming week seems to be just as nice with daytime highs in the 60s and 70s while nights drop down to the 50s.

Some notes –
Week 5 for the two street intersections without crossing signals
Please be extra careful when crossing the streets at these two intersections. One is on the south side of Arville and Spring Mountain and the other is on the south side of Decatur and Spring Mountain.
The bus stop for Bus # 103 at Spring Mountain and Valley View southbound has been moved temporarily about 30 feet south of its normal spot. Look for the yellow poster on the pole ahead.
OK, what else is going on? Starting from the east and heading west on beautiful Spring Mountain Rd
The Halal Guys are now open 24/7
More 24/7 dining options as the halal fast casual restaurant franchise returns to  24/7
The Halal Guys
Menu: order.thehalalguys.com
Phone: (702) 889-6123
Across the street, on the north side of Spring Mountain Rd, just west of Valley View Blvd., the newly remodeled and renamed massage spa, Great Seasons Massage is open and has a Grand Opening Special
Learn traditional Wing Chun Kung Fu. Free for one week
Sifu Scott teaches traditional Wing Chun Kung Fu through the lineage of Ip Man, Ip Ching, and Sam Kwok. They are currently offering a FREE week.
Located inside the Lohan School of Shaolin on the 2nd floor of the Chinatown Mall inside the Chinatown Plaza
Nevada Wing Chun
4255 Spring Mountain Dr, Suite C200A, Las Vegas, Nevada 89103, United States
(702) 788-2609 / wayoflife72@gmail.com
Classes are held three times a week, Monday, Wednesday, and Saturday nights.

7 Leaves Cafe is very dedicated to helping in every community the specialty tea chain stores are in.  Drop off your cans and help with their food drive.
Moxie Lounge Entrance Removed
The original entrance to the Moxie Ultra lounge
Not sure what happened here but the really cool cage-like entrance has been removed. Rumor has it that the entrance was built without the proper permits. Chinatownvegas.com was not able to learn what will become of the new entrance but we will update as we know more.
Miss Veggie House? Their dishes are coming to Banana Leaf
When Veggie House closed, many of its loyal fans were left disappointed. Chef Lee and his team decided to focus all of their energy on the Banana Leaf, that's why Veggie House closed. But now many of the popular dishes from Veggie House are making their way onto the Banana Leaf menu so dinners have a choice for both.
New Hours at Boutique World
Boutique World, the flea market-like space that carries Asian home decor, jewelry, Asian gifts, novelties, and clothing has updated its hours and is now open from 10:30 am to 5:00 pm Monday through Saturday and 11: am to 5: 00 pm on Sundays
Does all this Chinatown talk getcha hungry? Then check out Taste of Asia this week at the 168 Market
See ya next week. Enjoy the #BestChinatown