Gamble in Chinatown
Often we are asked if there is gambling in Chinatown. While there are no full-blow casinos such as you would find on the strip, Chinatown does have plenty of places to get in some good ole betting action.
Like most places in Las Vegas, gas stations and convenience stores in Chinatown have poker and other gaming machines too. We will list them, but there are much better options on where to bet while eating and drinking in a gambling den-like setting.
Starting east and heading west on Spring Mountain:
There are so many reasons to visit this iconic Las Vegas bar, that gambling is often an afterthought. But what's not to like about gambling while listening to live music from great bands, and chomping on delicious hand-crafted pizza, there is never a cover charge – even during the holidays when it's transformed into Miracle on Spring Mountain, when it's even more of a definite must-visit destination. And yes, in addition to all this, there are poker machines at the bar.
Sand Dollar Lounge | 3355 Spring Mountain Rd / Ste 30 Las Vegas, NV 89102
Great beers, Dole Whip drinks, flaming drinks, umbrella drinks, cocktail servers, live DJs, bands, exotic foods, AND poker machines at the bar? What more can you ask for? Open 24/7
Golden Tiki | 3939 W Spring Mountain Rd Las Vegas, NV 89102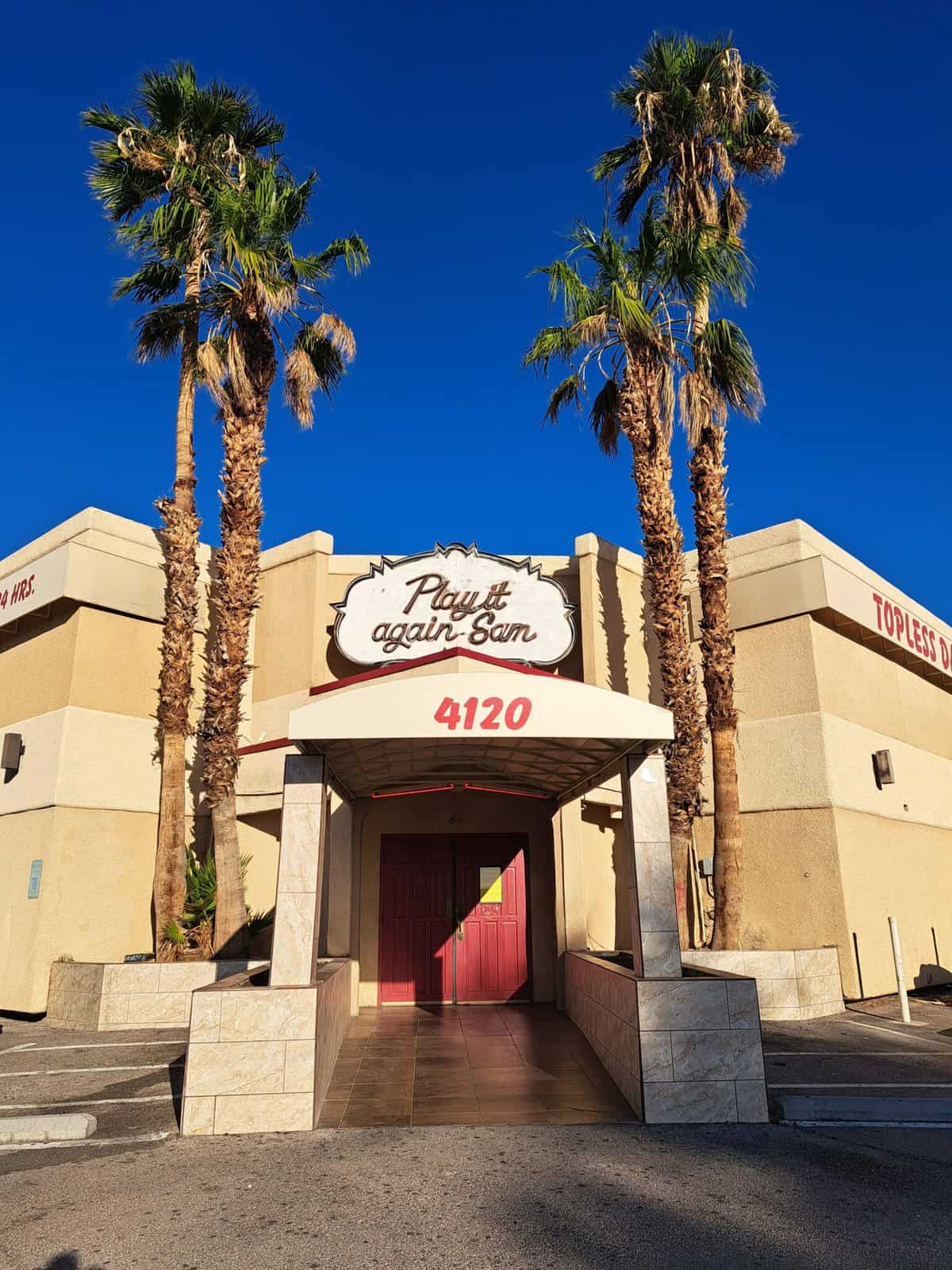 Play it Again Sam's is Chinatown's gaming gentlemen's club. Beautiful women, drinks, and 15 bar top poker machines. Open 24/7 NW corner of Spring Mountain and Wynn
Play It Again Sam's |4120 Spring Mountain Rd, Las Vegas, NV 89102
A club operated by Marines for Marines that serves good bar food and drinks from their 15-seat bar with 10 gaming machines. They also have an outside meeting area nicknamed the "Bunker" as well as a meeting room for rent with a capacity of 115 people.
Open daily at 11 A.M. 363 days a year (they are closed Thanksgiving & Christmas Day) Closing hours vary.
PT's Pub is a local chain that's very popular with the casino and service industry people. Typical bar food and decent beer selection, pool, hi-definition TV sports, and video gaming.
50% off drinks from 5 pm-7 pm and 12 am-2 am daily. Open 24/7
Red Dragon Gaming & Spirits Bar #1
Red Dragon is a gaming machine parlor owned by the Dotty's chain. They are open 24/7 and offer affordable drinks and food as well as a warm neighborhood vibe
In the mood to watch your favorite team play in the Premier League?  Chinatown's Crown and Anchor does have your back. This is the second location for the British pub and is often called "Little Crown", because of its smaller space. Same menu favorites, cool draught selection, and video poker. Open 24/7
Seen on Bar Rescue
This is a great place to gamble in Chinatown. Full bar with 15 gaming machines featuring slots, keno, poker, and blackjack. Billiard fans love the 9-foot Diamond pool tables and  7-foot Diamond pool tables. Griff's is a sleek, modern venue with a full kitchen.
Open from 9 am to 4 am every day
Griff's | 3650 S Decatur Blvd Las Vegas, NV 89103
The motto at Sago's @ Spring Mountain is "The Way Old Las Vegas Used To Do!" Here, patrons love the giant HD TVs, hand-crafted drinks, and food menu.  and because they own their own machines, they have some of the highest payouts in town. Sago's is Open 24/7 
Jackpot Joanie's ( Coming Soon)
Jackpot Joanies will be another fun spot to gamble in Chinatown 24 hours a day. This is the old Irene's that is currently gutted and being remodeled. It will open as Jackpot Joanie's, the popular local casino and gaming bar. Chinatownvegas.com will post new info as we learn more
Red Dragon Gaming & Spirits Bar #2
Located in the Spring Mountain Center this is the second Red Dragon in Chinatown.
Gamble in Chinatown gas stations and convenience stores with gaming
NE corner of Spring Mountain and Arville
SE corner of Spring Mountain & Arville
SE corner of Spring Mountain & Decatur
SW corner of Spring Mountain & Decatur
Ms. Terrible's
SE corner of Spring Mountain & Jones
CVS
More places to gamble in Chinatown
Wanna gamble incognito? Well at this CVS you can, sort of. This CVS is rarely crowded, and the gaming area even less so. Located at the NW corner of Spring Mountain and Jones, it's part of the Spring Mountain Plaza.
7-Eleven
SW corner of Spring Mountain and Jones
Only a few machines at this 7-Eleven but when you gotta bet, you gotta bet, I guess.
Well, there you have it. You are in and just have to gamble in Chinatown. Now you know where you can. Post photos of your winnings on social media and tag them with hashtag #bestchinatown