Chinatown Report: This Week in Chinatown
Las Vegas Chinatown news and analysis by Chinatownvegas.com. Food. Restaurants. Tips. Things to do. Events. What's in? What's out? RUMORS + much more
Welcome to the new edition of "This Week in Chinatown" on chinatownvegas.com! We are thrilled to bring you the latest updates, news, and events happening in the vibrant Chinatown of Las Vegas. Discover the diverse culinary delights, cultural festivities, and hidden gems that make Chinatown a must-visit destination. Join us as we explore the rich tapestry of flavors, traditions, and experiences that make this community so unique. Stay tuned for exciting features, insider tips, and exclusive offers that will enhance your Chinatown experience. Whether you're a local resident or a visitor, "This Week in Chinatown" is your ultimate guide to all things Chinatown Vegas
This past week
It's been an incredible week filled with exciting updates in the culinary scene of Chinatown Las Vegas! We're thrilled to announce that mango dessert specialist, Hui Lau Shan, successfully completed their soft opening and is now open full time, ready to serve their delectable treats seven days a week. Meanwhile, the "Coming Soon" sign at Yohama Noodles turned out to be a pleasant surprise, as they are already open and welcoming customers every day. And let's not forget the anticipation building for the upcoming arrival of Neko Ramen. The Pacific Asian Plaza has truly become a hub of culinary excellence, offering a delightful variety of dining options. Cheers to the recent improvements and the promising gastronomic adventures that lie ahead!
OK, lets get to Chinatown's captivating realm, where tradition meets modernity. Get ready for endless excitement, immersive experiences, and a vibrant pulse that knows no boundaries. Buckle up and prepare for an unforgettable adventure!
We are starting from the east and heading west on Spring Mountain Rd.
Get Ready to Rock: Live Music Extravaganza at San Dollar Lounge this Weekend
Get ready for an electrifying weekend of live music at the San Dollar Lounge! On Friday the 30th, prepare to be mesmerized by the incredible talent of American electric blues saxophonist, singer, songwriter, arranger, and record producer, John Carpenter. Then, on Saturday, July 1st, get ready to groove to the vintage-style rock tunes of The Rayford Bros. And to wrap up the weekend on Sunday, July 2nd, get ready for a sensational performance by Lexi Pifer and the Hot Trash Express.
All shows kick off at 10 PM, so mark your calendars! Remember, the events are exclusively for ages 21 and above, and as always, there is no cover charge. Get ready to immerse yourself in a night of unforgettable music and good vibes at the San Dollar Lounge.
Mas Por Favor Presents: Experience a Festive Christmas in July Extravaganza
Mas Por Favor is hosting its first annual Christmas In July event. The Mexican restaurant has converted its hidden Tequila Bar Inside into a festive and elaborately decorated Christmas wonderland. From July 1st to July 31st, patrons can celebrate Christmas in July all month long. The event promises a delightful selection of Christmas-themed drinks, special tacos, and an exciting weekly give away with surprises for guests to enjoy. You can book your reservations at masporfavorlv.com
888 Collectibles Celebrates 2nd Year Anniversary with ULTIMATE EEVEELUTION GIVEAWAY!
888 Collectibles, the premier destination for Pokémon enthusiasts, is celebrating its second-year anniversary with an exciting event—the f From now until July 22, 2023, collectors and fans have the opportunity to win fantastic prizes totaling 188. This event is sure to bring joy to any Pokémon aficionado.
The prizes available in this giveaway are truly remarkable. Participants have a chance to win 88 Nagaba Packs, 88 Nagaba Eeveelution Singles, 6 Nagaba Boxes, 2 Evolving Skies Elite Trainer Boxes, 3 Vmax Boxes, and 1 Evolving Skies Build & Battle Box.
To participate, the rules are straightforward and enticing. Customers can earn one raffle ticket for every $20 spent (tax not included). Additionally, sealed ENGLISH Pokémon products, excluding packs, will provide double the raffle tickets.
This is an excellent opportunity to expand your Pokémon collection and have a shot at winning incredible prizes. Whether you're searching for elusive Eeveelution cards or eagerly awaiting the latest Pokémon sets, 888 Collectibles caters to every Pokémon Trainer's needs.
Make sure not to miss out on this grand celebration! Visit 888 Collectibles today, immerse yourself in the world of Pokémon, and take part in the ULTIMATE EEVEELUTION GIVEAWAY.
Newly Installed Sign at Shan Tau Square's Upcoming Ramen Shop Signals Imminent Opening in Chinatown
In the May 5th edition of "This Week in Chinatown," we featured an exciting update on the upcoming opening of a new ramen shop Silverlake Ramen in Shan Tau Square. With the installation of a fresh new sign and renovations nearing completion, the anticipation is building. We'll continue to keep you informed and provide updates on the exact opening date of this eagerly awaited restaurant. Stay tuned for more details!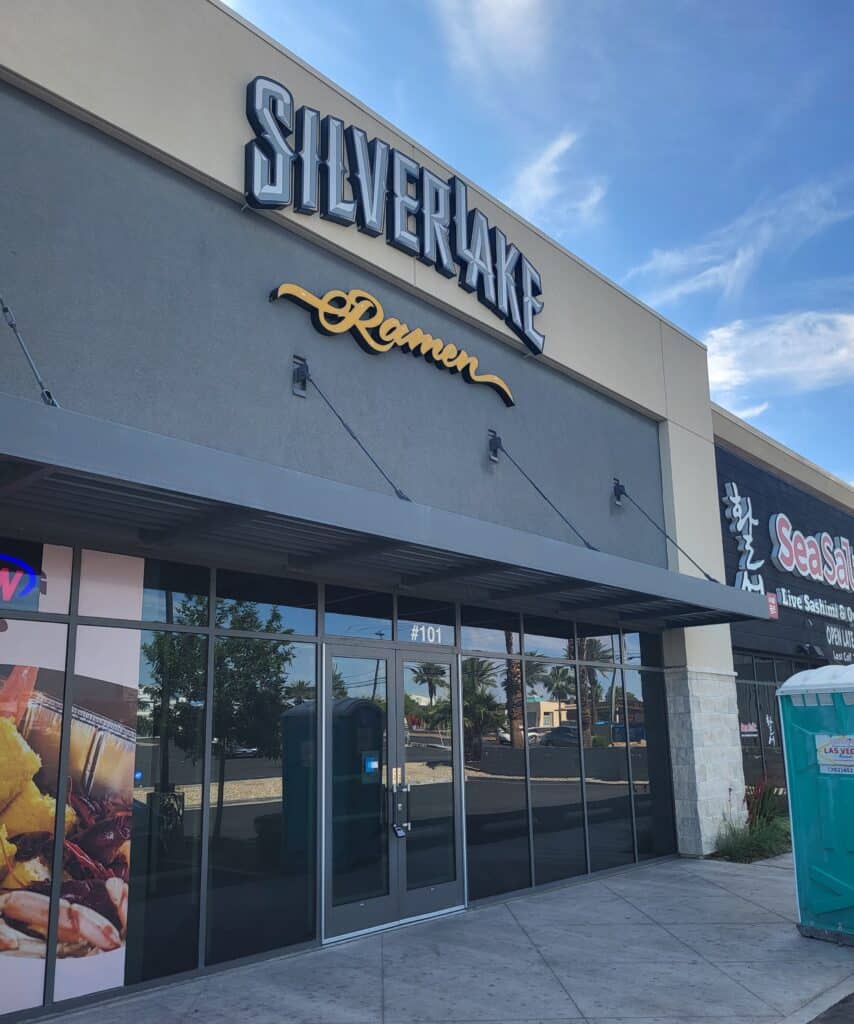 Silverlake Ramen, born in LA, has expanded its reach to multiple states including Georgia, North Carolina, Texas, Washington, Utah, and now Las Vegas. This popular ramen restaurant offers a modern ambiance and is known for its delicious Japanese noodle bowls. With a diverse menu featuring traditional and innovative ramen options, Silverlake Ramen continues to satisfy ramen enthusiasts across different locations with their high-quality ingredients and flavorful broths.
Whispers and Speculations: A Japanese Twist on Wine Gastro Bar by Former Sweets Raku Owners
According to whispers from insider sources, the intriguing fate of the beloved French-influenced Japanese dessert bar, Sweets Raku, is the talk of the town. Among the unverified rumors circulating is the possibility that, under the same ownership, the establishment will undergo a transformation and emerge as a Japanese interpretation of a European-style wine bar (Gastrobar).
Speculation suggests that the revamped venue will offer an enticing array of small plates and light fare, with Japanese and European influences, inviting patrons to indulge in a unique dining experience. While these rumors remain unconfirmed, we have confidence in our sources.  There certainly is a lot of anticipation surrounding this new venue. Stay tuned for further updates on this intriguing development.
Zip the Korean Tofu and Grill: New Sign, Rave Reviews, and Exciting BOGO Offer
Zip the Korean Tofu and Grill recently installed a new sign, marking its presence in the neighborhood. The restaurant, which has gained positive acclaim from satisfied diners, opened its doors not long ago. Renowned for its innovative approach to traditional soft tofu soup, Zip offers dishes like bone marrow tofu soup and Galbi jeem with torched cheese. Operating hours are from 11 am to 9 pm on Sundays through Thursdays, and from 11 am to 10 pm on Fridays and Saturdays. To celebrate the entire month of July, the restaurant is offering an incredible buy one get one free promotion on all menu and drink items.
Chubby Cattle's Conveyor Belt Delight: Buy One Get One Free during Happy Hour
Chubby Cattle, the Mongolian Hot Pot restaurant renowned for its innovative conveyor belt system, offers a delightful happy hour experience from Monday through Thursday. From 9:30 AM until closing time, guests can indulge in a special promotion where all items on the conveyor belt are available under a buy one get one free offer.
This exciting opportunity allows diners to savor a wide array of delicious hot pot ingredients while enjoying great savings. Whether it's for a quick lunch or a leisurely dinner, Chubby Cattle's happy hour provides a fantastic chance to explore the flavors and culinary adventure that awaits within their unique dining concept.
As we bid farewell to yet another extraordinary week, my friends, keep embracing the remarkable moments that await you in Chinatown. Until we meet again next Friday, let the memories linger and the experiences linger on. And always remember: What happens in Chinatown, happens here.
Subscribe to Chinatown's New YouTube Channel
In our ongoing efforts to promote and highlight what we feel is the best Chinatown anywhere, we have launched a YouTube Channel to capture it.
The channel plans on featuring businesses, food, chefs, breaking news, street reports, and much more. Chinatown Vegas' YouTube Channel hopes to capture a real sense feel of what it's like to visit the super-fast growing Chinatown.
If you love Chinatown, follow us on Social Media: