Chinatown Report: This Week in Chinatown
Las Vegas Chinatown news and analysis by Chinatownvegas.com. Food. Restaurants. Tips. Things to do. Events. What's in? What's out? RUMORS + much more
Chinatown Vegas wants to wish everyone a very happy Valentine's Day. Hope you make one of our amazing restaurants your Valentine's Day dinner destination. We have featured some specials in this issue to help you celebrate the day with your someone special.
Chinatown was a little slower than normal this past week with the Chinese New Year coming to an end. The mass amounts of tourists, much less, however, it still is the most vibrant part of the city. With Valentine's Day on Tuesday, we expect the restaurants to be packed to the max with both locals and tourists alike. This week another MMS star was spotted in Chinatown. More and more, Chinatown is not a secret anymore.
Letters of the Week:

We receive several inquiries about Las Vegas Chinatown.
We will feature some here in our weekly report.
Sharon Brancaccio asks:
I'm from NYC and I miss shopping for fresh fish and vegetables from the food stands on the streets in Chinatown. Is there somewhere similar here?
Sharon,
While we don't have fruit and vegetable or fish stands out on the streets like in other Chinatowns, we do have 5 large Asian supermarkets in Chinatown packed to the rim with the same stuff you'd find in traditional Chinatowns. Two reasons – one, the weather, and two, it's also more sanitary to have indoors. If our 5 Asian supermarkets would display their produce and products outside, they would fill the equivalent of both sides of Canal Street or even Madison Ave. Check out 99 Ranch Market, both SF Supermarkets, 168, and the Greenland Markets.
Let's have a look and see what is new in Chinatown.
We are starting from the east and heading west on Spring Mountain Rd.
The Sand Dollar Lounge has a nice lineup of live bands for this weekend. On Friday, Electic Church will perform its mix of soul, blues, and funk. Saturday, Blues band The Moanin' Blacksnakes, and Sunday will feature Americana rock band  Red Eye Gin. All bands start at 10 PM and as always at the Sand Dollar, there is no cover.
Next door to the Sand Dollar,  Artisanal Latin restaurant, Tres Cazuelas has a lovely Valentine's Day menu. The 4-course menu starts with a Lobster Bisque and is then followed by a tomato, spinach, and goat cheese salad. The Main course is a choice between braised short rib or seared scallops. The dessert is "Lovers Diet" chocolate dipped strawberries, flan pineapple upside down cake ice cream. Your date will receive a long-stem rose. Reservations can be made through Open Table
MMA fighters love our Chinatown
Nick Diaz has been spotted at several Chinatown restaurants as of late,  and it seems like the word among fighters has been spreading. This past weekend, Pro-Japanese MMA Fighter Rinya "Hybrid" Nakamura fueled up at Izakaya Go two nights in a row prior to his fight at UFC Fight Night 218.  Nakamura made sashimi out of his opponent, Toshiomi Kazama, brutally knocking him out in 33 seconds. Rinya's record is now 7-0.
This week's flyer from 99 Ranch Market is packed with good deals
Check out some Valentine's treats at the Paleta Bar and 85 Degree Bakery
85 Degree Bakery has a buy 3 and gets one free on Chocolate covered strawberries

Taru Rockin Sushi House is now open
We first reported about Taru Rockin Sushi House on November  25th in This Week in Chinatown. Taru, by the team from Robata En that was in the same place, is an authentic Japanese restaurant that also blends K-pop food into its menu. Feast on uni pasta, miso mushroom pasta, sushi, sashimi, no-rice sushi rolls, bulgogi, whole-fish sashimi, and a truffle sashimi trio that already has a legion of loyal fans.
Open from 5 pm to midnight 7 days a week.  (702) 331-0619
Xiao Noodle House has a new sign
The former Lily's Kitchen is being remodeled into "Xiao Noodle House". Xiao means small in small in Chinese and it is very small. Chinatown Vegas met with the owner who hails from northern China and the restaurant is hoping for a late winter or early spring opening.
After very long delays, Ramen Boys set an opening date
More yummy ramen coming to Chinatown with the long-awaited opening of Ramen Boys. Ramen Boys is set to open mid-March
Valentine's Day unique desserts at Sweets Raku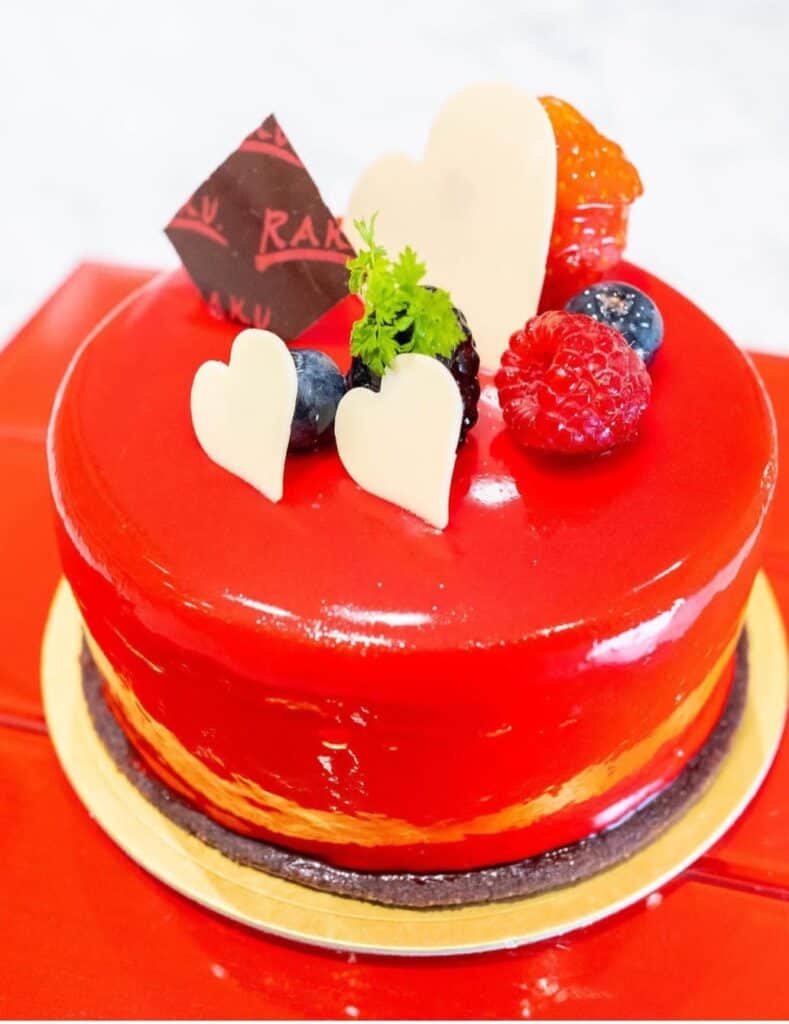 Japanese dessert shop, Sweets Raku has two wonderful desserts created especially for Valentines's Day. A chocolate & raspberry mousse cake and caramel macchiato, strawberry rose, passion fruit, and orange almond praline chocolates.
Hui Lau Shan is almost ready
Originally scheduled to open in December of 2022, typical construction and permit delays have set the opening of Hui Lau Shan back a few months. The space is nearly complete and we expect an opening date to be announced any day now.
Cue D's Pool hall & Bar
Cue D's has added a second steel-tip professional dartboard and announced that tournaments are coming soon. Players are welcome to bring their own darts for free or can rent them from the hall.   Open from 4:30 pm to 3:00 am 7 days a week.
Kushi's double happy hours
Kushi has twice-nightly happy hours with 20% off appetizers from 5 pm-7 pm and again between 10 pm-3 am
That's a wrap for this week. See ya next week
Subscribe to Chinatown's New YouTube Channel
In our ongoing efforts to promote and highlight what we feel is the best Chinatown anywhere, we have launched a YouTube Channel to capture it.
The channel plans on featuring businesses, food, chefs, breaking news, street reports, and much more. Chinatown Vegas' YouTube Channel hopes to capture a real sense feel of what it's like to visit the super-fast growing Chinatown.
Follow us on Social Media: