Chinatown Report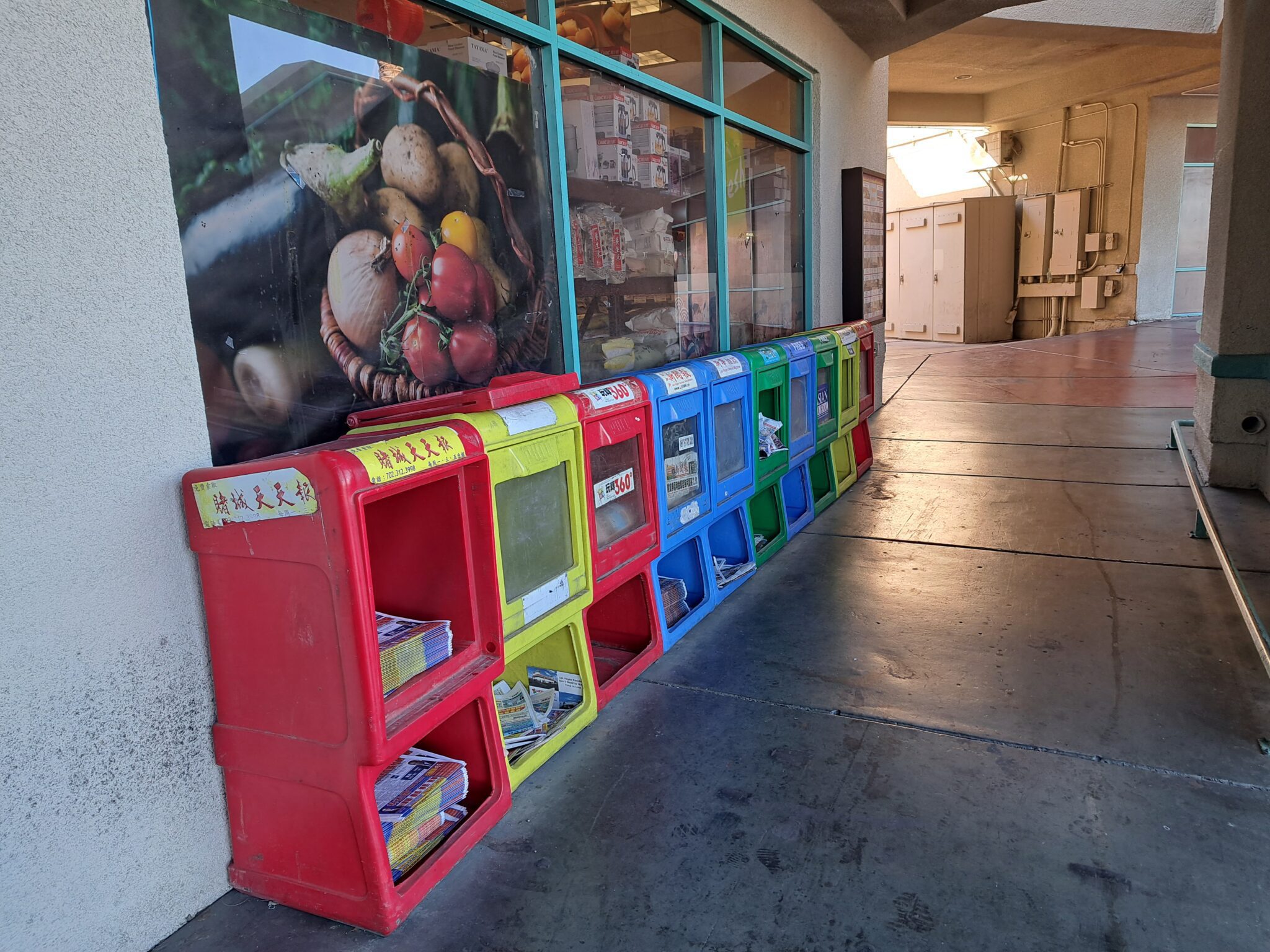 Las Vegas Chinatown news and analysis by Chinatownvegas.com. Food. Restaurants. Tips. Things to do. Events. What's in? What's out? RUMORS + much more
We hope everyone had a great Thanksgiving Day and have some clever recipes to revive your leftovers. We are in full-blown winter. Days are still in the mid-60s, but once the sun goes down it's been extra cold, with lows of 38 degrees.
Chinatown has been lit and considering that the strip is slow, we are currently the most vibrant neighborhood in the city, by far. But then again, when aren't we? The entire length of Spring Mountain Rd was PACKED with tourists and locals alike.  Many of Chinatown's best restaurants had 60-90+ minute waits most of the day.
Traffic advisory: Travelers and commuters by car or bus, or plane, please allow extra time over the next few days with holiday traffic. The parking at the Airports is overfilled. So if you're traveling by plane, we suggest Uber or Lyft getting to and from the airport. You can check the airport's Twitter here for updates
Ok, so let's have a look at what's new in Chinatown
Starting from the east and heading west on Spring Mountain Road
Bring Out Your Inner Elf at the Miracle On Spring Mountain
Miracle on Spring Mountain is the Sand Dollar Lounge's annual Christmas Winter Wonderland pop-up. Professionally crafted holiday cocktails with Xmas-themed names like Christmapolitan, Christmas Carol Barrel,  or the Elfing Around with prosecco, gin, mulled wine reduction, grapefruit shrub, aromatic bitters, and orange bitters. There is no cover charge and entrance is on a first-come, first-served basis. Guests are encouraged to arrive in festive Christmas attire.
One tequila, two tequila, and 3 tequila floor
In addition to Mas Por Favor's NIGHTMARE BEFORE XMÁS that runs until December 27, the Chinatown Mexican speakeasy has a Ladies' Night every Monday starting at 8 PM with 🔥 1/2 off specialty cocktails and street tacos.
Book reservations at masporfavorlv.com
Cosplay Culture every Wednesday at ShokkuRamen
Las Vegas' only 24/7 Ramon shop continues its Wear it Wednesday!  Wear your fav anime shirt and receive 15% off or 25% off when you're dressed in full cosplay.
If you're not into cosplay and you're a fan of high heat, take
The Shinigami Challenge
if you think you can handle it. Challengers have 8 minutes to finish over 24 ounces of Tonkotsu broth, loaded with over 3 pounds of noodles and toppings in the spiciest broth ever. Must be 18 years or older and you will need to sign a release of liability waiver. Finish it in time and it's free along with a $25.00 Shokku Ramen gift card. Also, your picture will be posted on The Wall of Warriors.
Filipino fast-food restaurant Lutong Bahay is still closed since posting a sign on November 16 that said they closing temporarily for remodeling.
Danny the Medic visited Bangkok Street Food, located on the second floor of the plaza, and shared a video on his YouTube Channel with 11k+ subscribers.  Danny sat down with locals he met up with and ordered some authentic Thai street food. You can watch the video here
Mr. BBQ, and Mama Chai's inch closer to their opening
GIMME THE KALBI
Across the street from the Chinatown Plaza, the remodel of the former Tea of Joy and Magal BBQ spaces is almost complete.
Mr. BBQ the premium all-you-can-eat restaurant was originally anticipating an opening of November 15 but normal delays have set the opening date back. Mr. BBQ's opening is any day and Mama Chai's opening will follow shortly after. Both new spots are owned by Jenny Chai who owns Miss Shabu and Mr. BBQ in Bueno Park, California.
New Winter Flavors at SomiSomi
Korean "Ah-Boong" specialist SomiSomi says goodbye (for now) to black sesame, strawberry, chocolate, horchata, coffee, and Thai tea flavors, and says hello to new Winter Flavors such as Cookies 'n Cream, Ube, and Pecan Praline.
Miniso Extends Black Friday For the Rest of the Month
Chinese global lifestyle brand, Miniso has extended its Black Friday sale. Get 20-70% OFF select items + a FREE gift for every $20 spent now until November 30th
Heading west just past Arville St. The former Robata En is being transformed into a new concept called TARU Rockin' Sushi House in the Shan Tau Square plaza.
Taru will join Sparrow and Wolf, Nalsoo BBQ, and Lamaii which make up one side of the plaza, while PT's Gold, Sea Salt, Shakin Crab, and Roberto's are on the Arville St. side. We are told it's the same owners as Robata En.
Shaking Crab, the Chinatown Cajun seafood boil  specialists
Continuing west on Spring Mountain looks like the old Big Lot space has been gutted and some rumors are flying around as to what is moving into the space. We wi try and report next week
Updates for the Decatur Chinatown mall
Still no confirmation regarding the rumor of Gimik Republic's reopening date, however, the word on the street is that it is going to happen but there are still some delays.
Ramen Boys is also experiencing delays but is anticipating opening before the year's end. This strip mall formerly called the Decatur Twain Shopping Center was re-branded into the Decatur Chinatown. It's tucked away just a few short footsteps from the Spring Mountain and Decatur intersection with bus stops for RTC Route 203 Spring Mountain as well as RTC Route 103 Decatur at or near the entrance to the plaza.
There is a lot of potential at this mall with Griffs Bar & Billiards, Samurai Japanese BBQ & Grill, and arguably Las Vegas's best Japanese restaurant Sanga this strip mall is one you will want to pay more attention to. It also makes the former Green Dispensary space that's available look like a gem of a space for the right savvy entrepreneur.
Seoul Plaza
Currently Korean in name only
Hwaro, the cook-your-own Korean BBQ and only Korean restaurant left in a strip malled named after said country's capital city, is still closed. A sign on the door says it's temporary. No official day when or if it will reopen.
Still No Name for the new mall
The new mall being built on the south side of Spring Mountain, west of Lindell, had a coming soon sign that said "Korea Town Mall",  but now word on the street is that it may be named "Sapporo Alley". Chinatownvegas.com has not been able to confirm either yet.
Mobile app bank, Open Bank debuts for the first time in Las Vegas and will join the all-you-can-eat Master Kim's Korean BBQ, a Japanese fried chicken restaurant, and an old-school karaoke space.
Mountain Point Business Park West
We are big fans of Hobak, having followed their journey since pre-construction and posting the first sign of construction on our Instagram. We are delighted to learn that they are now on available to be delivered to your door.  Uber Eats, Grubhub, & Doordash are all available for delivery.  For questions regarding the menu or hours, please visit their website: hobakkoreanbbq.com
This is the first US restaurant for the Seoul, Korea-based restaurant group who also own Chanko Shabu & Izakaya and Gabi next door and Jong Ro Chicken and the 1980s style Korean izakaya – Napal Baji BBQ across the street.
Jong-Ro Chicken has Finger Party Trays available for order.  The Korean fried chicken specialists are offering delicious chicken finger trays to enhance your holiday party. Jong-Ro Chicken is named after Jong Ro in Seoul, South Korea, and its claim to fame is a recipe they created when they started selling there as street vendors in 1976.  The recipe starts with a unique curing method before being dusted with a powder-like coating and then fried in a special oil. Party trays must be ordered a day in advance. To order, visit their website: Jongrochicken.com
Next door to Jong-Ro, Napal Baji BBQ is having a Yelp check-in ice cream offer! Check in on Yelp, and receive one free Ice cream. One ice cream per check-in. Mon-Sun 11:30 AM – 11:00P M.
The 168 Market now has 禮物卡 Gift Cards. Available in the amounts of $25, $50, and $100, the perfect gift for the Asian food lover that loves to cook and or eat. The gift cards can be purchased in-store and used at 168 Markets nationwide.
That's it for This Week In Chinatown. Bundle up. Stay warm and until next week, enjoy the best Chinatown.