Chinatown Report: This Week in Chinatown
Las Vegas Chinatown news and analysis by Chinatownvegas.com. Food. Restaurants. Tips. Things to do. Events. What's in? What's out? RUMORS + much more
Dear friends, a warm welcome to the latest installment of "This Week in Chinatown," proudly presented by Chinatownvegas.com. Prepare to discover the freshest updates, delectable culinary wonders, and captivating cultural gems that await your exploration in the bustling and vibrant Chinatown of Las Vegas
This past week
As the 70,000-acre York Fire continued to rage near the Nevada-California border, Las Vegas found itself enveloped in a thick blanket of smoke, leading to visibly poor air quality. To add to the challenges, a few scattered thunderstorm system were in the region, exacerbating the already difficult situation. The overcast skies did bring a welcome of relief, offering temperatures 10-15 degrees cooler.
Road repaving and construction for the Formula 1 races caused more havoc as Spring Mountain Rd at the strip was closed east and westbound for a few days. Still, tourists found ways to flock to our restaurants and shops.
We are starting from the east and heading west on Spring Mountain Rd.
Weekend Music Extravaganza: Blues, Grateful Dead, and Unique Psych Rock – No Cover, 21+
Great music to kick off the weekend awaits attendees as the LV Blues Society presents their open jam on Friday the 4th. Being a non-profit affiliate of The Blues Foundation, they have been dedicated to promoting blues music in Southern Nevada for over 30 years.
On Saturday, the stage lights up with the vibrant performance of the Grateful Dead cover band, Catfish John, who are sure to deliver a memorable show.
Sunday brings an exciting twist with All improv psych rock and more Unique Massive taking over the stage, promising an extraordinary and diverse musical experience.
All shows start at 10 pm and go on until 2 am, providing ample time for music enthusiasts to immerse themselves in the rhythm and groove.
And as always, there is No Cover, making it an accessible and enjoyable experience for all attendees, provided they are 21 years old and above.
The Golden Tiki Unveils the Coveted PoisonMaker Mug: Limited Re-release and New Mai Tai Glass with BigToe Art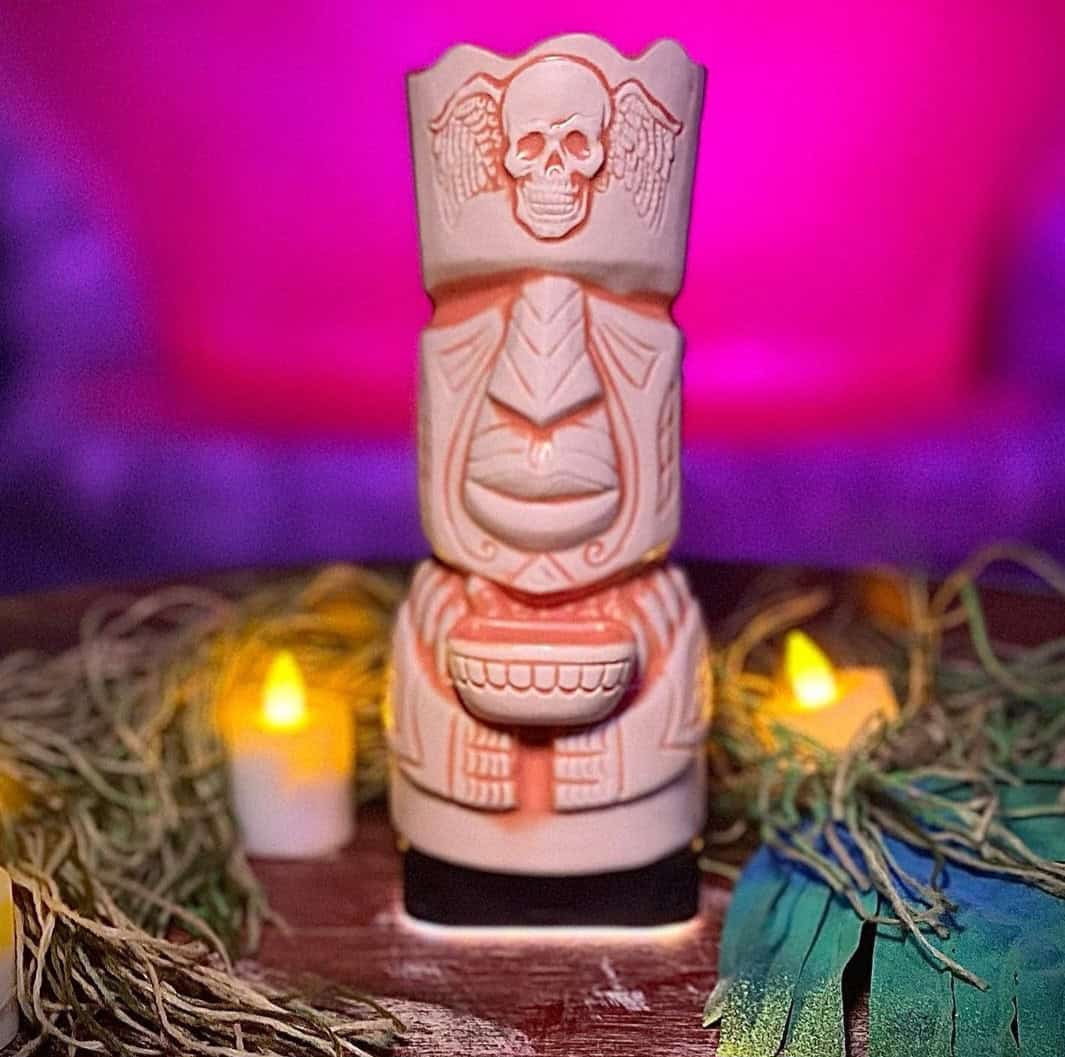 The Golden Tiki is bringing back the highly sought-after PoisonMaker Mug, which was originally released in 2017 and quickly sold out due to its collectible nature. This ceramic tiki mug showcases a medicine man holding a bowl with both hands, specifically designed for dry ice effects. The medicine man's face bears the marks of age, and he dons a hat adorned with a skull and wings, adding to the mystique of the design.
For now, the PoisonMaker mug will exclusively be available at Tiki Oasis, and later on, a limited quantity may be offered at the Gold Tiki bar. Alongside this exciting re-release, The Golden Tiki is also introducing a brand new Mai Tai glass, as well as a delightful assortment of stickers and pins, featuring the captivating art of the inspirational artist, BigToe.
Indulge in Taiwanese Delights: Join the Taiwan Traditional Snack Festival for a Chance to Win $100 Gift Card
Calling all foodies! The "Taiwan Traditional Snack Festival" (7/28-8/17) is set to begin, inviting enthusiasts to immerse themselves in a delectable world of traditional Taiwanese flavors. A wide array of mouthwatering snacks awaits, promising an unforgettable culinary experience.
Moreover, attendees have the exciting opportunity to participate in a fabulous giveaway. The chance to win a $100 99 Ranch Market gift card awaits lucky winners, adding an extra layer of sweetness to this snacking fiesta!
New Sign Unveiled: 10 Seconds Yunnan Rice Noodle Set to Open in Chinatown This September
In the July 7th edition of "This Week in Chinatown," an exciting revelation shook the culinary scene as it was unveiled that the vacant space left by the beloved Big Wong's would soon be replaced by a Yunnan rice noodle restaurant. The subsequent week brought the much-awaited announcement of the restaurant's name, leaving readers eager for further updates.
With a commitment to keeping their readers informed, the publication now shares the latest progress on this upcoming dining establishment. A beautiful and eye-catching new sign has been installed, signaling the restaurant's imminent arrival. To gain more insights into the project, the we spoke with a representative from the restaurant, who confirmed that they are diligently working towards their goal of opening their doors this September.
The forthcoming eatery, named "10 Seconds Yunnan Rice Noodle," is an extension of the renowned Chinese noodle chain, Shi Miao Dao. This culinary gem operates an impressive network of over 750 shops across China and has been successfully expanding its footprint in North America. Their presence already spans multiple locations, including New York, Atlanta, Texas, Charlotte, NC, Michigan, Salt Lake City, California, Toronto, and now Las Vegas.
The English name of the restaurant, "10 Seconds Yunnan Rice Noodle," aligns seamlessly with the essence of its parent brand, Shi Miao Dao, which translates to "ready in ten seconds." Such a name hints at the fast and efficient service they are known for, promising a delightful and satisfying dining experience for their patrons.
As anticipation continues to grow, food enthusiasts and Chinatown visitors eagerly await the grand opening of "10 Seconds Yunnan Rice Noodle" this September. With its unique culinary offering and impressive track record, it's destined to become a new hotspot for those seeking authentic and delicious Yunnan-style rice noodles in the heart of the city.
Jin Jin, a Chinese-Korean Delight, Nears Completion at Former Veggie House Location in Pacific Asian Plaza
In the July 14 edition of This Week in Chinatown, the news broke about Chinese-Korean restaurant Jin Jin taking over the former Veggie House location. The restaurant, led by an individual formerly associated with the renowned Korean Steakhouse 8 OZ, is moving swiftly with its renovation, and a sign was placed at the back and front entrances on the second floor of the Pacific Asian Plaza.
Representatives from the restaurant shared their culinary vision, stating, "You know, Chinese-American or Italian-American food? This is Chinese Korean," when asked to describe their style of cuisine. The establishment will have around 60 seats and initially open without a liquor license, but they have applied for one and anticipated receiving it a few months after their opening.
As the restaurant progresses, updates will be provided as new information becomes available, keeping the community informed about the exciting developments.
Indulge in Delight: China Fresh Tea Welcomes Back Boxed Cakes in Mango, Strawberry, and Taru Flavors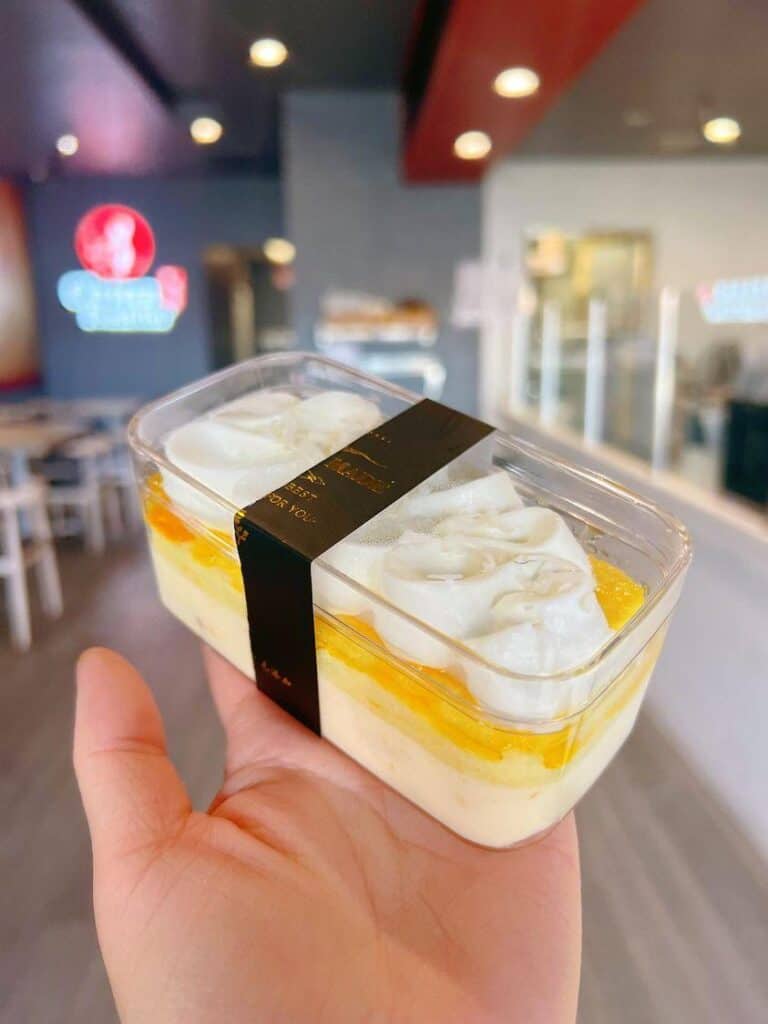 China Fresh Tea, the popular tea shop renowned for its high-quality tea with fresh milk and fresh fruit offerings, is thrilled to announce the much-anticipated comeback of boxed cakes. These delightful treats serve as the perfect takeaway, allowing customers to savor them at home or share them as thoughtful gifts.
The boxed cakes are available in three delectable flavors: Mango, Strawberry, and Taro. They perfectly complement China Fresh Tea's signature beverage offerings, which include Orange Fresh Tea, Strawberry Tea, Jasmine Milk Tea, Jasmine Green Tea, Chinese Oolong Tea, Assam Black Tea, and a delightful selection of fruit teas.
Despite their deliciousness and quality, these boxed cakes are reasonably priced at just $6.95 plus tax, making them an affordable indulgence for all tea and cake enthusiasts. Head over to China Fresh Tea today to enjoy these delectable treats and experience a delightful blend of flavors and aromas.
Exciting News at Kushi: Now Serving Lunch and AYCE Option Now Available
Kushi, the beloved Chinatown eatery renowned for its Chinese-style skewers, has exciting news to share with its loyal fan base! They are delighted to announce two incredible updates: Firstly, Kushi is now open for lunch seven days a week, starting immediately. The new lunch hours are from 12 pm to 1 am, ensuring that patrons can enjoy their delicious offerings throughout the day.
Secondly, Kushi has introduced an irresistible All-You-Can-Eat (AYCE) option, available from Monday to Friday, between 12 pm and 4 pm. This AYCE option encompasses an extensive menu selection, including delectable BBQ skewers, mouthwatering appetizers, flavorful fried chicken, tantalizing noodles, savory soups, and many more delightful dishes to choose from.
As a unique BBQ restaurant specializing in Korean-Chinese style skewers, Kushi takes their culinary experience to the next level by providing each table with an automatic skewer cooking grill, allowing guests to enjoy the fun of grilling their skewers to perfection.
For a limited time as a special introduction, the AYCE option is available at an unbeatable price of only $21.95, offering an exceptional value for food enthusiasts. After the introductory period, the price will be adjusted to start from $27.95 and beyond, still providing an amazing dining experience that's worth every penny.
Visit Kushi today and treat yourself to an unforgettable feast of flavors, ambiance, and endless enjoyment with their new lunch hours and AYCE option!
Sudden Shift: Chef Kenny's Asian Vegan Cafe to be Replaced by BBQ Garden Chinese Cuisine
Moments prior to publishing this update, we were informed about a surprising development regarding Chef Kenny's Asian Vegan Cafe. Remarkably, within what seems like an overnight transformation (as one of our team members visited Greenland Market on Thursday morning with no inkling of this shift), the signage for BBQ Garden Chinese Cuisine has been installed, accompanied by a "Coming Soon" banner. Regrettably, we lack further details at the moment; however, we are committed to closely monitoring this situation and providing updates as they arise.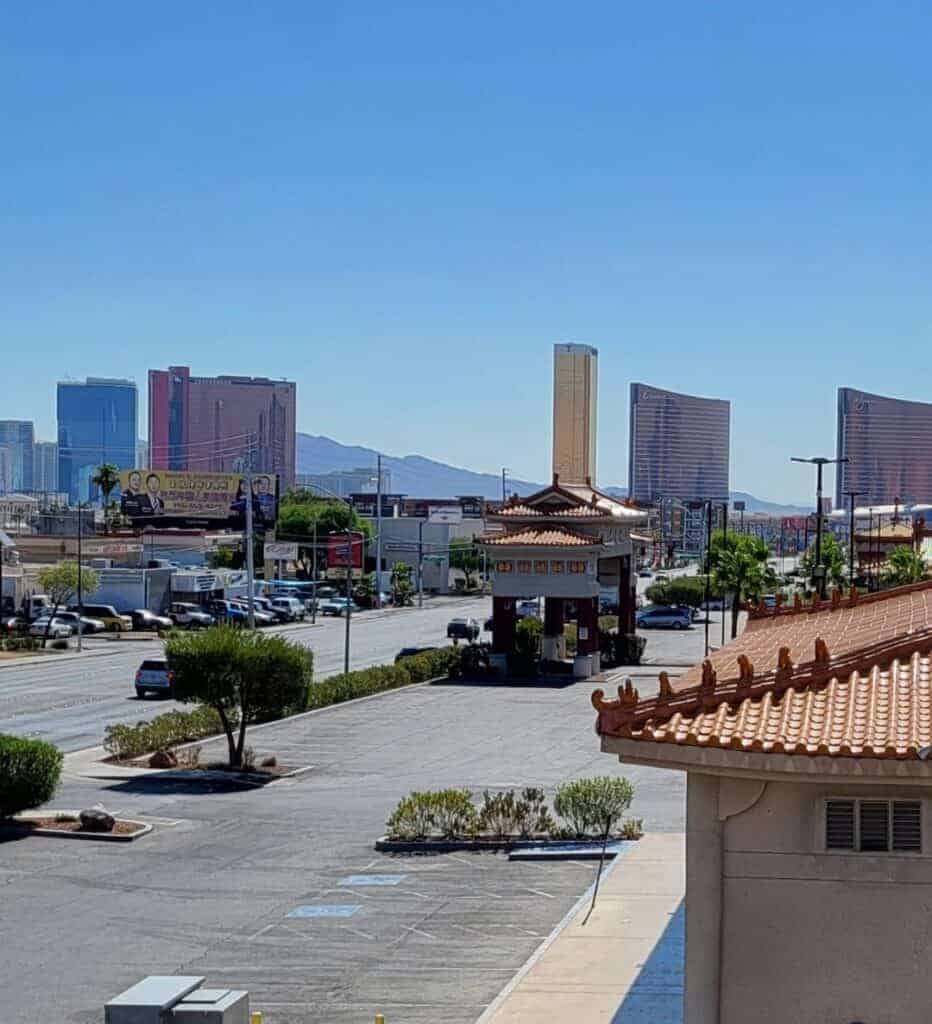 As we wave goodbye to yet another extraordinary week, may the treasured Chinatown of Las Vegas memories linger on and the unforgettable experiences remain etched in your heart. Look forward to coming together again next Friday for another round of thrilling moments. And always remember, "What Happens in Chinatown, Happens Here." Until we meet again next week.
Subscribe to Chinatown's New YouTube Channel
In our ongoing efforts to promote and highlight what we feel is the best Chinatown anywhere, we have launched a YouTube Channel to capture it.
The channel plans on featuring businesses, food, chefs, breaking news, street reports, and much more. Chinatown Vegas' YouTube Channel hopes to capture a real sense feel of what it's like to visit the super-fast growing Chinatown.