Chinatown Report: This Week in Chinatown
Las Vegas Chinatown news and analysis by Chinatownvegas.com. Food. Restaurants. Tips. Things to do. Events. What's in? What's out? RUMORS + much more
Greetings, esteemed audience, and welcome to yet another exhilarating episode of "This Week in Chinatown"! Embracing the pulsating vitality of Chinatown's bustling streets, we are ecstatic to present you with the freshest updates, enthralling events, and captivating tales from this remarkable community. Whether it's embracing cultural celebrations or indulging in culinary wonders, rest assured, we have everything you need right here. If it happens in Chinatown, it happens here.
This past week
The LV Japan Fair, one of the largest Japanese cultural events in Vegas, achieved great success. It spanned a single day and showcased a diverse array of culinary delights from renowned Chinatown restaurants.
The festival boasted an impressive lineup of DJ's, who entertained the attendees. Notably, this year, the DJ's performed indoors within the mall area, but there are exciting plans for the next edition as they will be situated outdoors. The anticipation for this change was met with excitement and celebration. See photos of the festival below under the Chinatown Plaza header.
What's coming?
This week's live concerts feature an exciting lineup of renowned artists. Seal will be performing at The Venetian in Las Vegas on June 3rd and 4th, 2023. Garth Brooks will take the stage at the Colosseum at Caesars on Saturday, June 3rd. Rapper King Lil G is set to captivate the audience at the House of Blues inside Mandalay Bay on Saturday, June 3rd.
Bruno Mars will be performing on June 2nd, Friday, and June 3rd, Saturday, at 9:00 PM at Dolby Live, located at Park MGM. Tyga will be at Encore Beach Club on Sunday, June 4th. The show starts at 11:00 AM. Bryson Tiller will grace the Brooklyn Bowl in Las Vegas, NV on Wednesday, June 7th, starting at 7:30 PM.
Now, let's shift our focus to the heart of the action—Chinatown. The place to be for endless excitement and a seamless fusion of tradition and modernity.
We are starting from the east and heading west on Spring Mountain Rd.
TRES Cazuelas Presents "BYOB" Wine Wednesdays: Bring Your Own Wine and Share the Joy
On Wednesdays, TRES Cazuelas offers "BYOB" Wine Wednesdays, where patrons can bring their own wine from their personal cellars and share it with friends. There is no corkage fee for this event. Interested individuals are requested to RSVP as seating is limited.
Tres Casuelas is a relaxed eatery featuring tapas, seafood dishes, and other Spanish classics. The restaurant boasts a diverse wine list and a patio for guests to enjoy.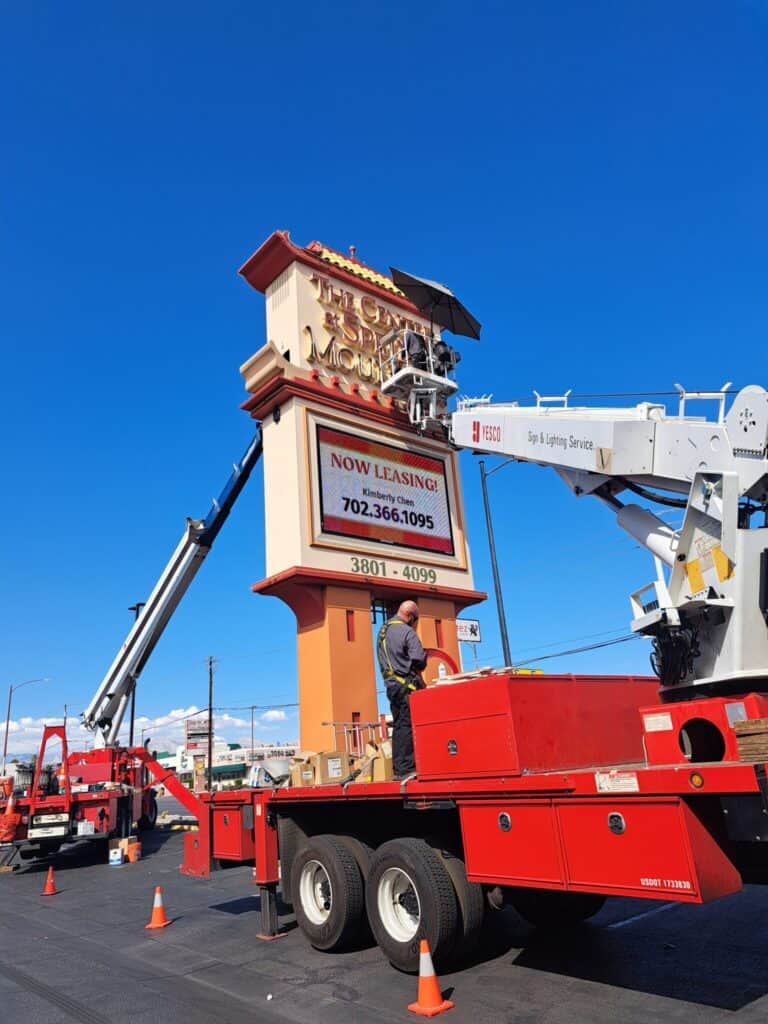 PowerSoul Cafe: Groundbreaking 24-Hour Gluten-Free Healthy Fast-Food Restaurant Chain Coming Soon
Las Vegas-based entrepreneur, Dina Mitchell, has announced the highly anticipated launch of PowerSoul Cafe™, the world's first certified gluten-free fast-food restaurant chain. With a focus on healthy fast food and smoothies, including vegan and keto options, PowerSoul Cafe™ is set to revolutionize the culinary scene.
The Chinatown location, along with two additional sites in the Las Vegas valley, is slated to open in the fall of 2023. Spanning 1,000 square feet, the store will boast a walk-up window and AI-powered pick-up lockers, ensuring convenient service for customers. Operating 24 hours a day, PowerSoul Cafe™ will be a go-to destination for individuals seeking nutritious and delicious dining options.
Chinatown is eagerly anticipating the arrival of PowerSoul Cafe™, as this exciting addition is expected to bring a fresh and health-conscious culinary experience to the vibrant community. To learn more about menus, specific locations, and additional information, visit the official website at PowerSoulCafe.com. The countdown to the grand opening has begun, and both residents and visitors alike are looking forward to embracing this new chapter in Chinatown's food scene.
The inaugural LV Japan Fair, held this past Saturday, proved to be an extraordinary triumph that left a lasting impression on all attendees. The event was a feast for the senses, captivating visitors from the moment they arrived with its vibrant Japanese decorations adorning the entrance. The bustling food section was a focal point, featuring esteemed restaurants such as Raku, Ichiza, Kyra, and Mochinut, which delighted visitors with a tantalizing array of authentic Japanese cuisine.
As attendees explored the fair, they were treated to captivating cultural performances on the main stage. Traditional dances, mesmerizing musical acts, and awe-inspiring martial arts demonstrations showcased the richness and diversity of Japanese culture. The atmosphere buzzed with excitement and admiration as onlookers were enthralled by the talent and artistry on display.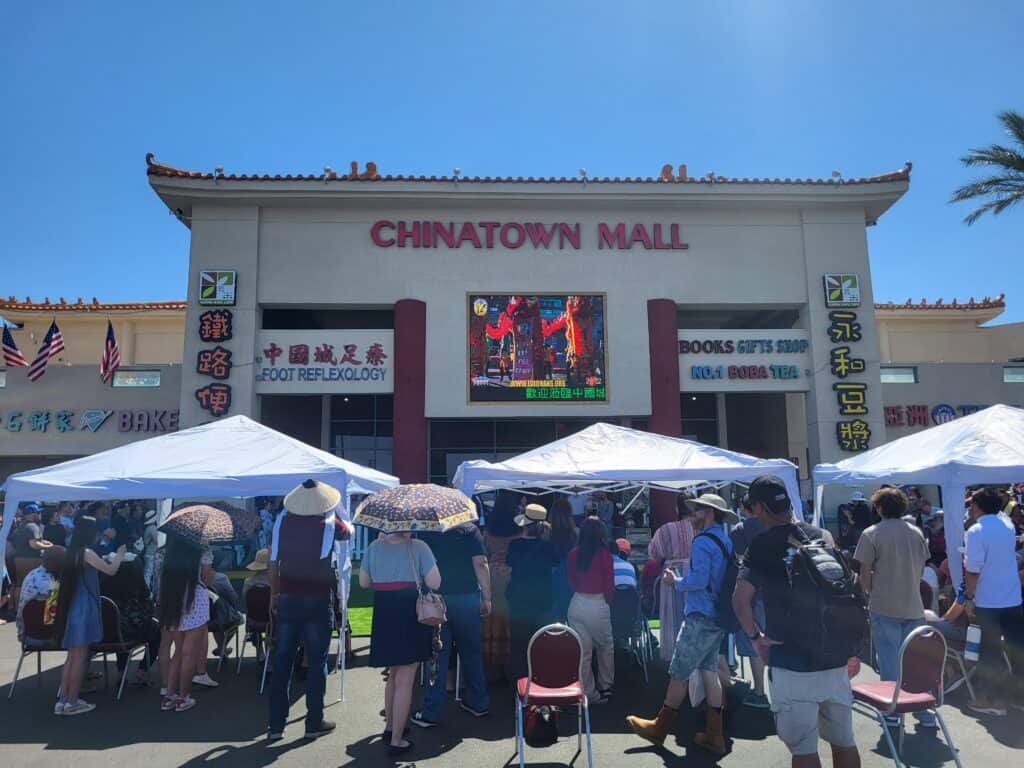 Not to be outdone, the indoor mall area hosted a lively DJ lineup, providing a modern twist to the event. The fusion of traditional and contemporary elements created a dynamic environment where attendees could immerse themselves in the vibrant energy of Japanese culture.
The LV Japan Fair undoubtedly left a lasting impact on all who attended, instilling a sense of anticipation for future editions. With its perfect blend of culinary delights, captivating performances, and energetic ambiance, the fair has set a high standard for future events. Visitors departed with fond memories and a strong desire to experience more of Japan's rich cultural heritage in the coming years.
Correction Update on China Mama: Renovations Continue for a Perfect Opening
We would like to provide a correction regarding our previous mention in This Week in Chinatown regarding the opening date of China Mama. In our previous report, we had mentioned that China Mama was expected to open around May 21st or shortly thereafter. However, we would like to clarify that some touch ups on their renovations are still in progress to ensure that the restaurant's ambiance and facilities are perfect for its much-anticipated reopening.
The soft opening will be Friday, June 9th. We are looking forward to having China Mama back!
Sunday Afternoon Chip Tournament Returns to Griff's: 9Ball Action, Live Updates, and Birthday Celebrations Await Vegas Pool Players
Sunday Afternoon Chip Tournament at Griff's is back to 9Ball. The tournament will commence at 2 pm, with practice tables available starting from 1 pm. For those unable to attend in person, fret not, as you can follow the action live at scoreboard.chipspool.com.. Tune in to witness all the excitement and thrills you might be missing out on.
Additionally, on the topic of teams, clicking on any team will reveal the matches they have played. Furthermore, those born in May are kindly reminded to bring their identification to claim their special "one time" extra "Birthday Chip." The announcer eagerly anticipates the presence of each and every one of you at the tournament.
Big Wong and Sweets Raku Officially Close, Leaving a Void in the Dining Scene of the Plaza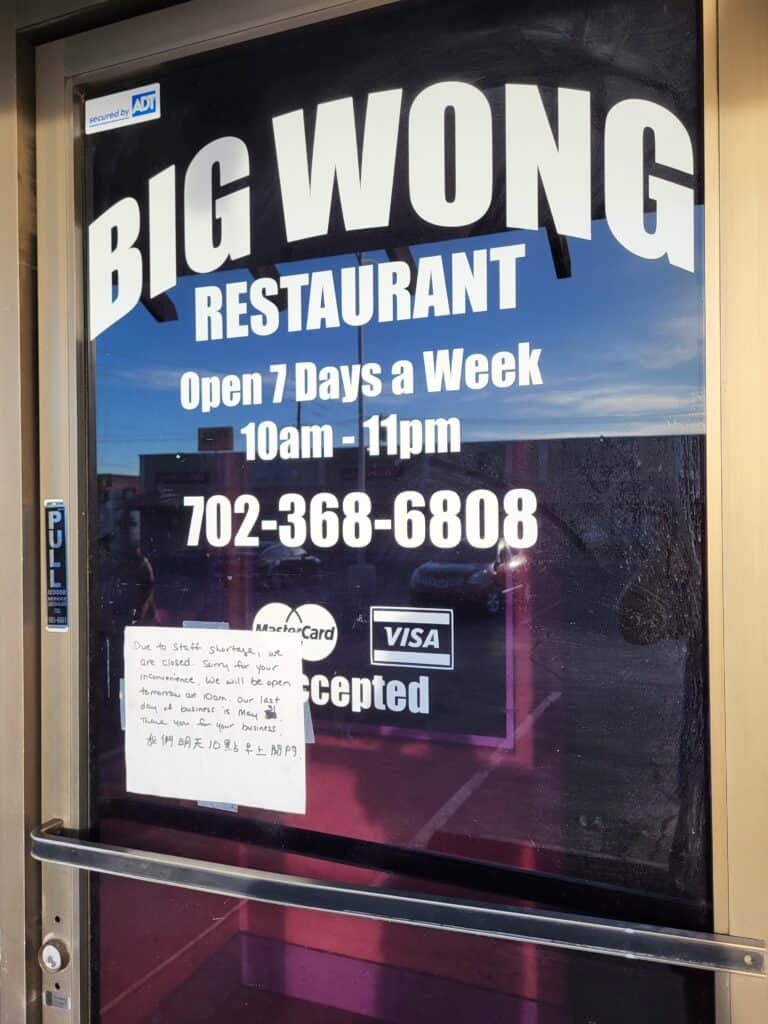 The plaza is currently experiencing the loss of two beloved restaurants, Big Wong and Sweets Raku. Their absence creates a void in the dining scene, leaving patrons longing for their familiar flavors. While it remains uncertain what will fill the vacant spaces, one thing is clear: the community will deeply feels the absence of these cherished establishments and will continue to miss them dearly.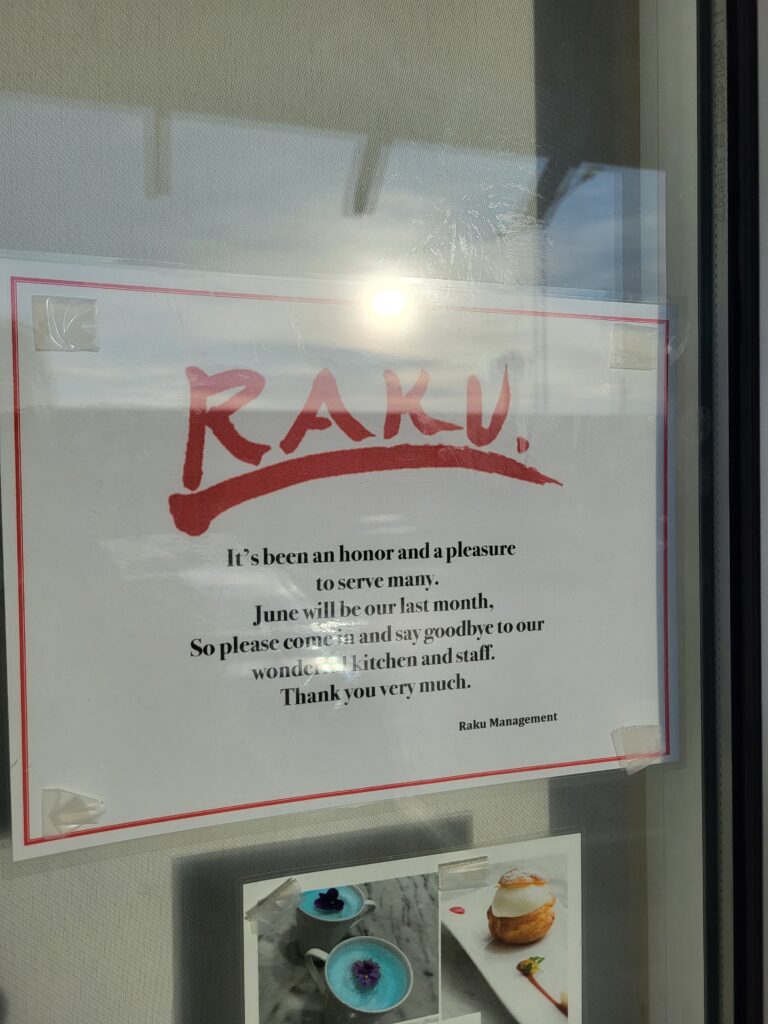 New Sign Installed as Yohama, an Exciting Japanese Noodle Shop, Nears Opening in Chinatown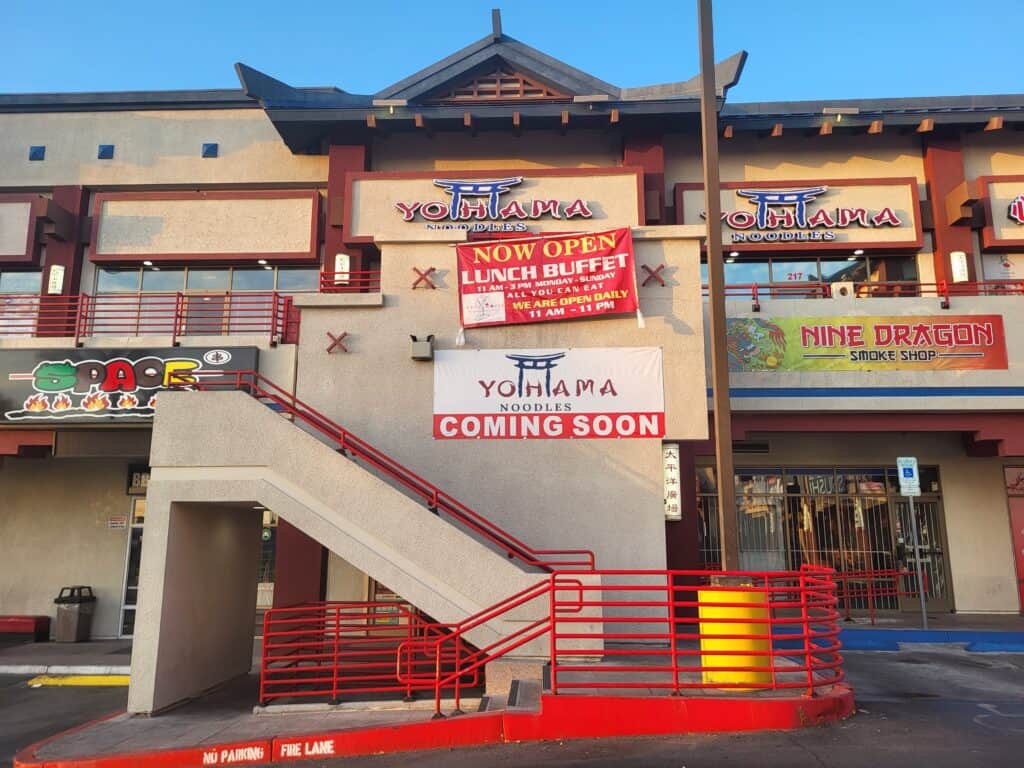 In the April 28th edition of This Week in Chinatown, it was reported that Island Malaysian Cuisine had ceased its operations, making way for a new establishment called Yohama—a Japanese Noodle shop. As preparations for the grand opening are underway, a fresh sign has been put in place, indicating the imminent arrival of this new culinary specialty. Excitement mounts as the neighborhood eagerly anticipates the unveiling of Yohama and the unique noodle experience it promises to offer.
Starting June 1st, Captain 6 has announced an enticing happy hour special: an All-You-Can-Eat Korean BBQ for just $21.95. This limited-time offer has generated great excitement among potential customers, who are eager to indulge in this amazing deal. To enjoy the special, customers can visit Captain 6 during the happy hour time frame, available on weekdays from 11:30 am to 4 pm and on Sundays to Thursdays from 10 pm until closing.
Situated in the V City Plaza, Captain 6 is conveniently located just west of the Cathay Hills Plaza. The latter plaza boasts a variety of establishments, including La Postte, Osaka Sunset, Eden Spa, and Evo Club. Visitors to Captain 6 can take advantage of the proximity to these neighboring businesses, adding to the overall experience and options available in the area.
That's it for this week. Until next Friday, keep enjoying the best Chinatown
Subscribe to Chinatown's New YouTube Channel
In our ongoing efforts to promote and highlight what we feel is the best Chinatown anywhere, we have launched a YouTube Channel to capture it.
The channel plans on featuring businesses, food, chefs, breaking news, street reports, and much more. Chinatown Vegas' YouTube Channel hopes to capture a real sense feel of what it's like to visit the super-fast growing Chinatown.
If you love Chinatown, follow us on Social Media:
9 Amazing Ramen Dishes to Try in Chinatown