Must Try Chinese Dishes in Las Vegas Chinatown
Choosing the must-try Chinese dishes in Las Vegas Chinatown is not easy. New restaurants are opening every day. As a result, there are just so many great foods to choose from. Chinatown, in what seems like overnight, has gone from being an obscure neighborhood to becoming a major foodie destination. As a result, we now have more than 150+ restaurants, so where does one begin?
Are you craving spicy Sichuan, salty northern Chinese, (Dongbei), or the sweeter flavors of Shanghainese cuisine? Las Vegas Chinatown has amazing examples of regional Chinese specialties and we've selected the best for you to try. These dishes stand out and are most representative of their category.
Lastly, we do want to add, all of these 8 Chinese will for sure satisfy your Chinese food cravings, so why not try them all?
Malatang at Yunnan Tasty Garden
Yunnan Tasty Garden
Yunnan Tasty Garden's concept of building your own Malatang is fun and a must-try. You chose your protein and vegetables from the restaurant's salad bar, place each on one plate, and then hand each plate to the chef, choose a spice level and broth and he cooks it for you.
Malatang means "spicy numbing hot soup" or "spicy hot pot". Malatang originated in Sichuan, China, and is a very popular street food. It is similar to hot pot, but it's different. The Sichuan version is more comparable to what in Dongbei (northern China) would be described as a hot pot.
Dorper Lamb Hot Pot at Chubby Cattle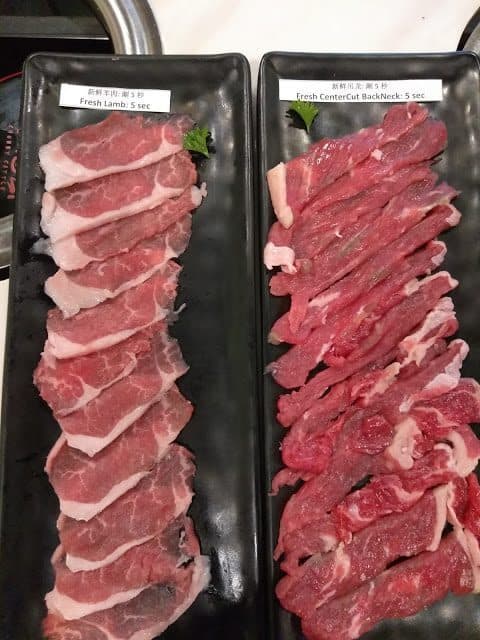 Chubby Cattle
The Chubby Cattle team raises their own breed of sheep on a small ranch in Texas. The sheep, a Dorper cross breed, are open pastured and naturally grass-fed. This results in a very clean, non-gamey flavor. As a result, the lamb at their restaurants is sublime. To assure quality and freshness, each piece of lamb is hand-cut to order.
Mongolian hotpot is the ancestor to all hot pots, and when combined with this quality meat, you have an amazing Chinatown Vegas foodie experience that you don't want to miss.
Pork Spare Rib Clay Pot at Yummy Rice
Yummy Rice
Clay pot rice ( 煲仔飯; pinyin: bāo zǎi fàn) is of Cantonese origins but is now popular throughout China, as well as all of southeast Asia. Yummy Rice serves delicious homestyle clay pots in a small 38 seat restaurant. What makes cooking rice in a clay pot unique, is that the rice develops a crunchy bottom layer, but almost slightly burnt in a fried rice-Spanish paella, yummy sort of way. The rice is the perfect vessel to absorb all of the wonderful flavors and aromas. The clay pots are served with a steamed egg on the side.
Tan Tan Noodle at Chengdu Taste
Chengdu Taste
The Tan Tan Noodle ( also known as Dan Dan Noodles or Tantan-men) at Chengdu Taste is by far the best in the entire Las Vegas Valley. Tan Tan, which can be translated as "noodles carried on a pole", or "peddler's noodles", is noodles, ground pork, peanuts, sesame seed, and sauce with red chili oil. Chef Tony Xu uses imported black pepper, chili peppers, and peppercorns that are grown and harvested in Hanyuan County, in Sichuan province, China.
Mapo Tofu at China Mama
China Mama
China Mama, the iconic Chinatown restaurant, is credited for being the first to elevate Chinese cuisine in the hood. The Mapo Tofu here is called "Mama's style Mapo Tofo" and is everything you would expect from perfect mapo tofu. In perfect balance, all 8 layers, Tingly-numb (麻 má), spicy (辣 là), hot (烫 tàng), fragrant (香 xiāng), crispy (酥 sū), tender (嫩 nèn), fresh (鲜 xiān), lively (活 huó) all shine. China Mama's version is as good as it gets. The dish sings in perfect Sichuanese harmony.
Peking Duck at Joyful House
No Chinatown list would be complete without a dish from Joyful House but the classic Peking Duck at Joyful House is a benchmark example of what a skilled chef can do with duck. Important to note, Hong Kong-born and trained Chef Kai Yau has worked at some of the most distinguished Chinese restaurants on the strip. Chef Kai-Wa has been cooking Peking duck since he was 16 while working at his family restaurant in Hong Kong. Foodies, you must try this duck!
Joyful House
4601 Spring Mountain Rd, Las Vegas, NV 89102
Steamed Fish Head with Chili at Xiang Wei Xuan-湘味轩
Xiang Wei Xuan
Steamed Fish Head (剁椒鱼头 duò jiāo yú tóu) is a traditional and classic Hunan dish. At Xiao Wei Xu, the fish head is expertly prepared by a skilled Hunan-born and trained chef but most importantly a time-consuming step, is that the fish head is pickled in advance. The fish head is then covered with dried and fresh chopped chili and allowed to marinate. Lastly, the fish steamed and flavored with soy sauce, ginger, shallot, and garlic.
Crab-Yolk Xiao Long Bao at ShangHai Taste
ShangHai Taste
The crab-yolk xiao long bao is not only one of the must-try dishes in Chinatown, but they are also one of the foods to try in the entire city. Las Vegas Weekly Magazine chose ShangHai Taste's crab-yolk Xiao Long Bao as one of the most memorable Las Vegas meals of 2020. "One bite of these decadent, meaty pork and crab soup dumplings, and you'll be hooked for life," wrote Leslie Ventura.
So, there you have 8 Chinese dishes to try. Time to start diving into a Chinese food excursion you can't experience anywhere else.
 

It's the same in all Chinatowns. So it's no different in Las Vegas Chinatown. The neighborhood here is not limited to only "Chinese food". Yes, you can find more regional Chinese dishes in this Chinatown than in most. Also, worth noting, the best Chinese food here can be matched against the best in any other city. What's more important, is the combination of so many different Vietnamese, Thai, Korean, Japanese, Filipino pan-Asian, as well as non-Asian cuisines, in a small concentrated area that makes this Chinatown so special.
Chinese were often the first settlers to create the original Chinatowns. Immigrants preferred to stick together so they move into and lived in the same area. The Chinatown in Las Vegas, on the other hand, was created by someone Chinese, but not as a place to live, but primarily created as a place for Chinese, and Asians to eat and shop.