Taru Rockin Sushi and Sake House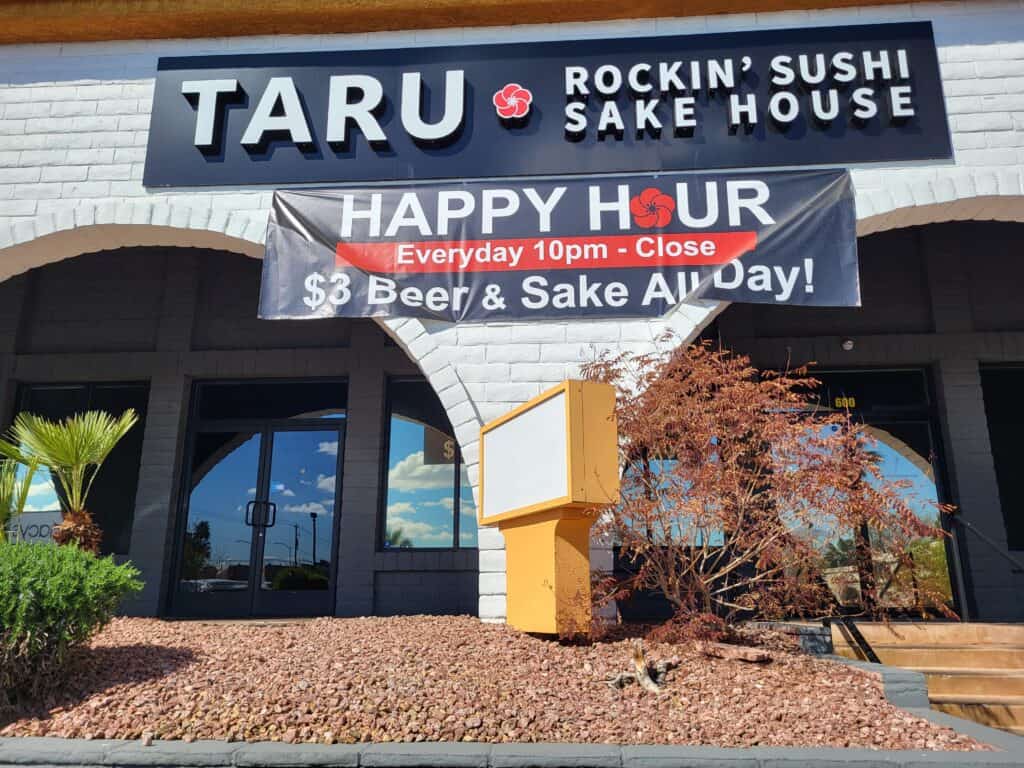 Taru Rockin' Sushi and Sake House is a restaurant that offers a unique blend of traditional Japanese sashimi and trendy fusion-style food. Located in Shan Tau Square, the restaurant is known for its fresh, seasonal ingredients, artful presentation, and innovative combinations of different culinary traditions.
In addition to a wide range of sushi options, customers can also enjoy classic Japanese dishes like tempura and ramen, as well as modern creations that blend Japanese ingredients with flavors from other cuisines. The restaurant also offers a variety of sake options to complement the food menu. With its lively atmosphere and diverse menu, Taru Rockin' Sushi and Sake House is a must-visit for anyone looking for a culinary adventure.
They offer a great Happy Hour from 10 pm to closing  7 days a week. They also have $3  beer and sake all day!
The most  popular dishes at Taru:
Seared Salmon Belly
Seared salmon belly is a popular sushi dish that features a fatty and flavorful cut of salmon belly that is seared on the outside, leaving the inside tender and juicy. The searing process creates a slightly crispy texture on the outside of the salmon belly, which is then sliced and served as a topping for sushi rice.
Uni Pasta
Uni pasta is a delicious and unique dish that combines Japanese sea urchins with pasta in a creamy sauce. The uni adds a distinctive briny flavor to the pasta, which is balanced by the creamy sauce and topped with grated Parmesan cheese. This dish is a favorite among seafood lovers and those looking to try a new and exotic pasta dish.
Short Rib Ishiyaki
Short Rib Ishiyaki is a sizzling hot stone plate dish that features tender and flavorful beef short ribs. Here, you cook yourself on the hot stone plate for just a minute or two. This Japanese-style BBQ dish is served with a side of dipping sauce.
Bulgogi
Bulgogi is a classic Korean dish that consists of thinly sliced marinated beef that is grilled or stir-fried to perfection. The beef is typically marinated in a savory and slightly sweet sauce made with soy sauce, garlic, sugar, sesame oil, and other seasonings. The dish is served with a side of rice.
Sashimi Salad
Sashimi salad is a refreshing and flavorful dish that combines the delicate and fresh flavors of sashimi with crisp greens. The salad is dressed with a light and tangy dressing made with soy sauce, rice vinegar, and sesame oil.
Taru Rockin' Sushi and Sake House
4480 Spring Mountain Road
Las Vegas, NV
89102
Common Sushi Terms: